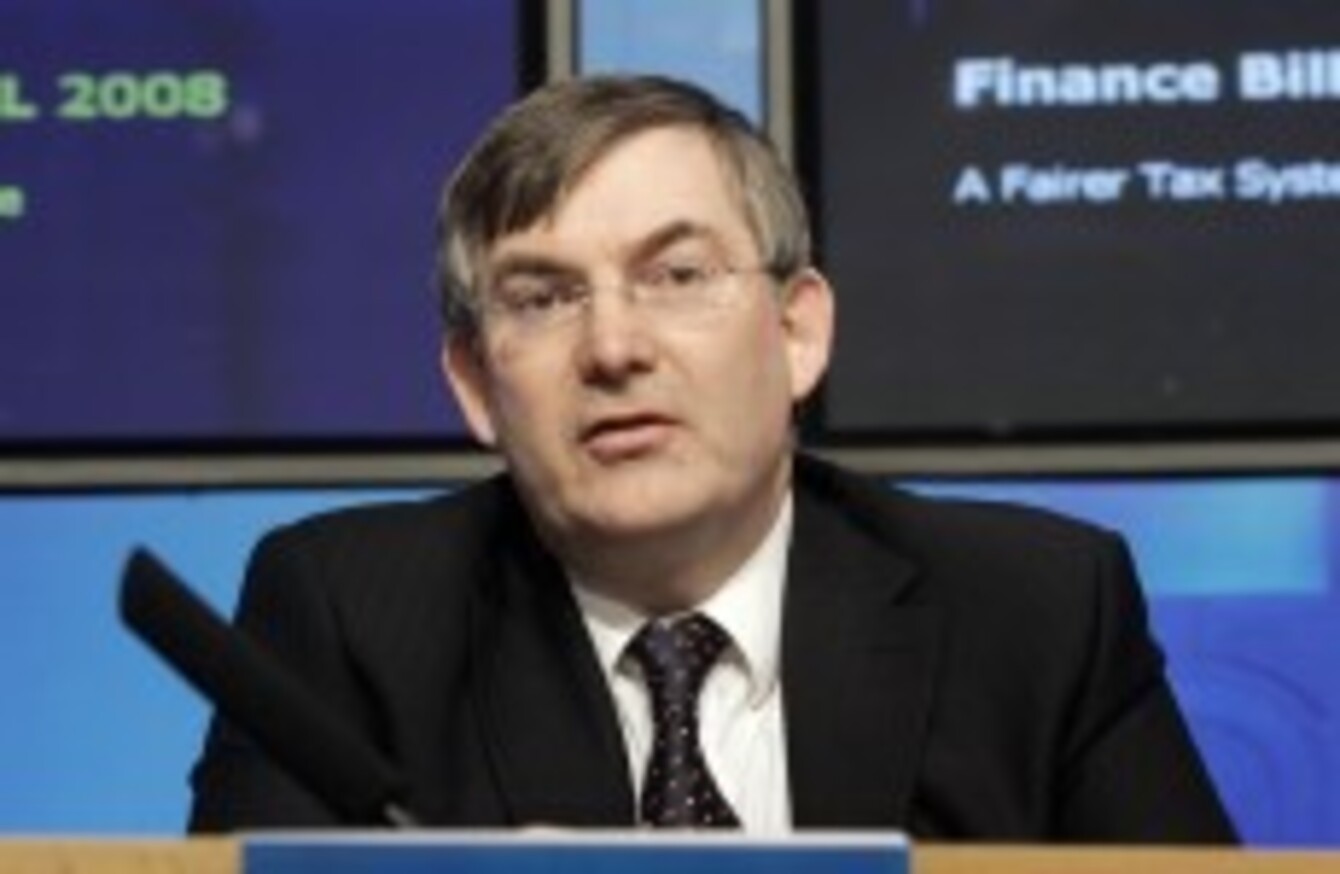 Updated 17:35
KEVIN CARDIFF HAS failed in his bid to be ratified as Ireland's nominee to the European Court of Auditors.
In a close vote this evening, the European Parliament's committee on Budgetary Control voted to reject his nomination – by just one vote.
It is likely that he will now withdraw his nomination for the role.
MEP Nessa Childers tweeted the surprising result, noting: "total shock in European Parliament at rejection of #KevinCardiff. Almost nobody expected this result".
Earlier, Cardiff had been  given a firm questioning by MEPs before they voted on whether whether to back his nomination.
Answering questions from the European Parliament's committee on Budgetary Control, Cardiff was grilled on his role as a senior policy advisor in the Department of Finance in the time that led to Ireland's financial collapse.
Cardiff is currently the Secretary-General at the Department of Finance – the top-ranking civil servant in the Department – and was the Second Secondary, in charge of bank relations, at the time the bank guarantee was introduced in 2008.
He also faced stinging questions about how his department signed off on the accounts that contained a €3.6bn error – while his salary, being notionally higher than that of the Taoiseach, brought further criticism.
Cardiff was subjected to easily the longest questioning of any of the eight nominees being interviewed today – while other candidates were interviewed only for 20 to 25 minutes, Cardiff was detained for just over a full hour.
Though no Irish MEPs feature among the committee's 29 members, non-members were permitted to attend and ask questions – with six of Ireland's 12 MEPs taking the opportunity to offer their thoughts on his appointment.
Among his most vociferous critics were Inge Grässle, a German MEP from the European People's Party – the group to which Fine Gael belongs – who said Cardiff's nomination had prompted a volume of emails from Ireland, the likes of which she had not seen before.
Cardiff said he felt similarly surprised by the public reaction to his name, but offered that "at this stage, there is a huge – and natural – public frustration in Ireland about the crisis that we've been through".
He said he was likely to bear the brunt of this frustration simply because he was one of the few figures who was present during the 2008 crisis and who was still involved in the government.
"The government always talks about making a greater contribution to Europe," Cardiff said. "They wouldn't nominate me if I couldn't represent them, and the country, properly."
Fine Gael's Seán Kelly was openly sceptical about Cardiff's merits, referencing the €3.6bn error and asking whether Cardiff was practicing double standards by seeking praise for the good work of the Department but pawning off responsibility for errors.
#Open journalism No news is bad news Support The Journal

Your contributions will help us continue to deliver the stories that are important to you

Support us now
Cardiff, 50, said the accounting procedures that led to the error were the subject of an external review and he did not want to openly blame other people, who may have been responsible for that error, until that review was concluded.
French EPP member Jean-Pierre Audy raised similar concerns, arguing that Cardiff had played up his responsibility for coming up with financial policies but was reluctant to accept the blame for their negative consequences.
Labour's Nessa Childers – who has been attacked within her party for expressing reservations about Cardiff's appointment – asked him to explain what he had meant by referring to the work of the Court as a "doddle".
Cardiff said that after the stress of his last four years at the Department of Finance, it would be natural to perceive any job as easier, but that he had not meant to suggest that the work of the Court of Auditors was easy.
Her fellow Labour MEP Prionsias de Rossa spoke in favour of Cardiff's appointment, saying the Honohan Report had blamed regulatory failure and not government policy for the collapse of the banking system.
Independent Marian Harkin said Cardiff had been "open and honest", while Pat the Cope Gallagher and Mairéad McGuinness offered Cardiff the chance to elaborate on his ideal plans for the role and escape further harsh questioning.