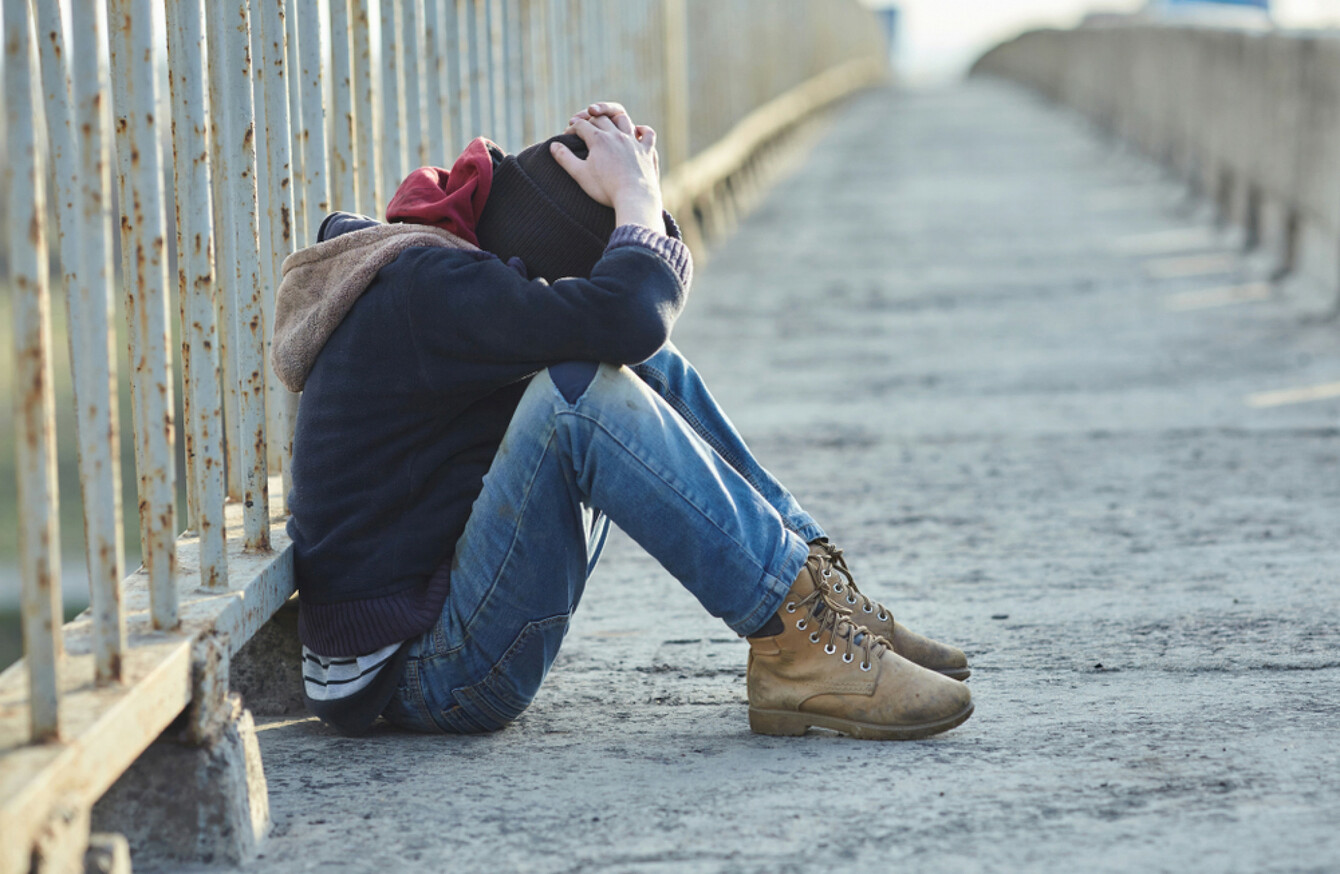 Image: Shutterstock/Roman Bodnarchuk
Image: Shutterstock/Roman Bodnarchuk
FAILURE TO SUPPORT young people as they leave state care and residential care units is leading to care leavers ending up in youth homeless shelters.
Homelessness has become a major crisis for Ireland, as more than 10,000 people sleep rough on the streets, in emergency accommodation and even in their cars throughout the country.
The concern for teenagers in residential care centres is particularly worrying as they do not have foster parents who can keep them in their home when they reach 18 years of age.
Instead, many are told to leave their residential care centres and find other accommodation. As they are considered adults at 18, those living in residential care centres are forced to find a new place to live and as the housing crisis deepens, many face homelessness.
Wayne Dignam of the Care Leavers Network said children leaving residential care are "more at risk" as a result of not having a foster family to fall back on.
He said they face "huge pressures of trying to find somewhere to get accommodation and support from aftercare workers".
Aftercare
The child and family agency, TUSLA, has designed an aftercare package to assist with this transition into independence for care leavers. Important parts of this include the allocation of an aftercare worker and assistance with finding accommodation.
But both of these key elements are delayed in a lot of cases, further exacerbating the numbers of homeless people as a result, according to Focus Ireland advocacy manager, Roughan MacNamara.
"The reality is that Focus Ireland aftercare services in North Dublin are aware of a waiting list of 35 young people for an aftercare worker and 14 young people are on a waiting list for our residential services," he said.
He added, "in South Dublin there are 32 young people who are on a waiting list for a Focus Ireland aftercare worker. In addition to that there are over 40 young people seeking a place in our Greenhill's Court aftercare residential service.".
This is just a snapshot of the problem representing a worrying trend as figures over the past four years have shown the number of homeless people between the ages of 18 and 24 in Ireland has more than doubled.
In June 2014, the number of 18 to 24-year-olds registered as homeless in Ireland came in at 418. In February 2018, however, that figure jumped to 938.
MacNamara said the number of care leavers in this age bracket is "over-represented in homeless services" as well as in the "hidden homeless or those who are sleeping on sofas and the like".
The reality is that young people can be protected with aftercare support. However, if there is no aftercare support young people often become homeless and their lives can spin out of control – sadly sometimes ending in tragedy.
In school and in a shelter
One young woman who experienced this phenomenon of homelessness after care is Danielle McGarry (22) from Dublin. No stranger to homelessness, Danielle found herself living in a shelter at just 15 years old.
After a foster care placement broke down she sought help from her local garda station.
"I walked up to Stepaside Garda Station," she recalls, "and I told them I had nowhere to go, that I was kicked out and told them my name and who I was".
"I was waiting there for about six hours for the on call social worker. They came and had a bit of a chat and asked what happened. They knew that I was in care".
After meeting with social workers Danielle was placed in LeFroy House, a homeless shelter for 12- to 18-year-olds along Dublin's Eden Quay. She spent several months in this unit while trying to keep up with school.
"The only place they could offer was LeFroy House – it is night by night and I was there for a few months. I was out at eight in the morning and back by eight at night to secure a bed. I was there for a couple of months. I was still in school at this stage.
"I was only after finishing my junior cert. I wanted to go on, I wanted to try and get my leaving cert. I was going in every day in the same tracksuit.
"I didn't have any spare clothes but I had the tracksuit that I had on my back. In LeFroy  House they were able to give me pyjamas at night and wash my tracksuit for me.
I was a child and I was homeless at 15.
Battling school with life in a homeless shelter proved difficult for Danielle, who eventually left school and spent her days wandering around the local shopping centres.
"When I was going in every day in the same tracksuit I was getting bullied for having no uniform. It was just embarrassing at the time."
"And there were other people living in the shelter who were into drugs so I was trying to keep my head down and keep myself to myself," she says of her time in the homeless unit. "Thank God I didn't get into drugs".
"At the age of 15 I didn't know what to do. I wasn't getting income from anywhere. You got €3 a day pocket money from the Lefroy House and they paid for your bus ticket to get in and out of school. I spent days then just walking around shopping centres on my own."
When a social worker found a place in a residential centre for Danielle she hoped to leave the homeless period of her life in the past. However, after almost two years in the residential centre she was told she would be leaving because she was nearing her 18th birthday.
#Open journalism No news is bad news Support The Journal

Your contributions will help us continue to deliver the stories that are important to you

Support us now
Within a few months, she was forced out of the care system and into aftercare which brought fear and worry about where she would end up.
"Some residential units keep young people if they're in education for another year or two. Because I wasn't in education I was told I had to leave and that my time was up."
"I had to try and find private rented accommodation. I remember going to so many viewings," she says.
Charities and organisations such as Focus Ireland and Don Bosco provide aftercare services for care leavers. This service includes offering assistance with finding accommodation and employment. Demand for these services have increased, however, as the numbers of youth homeless continue to rise.
Danielle had little contact with her aftercare worker when she left the residential care unit.
"I didn't have an aftercare solution to fall back on," she says. "So I had to go through the homelessness system. I was 18 at the time".
"My aftercare worker didn't meet with me that much. When you're after being in care and you have all these people looking after you your whole life, but the second you turn 18 you have to leave… you're not an adult and nobody knows what to do."
St Catherine's Foyer youth homeless unit for 18 to 24 year olds in Dublin became home to Danielle months after this. The worrying thing she says, was that the unit was "full of people that had left the care system".
She estimates almost 90% of those staying at the unit were care leavers. A spokesperson for the Peter McVerry Trust which runs St Catherine's Foyer confirmed that more than 50% of beds at any given time are being allocated to care leavers.
Francis Doherty said care leavers were joining these "extremely long queues" in the search for accommodation. He said the "lack of aftercare supports" was having a severe effect on the lives of these young men and women.
A spokesperson for TUSLA said it was committed to supporting children in aftercare and a number of additional supports including accommodation were "in development".
In a statement, TUSLA said "the [aftercare] service offered will be determined based on each young person's assessment of need. The aftercare service is mainly an adult service which is dependent on the cooperation and participation" of the care leaver.
A spokesperson also confirmed TUSLA was increasing staff levels to deal with the pressures on aftercare services at present.