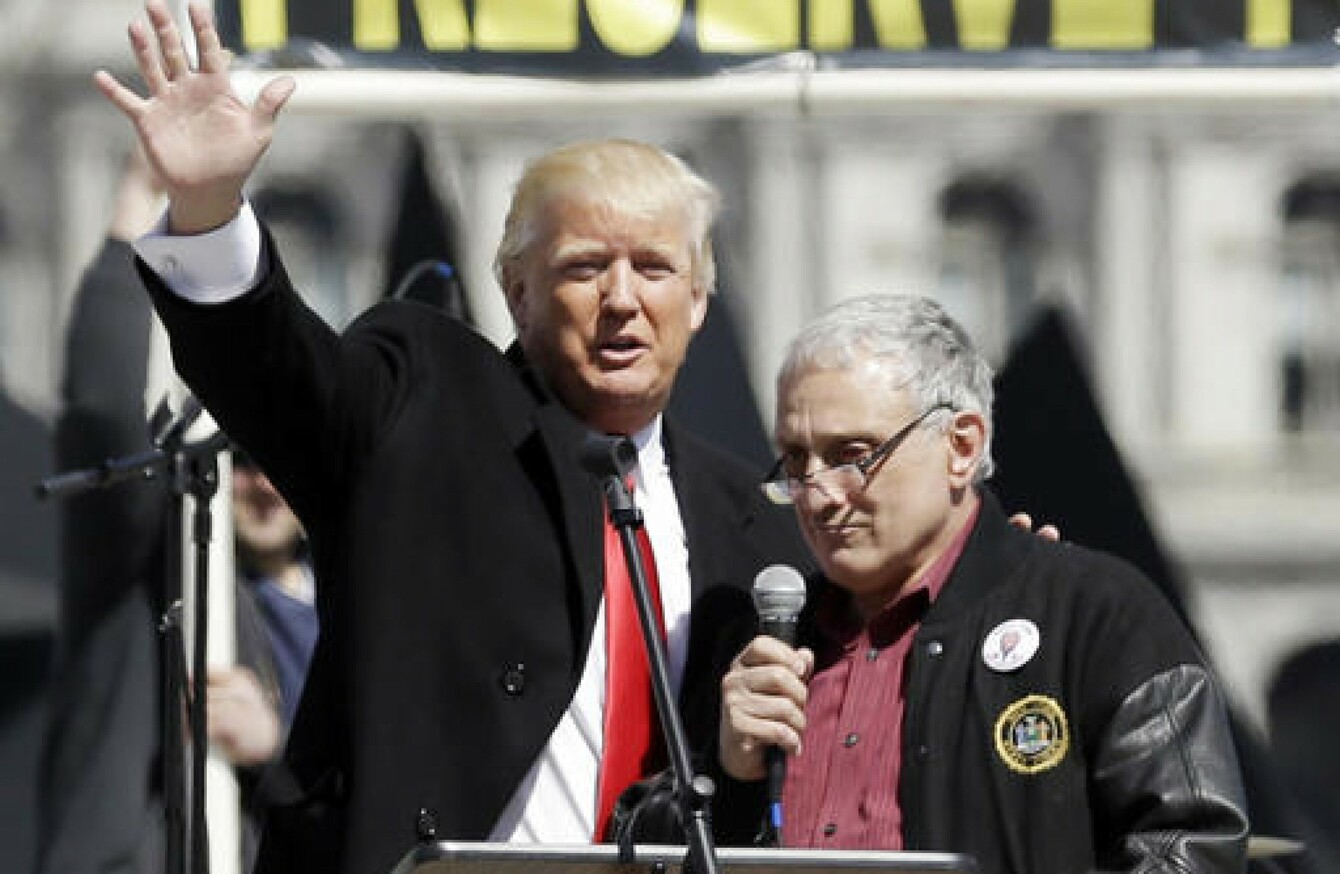 Donald Trump and Carl Paladino at a gun rights rally in Albany, New York in 2014.
Image: Mike Groll/AP
Donald Trump and Carl Paladino at a gun rights rally in Albany, New York in 2014.
Image: Mike Groll/AP
THE CO-CHAIR OF Donald Trump's New York presidential campaign has come under fire for controversial comments he made about the Obamas.
Carl Paladino, a developer who ran for Governor of New York in 2010, was asked about his hopes for 2017 in a feature with Artvoice, a newspaper based in Buffalo, New York.
The publication asked Paladino, and several other people, a number of questions about what they would like to see happen next year.
When asked 'What would you most like to happen in 2017?', Paladino (70) said he hopes Barack Obama "catches mad cow disease after being caught having relations with a Herford (a cattle breed)".
He continued by saying he hopes Obama "dies before his trial and is buried in a cow pasture next to Valerie Jarret (one of Obama's senior advisors), who died weeks prior, after being convicted of sedition and treason, when a Jihady cell mate mistook her for being a nice person and decapitated her".
In another questionable remark, when asked 'What would you like to see go away in 2017?', Paladino said: "Michelle Obama. I'd like her to return to being a male and let loose in the outback of Zimbabwe where she lives comfortably in a cave with Maxie, the gorilla."
'Racist, ugly comments' 
Democrats and civil rights groups were quick to condemn the remarks.
In a statement, Democratic Governor of New York Andrew Cuomo, who defeated Paladino in the 2010 election, called the comments "racist, ugly and reprehensible".
"While most New Yorkers know Mr Paladino is not to be taken seriously, as his erratic behavior defies any rational analysis and he has no credibility, his words are still jarring," he said.
Frank Mesiah, the outgoing president of the National Association for the Advancement of Colored People's (NAACP) Buffalo chapter, urged other politicians to publicly denounce Paladino:
He says this stuff without anybody countering him. By their silence, to me, they're condoning that. They're accepting him and his behaviour.
In a subsequent statement to the Associated Press, Paladino claimed his comments had "nothing to do with race", but instead reflected his opinion of the president's performance in office.
"Merry Christmas and tough luck if you don't like my answer," he wrote.
As recently as August, Paladino falsely claimed Obama was not Christian, telling the New York Observer, which is owned by Trump's son-in-law Jared Kushner, that to average Americans, "there is no doubt he is a Muslim".
In 2010, Paladino was criticised after it was revealed he had forwarded to friends racially charged emails that depicted Obama as a pimp.
A spokesperson for Trump, who earlier this month met with Paladino in Trump Tower, didn't immediately respond when asked for the president-elect's reaction to the comments.
Contains reporting from AP