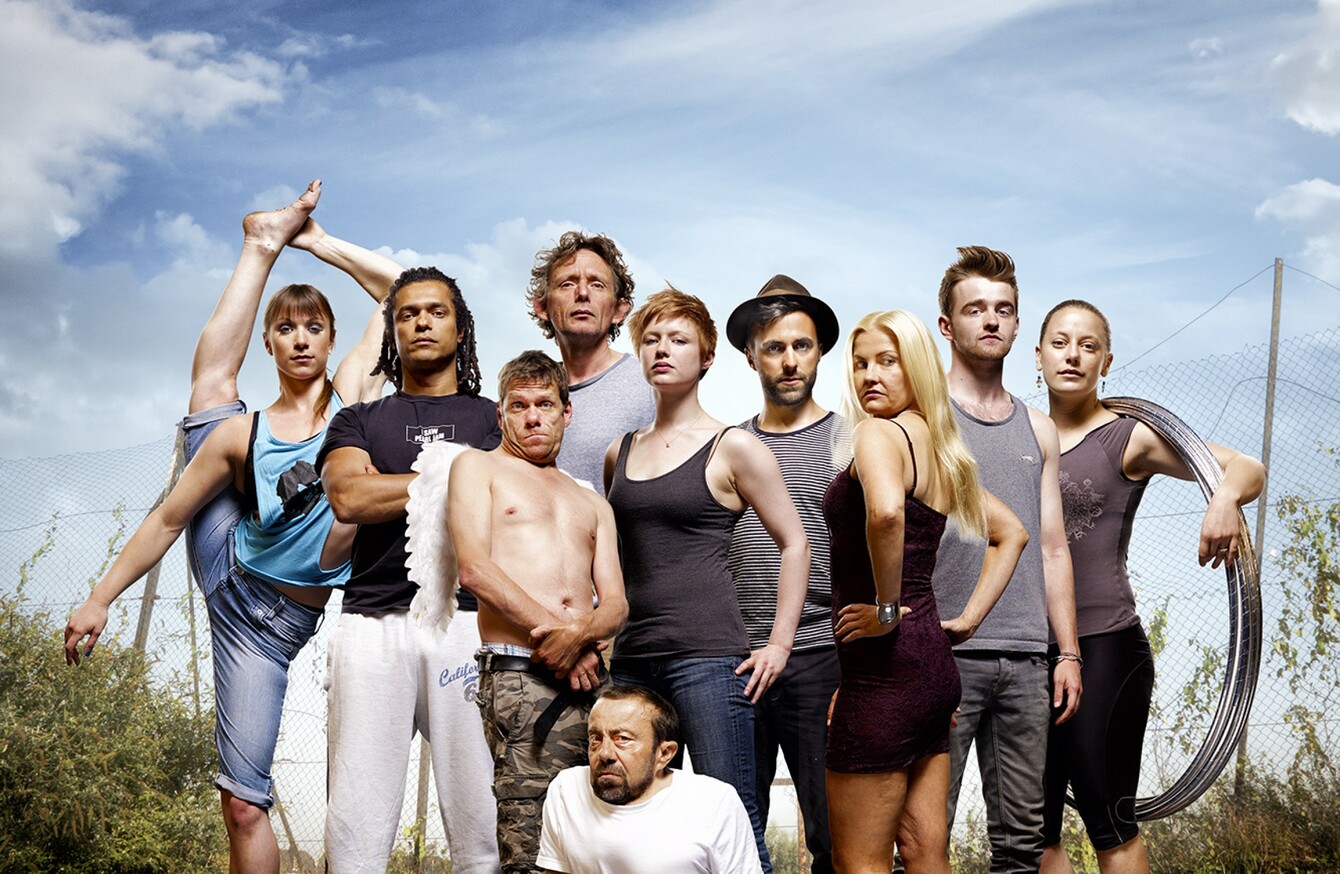 One of the groups visiting Carlow is Extraordinary Bodies, which will be working with members of the local community.
One of the groups visiting Carlow is Extraordinary Bodies, which will be working with members of the local community.
A FESTIVAL IN Carlow wants to make sure as many people from the local community can attend as possible – so it's offering cut-price and free tickets.
Carlow Arts Festival, which is in its 38th year, will run from 7 – 13 June, and its programmer Jo Mangan told us that she wants as many local people to attend as she can fit in each venue.
Three-quarters of the events are free, lots are outdoors, and there's a huge focus on accessibility and diversity.
"The reasoning is really clear for me," Mangan tells TheJournal.ie.
I spent a good bit of time in the UK a few years ago on the Clore Cultural Leadership programme. I started to become very aware of this word 'participation' and participatory arts – it was remarkable to me that every single cultural institution and every arts project in the UK seemed to have an outreach or participation or educational element to it.
She felt that by comparison in Ireland, "we seem to have separated audiences from artists, from community – it felt like they were existing in entirely separate silos and occasionally bump up against each other".
And so Mangan decided to put her money where her mouth was, and do her best to bring culture to people. "You can't be engaging in making extraordinary work without ensuring that as wide as possible a cohort gets to experience it," she says.
The Carlow Arts Festival policy is that three-quarters of the festival is entirely free, and every single artist gets paid. It's also a policy that for those who find it hard to pay for ticketed events, there is a pay-what-you-can scheme in operation.
"I won't be able to let everyone in, but a certain amount of tickets will be reserved," says Mangan.
Taking small steps
Having cheap or free tickets "allows people to go take a punt" on cultural events, and see what floats their boat.
"You mightn't think it's for you, but it might be," says Mangan. The festival has a number of funders including the Arts Council, county council support, leader funding, and sponsorship from local businesses.
"My emphasis is on deeper engagement and wider engagement, and hopefully in the future people will be in a position to pay," says Mangan.
She also wants to ensure that people from across the spectrum of Carlow can access the events. "It's a very small step to think about: OK, who engages not just with this festival but who engages with the arts?"
When I was looking at Carlow there was a particular demographic in terms of age and in terms of colour of skin that were engaging with the arts. It's like well, what about the Rohingya people here in Carlow who were settled here back in the 90s? There's young Travellers [too].
To compliment the diverse community in Carlow, they have chosen a diverse range of acts to perform, including Italy's Ondadurto Teatro, whose spectacle C'era Una Volta features fireworks, sound effects and water effects; Philip Glass's opera Einstein on the Beach will be brought to the big screen; bands like Rusangano Family and RSAG will play; a collection of vintage and contemporary film from Carlow will be screened; and there will be many family events.
Young Travellers will do some work alongside settled teens with Ondadurto Teatro, and will be treated as 'VIPs' with special access to all things happening during the festival.
Emmet Kirwan will also visit to hold poetry workshops with young people.
Extraordinary Bodies
One of the highlights of the week will be the visit of Extraordinary Bodies, a UK circus group that features participants of all abilities.
Extraordinary Bodies will hold a workshop over the course of a few days, with people of mixed abilities, who have a disability or not. The aim is for work to be done this year that can then be built on when Extraordinary Bodies comes over for a full show next year.
It's part of explorative work that the troupe is doing in 10 cities across the UK and Ireland. "It's going to be massive, exciting," says Mangan.
#Open journalism No news is bad news Support The Journal

Your contributions will help us continue to deliver the stories that are important to you

Support us now
Claire Hodgson, one of the co-directors of Extraordinary Bodies and the leader of the sessions in Carlow, describes the troupe as "a circus company of disabled and non-disabled performers", who have been working together since 2013.
Their aim "is to change circus and performance so that it includes everybody – and we always say that circus is for everybody", she says. She and her co-director Billy Alwen met while working on the London Olympics.
She had already set up her own company in 2006 "because I wanted to make the performing arts more diverse, more inclusive not only around disability but around ethnicity and gender and in terms of class as well", she explains.
Because I think it's really important that people see themselves reflected in performers and feel that it is possible to have a career in the performing arts, particularly young people to see people who are like them. I know how powerful it is for people with a disability to see circus performers with disabilities – it opens up what they can do in their lives.
She acknowledges that there is a history in circus where people with a disability were not treated as equals. "We are trying to reimagine circus," she says.
The work in Carlow will be called What Am I Worth, and will involve three leading artists - John Kelly, a musician and singer; David Ellington, an aerialist and actor; and Deb Roche, a pole artist – visiting to work with different people and groups.
"We're going to be doing lots of telling stories about ourselves all around this theme of value and worth," says Hodgson. "When we feel important, when we feel not important.
What we feel is valued about us in society, what we feel is not valued or seen about us. We also will be encouraging people to write stories and we will be physical working, doing a lot of floor-based work, acrobalance work."
In next year's show, the participants this year from Carlow will get a chance to share their stories.
The aim is to have the Carlow group mixed in terms of age, background, class and abilities. As Hodgson puts it: "We think the only way we can learn from each other is to be in mixed groups".
We are really interested in this thing of human value. Often under austerity people are devalued or seen as not contributing to society, when that couldn't be further from the truth. And a healthy society has contributions from everyone in it.
To apply to take part in the Extraordinary Bodies event, email info@carlowarts.com. To read the full line-up for Carlow Arts Festival, visit the official website.