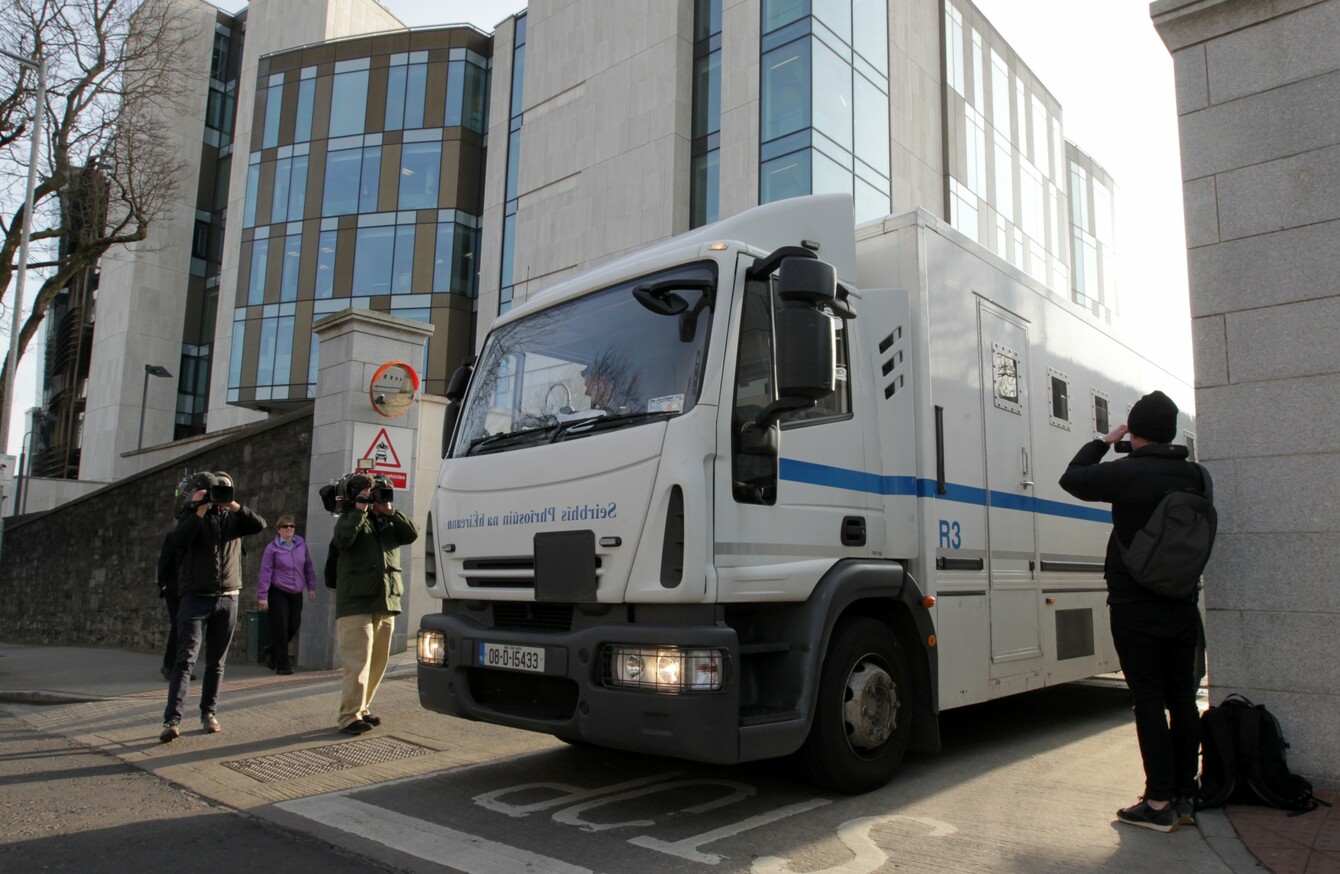 The man was convicted at the central Criminal Court. (File photo)
Image: Mark Stedman
The man was convicted at the central Criminal Court. (File photo)
Image: Mark Stedman
A 53-YEAR-OLD Wexford man has been sentenced to life in prison for murdering a 41-year-old on whom he stamped repeatedly before attempting to burn him after the deceased beat him in an arm wrestle.
"I frightened myself, I was like an animal," he told detectives.
The Central Criminal Court trial heard that Latvian man Gints Intembergs was found dead on his kitchen floor in Co Carlow on the morning of 16 September, 2014.
Liam Power, of no fixed abode, had pleaded not guilty to murder on that or the previous day, but he pleaded guilty to manslaughter at the deceased man's home in Graigowen, Tullow.
He had pleaded not guilty to assault causing harm on another man, Aigar Sildars, on the same occasion, and was cleared of that crime yesterday.
Power told his landlady that the deceased had beaten him in an arm wrestling match and had said: 'You're not such a big man now', slapping him across the face.
He told her he had hit the deceased over the head with an ashtray and had kept kicking him in the head and face.
He told gardaí that he had punched the deceased and stamped on him numerous times and had done 'about half' as much to Sildars.
"I was in Tullow last night. Things got out of control. I kicked the head off him. Look at my runners," he said when arrested.
Shit happens and I lost the head. What can I do? That's all I can say.
'Haymaker'
His garda interviews were delayed due to him being so intoxicated. He said he had drunk about 16 cans of cider and smoked crack cocaine in the hours before the killing.
When he was interviewed, he said he had hit Intembergs a 'haymaker on the chin', causing him to fall to the floor.
He said he then kicked him 10 or 11 times while he was on the floor, before removing the victim's clothes.
"I don't know what I was thinking," he said.
He said he used a lighter to try to set fire to the hair on the man's 'privates'.
"I was off my head," he replied, when asked why he wanted to burn him.
Power said he had also kicked Aigar Sildars, who was in the sitting-room. He said the attack on both men lasted 20 minutes and that he went back and forth from the kitchen to the sitting-room, kicking them both.
He said he had help from another man, Dzintars Sacklausks, who also went on trial with him at the end of October.
The 33-year-old of Barrowvale, Graiguecullen, Co Carlow had pleaded not guilty to both murdering Mr Intembergs and assaulting Sildars, causing harm.
However, the State dropped the murder charge against him two weeks into the trial. He then pleaded guilty to the assault charge and will be sentenced later.
He had told gardaí that Power had stamped on the deceased man's head and testicles numerous times.
Forensics
The court heard that patterns of bruises on the deceased's body matched the pattern of Power's runners and that the DNA profile from blood on one runner matched Intemberg's.
A forensic scientist testified that the blood patterns on the runner could be created by kicking actions.
An autopsy by the State Pathologist found that the deceased died of blunt force trauma to his head and neck following a 'violent and sustained assault'. Professor Marie Cassidy testified that many of his injuries had a pattern such as from the sole of a shoe, 'as in stamping'.
His nose was flattened, one of his teeth was broken and he had a fractured rib.
There was fire damage to his body, arm and penis but this attempted burning appeared to have been 'peri or post-mortem'.
The head trauma had caused the tearing of blood vessels on the surface of the brain. Any rapid movement of the brain could have caused this.
The tearing resulted in 'a massive blood clot' inside the skull cavity and this had compressed his brain, causing death. He might have lain unconscious for hours before his death.
She could not say which blow had caused his death but explained that stamping would not generally cause movement of the brain.
Defence
Power's barrister asked the jurors to keep in check any feelings of revulsion.
Michael Delaney SC asked for a verdict of manslaughter by reason of provocation. He asked the jury to consider the evidence of his low IQ and maladaptive traits, which he said meant his client was easily provoked.
He said that Sildars's minor injuries had undermined his client's confession of assaulting him.
Justice Isobel Kennedy also told them to have due regard to the absence of corroboration on that count.
"In the past, admissions have proved to be unreliable," she said.
The jury of five men and seven women began considering the verdicts on Monday.
Given the option of reaching a majority verdict the jury found Power guilty verdict with a majority of 10 to two.
Conor O'Doherty BL, prosecuting, said there would not be any victim impact statement in the case.
Power stood as Justice Kennedy imposed the mandatory life sentence on him and backdated it to 18 September, 2014.
Dressed in a grey suit and pink shirt, he was then led away by prison officers.
Comments are closed because legal proceedings are ongoing