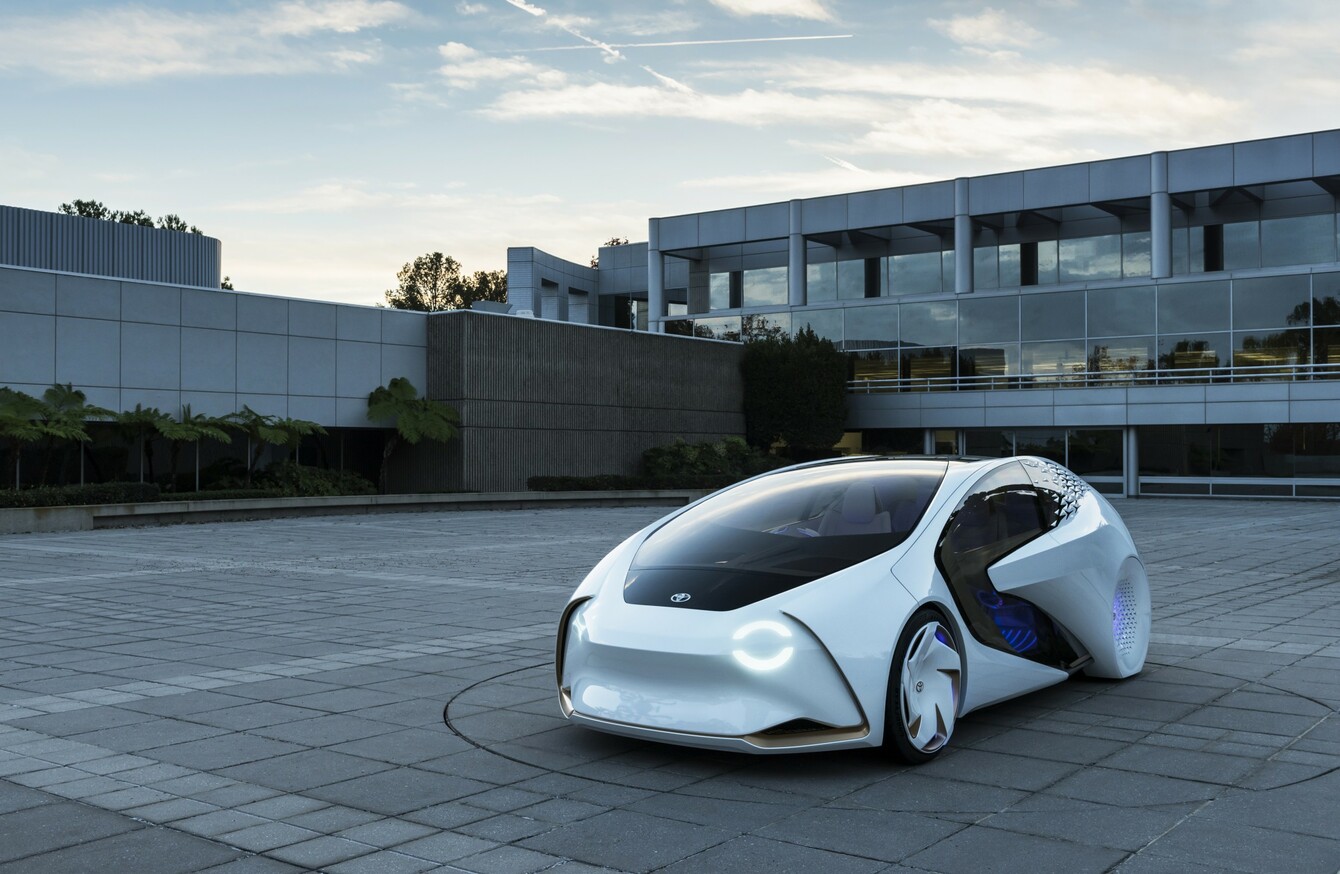 Image: Toyota Media
Image: Toyota Media
THE 2017 CONSUMER Electronics Show – universally known as CES – took place last week, and there were plenty of new car technologies and concepts on show.
In the Self-Driving Technology Marketplace section, exhibitors looked at the road to driverless travel, the mobility experience of the future and how automobiles can improve customers' quality of life.
Here are just a few of the new concepts and cars that caught our attention.
Faraday Future: FF 91
High-profile startup Faraday Future revealed its first electric production vehicle, the FF 91 ("nine one"). The FF 91's powertrain features a multi-motor setup with a breathtaking power output of 1,050hp, delivering a record-breaking 0-60mph time of 2.39 seconds. This makes it the world's fastest production electric car.
It also has a claimed range of over 700km.
Its futuristic looks are enhanced with a signature 'UFO line', which runs around the mid-section of the vehicle. There is also some clever futuristic tech onboard including smart dimming glass technology: the glass roof, rear and side windows all feature PDLC (Polymer Dispersed Liquid Crystal) glass, which, when tapped, provides instant privacy and shade.
The FF 91 can be reserved for $5,000 but it is only available to those living in the US, Canada and China, for now.
BMW HoloActive Touch system
BMW's latest take on the future of in-car control and display technology is something straight out of Back to the Future.
It blends together the benefits of BMW's Head-Up Display, gesture control and intuitive touchscreen functionality with groundbreaking technology to create a new type of user interface for its future vehicles.
The system is a free-floating virtual display, which is projected in the area above the centre console – a hologram – and you operate it with finger movements, but you never actually touch anything.
Meanwhile, an ultrasound source provides tactile confirmation of the driver's commands. Great Scott!
Chrysler Portal concept
This is Fiat Chrysler Automobile's first all-electric, self-driving concept car – said to be "designed by millennials, for millennials".
No, seriously. It looks like a molten mini-van. Is this really what millennials want to drive?
Apparently, it was designed from the inside out – maybe they ran out of time when it came to the outside – but it is supposed to offer a "third space" to its occupants; an open and serene atmosphere that bridges work and home.
One of the main highlights is that it enables "users to include and expand their social media communities with seamless wireless integration between the vehicle and mobile devices". Since when did being able to post a tweet become a selling point of a car?
Audi Q7 Deep Learning concept
Audi believes that artificial intelligence is a key technology for piloted driving, which is why it is developing its know-how in the field of machine learning. At CES, Audi showed off its Q7 'deep learning' concept, which shows its machine learning proficiency.
The piloted driving car features an artificial intelligence platform – developed in conjunction with tech company Nvidia – which incorporates deep neural networks similar to those found in the human brain. This apparently lets the car learn how to respond to its environment.
Audi plans to have a fully autonomous car available by 2020.
Hyundai Autonomous Ioniq
Autonomous Ioniq models navigated a series of test routes around CES, using the latest LiDAR technology (a laser and radar-based detection system) to identify the precise position of surrounding vehicles and objects, which enabled the car to navigate the streets safely.
Hyundai Motor is pretty chuffed with the fact that it hid the LiDar tech behind the car's front bumper, which retained the car's sleek design – usually, the hardware is mounted on the roof.
The Ioniq's self-driving systems are kept as simple as possible by using existing functions from the production car, including the Smart Cruise Control system's forward-facing radar and Lane Keeping Assist cameras.
Hyundai Motor is continuing to develop and refine its self-driving technologies with the aim of using less computing power, resulting in a low-cost platform that the average car buyer can afford.
Honda NeuV concept
The Honda NeuV (pronounced 'new-v') has a name that stands for New Electric Urban Vehicle. It is a concept based on the fact that privately-owned vehicles sit idle 96 per cent of the time.
When not in use the NeuV can provide services autonomously thus adding value to its owner. For example, when you are not using the car at nighttime it can self-drive around the streets and operate as a ride-sharing vehicle. Or, even better, when your teenage kids call you for a lift at 3am you can send your NeuV to fetch them, whilst you stay tucked up in bed. Nice one, Honda.
However, that's not all the clever little NeuV can do. It can also sense how you are feeling by using its 'emotion engine'… bear with me now.
The 'emotion engine' detects the emotions behind the driver's judgments and then, based on the driver's past decisions, will make new choices and recommendations based on the detected mood. For example, if the car thinks you are angry it might select some soothing and calming music for you to listen too. Here's hoping it can detect when you are 'hangry' and plays Mozart as it re-routes you to the nearest drive-thru.
Toyota Concept-i
This is probably my favourite car of this year's CES. Imagine if the vehicles of the future were friendly, and focused on you. That's the vision behind Toyota's Concept-i. Aw. How nice.
It is Toyota's view that the cars of the future should start with the people who use them.
Speaking of the Concept-i, Bob Carter, senior vice president of automotive operations for Toyota said:
At Toyota, we recognize that the important question isn't whether future vehicles will be equipped with automated or connected technologies. It is the experience of the people who engage with those vehicles. Thanks to Concept-i and the power of artificial intelligence, we think the future is a vehicle that can engage with people in return.
Much like the Honda concept, the Concept-i uses artificial intelligence systems to learn about the driver and 'read' emotions in order to tailor the driving experience.
It features a next-gen user interface that operates as a platform for the car's AI agent, nicknamed 'Yui'. Yui uses light, sound and touch to communicate critical information to the car's occupants and uses projections instead of screens.
Toyota is hoping to have a roadgoing version on the streets of Japan within the next few years.
Volkswagen ID Concept
The Volkswagen ID Concept showcased the manufacturer's new 3D digital cockpit, eye-tracking system and AR Head-up Display, which projects virtual information graphics ahead of the vehicle. It is an electrically powered car that can appaarently drive fully autonomously if desired.
The ID Concept will be priced roughly the same as a diesel Golf. and is the first Volkswagen car to be based on the Modular Electric Drive Kit (MEB). It has a claimed range of up to 600km.
Christian Senger, Product Line Leader for the ID said:
The production version will launch in 2020. The show car we are showing today already forges links to the year 2025 – as the first Volkswagen concept car to offer the fully autonomous "ID Pilot" driving mode.
This ID Pilot mode is activated by pressing the Volkswagen logo on the steering wheel. The steering wheel then disappears into the instrument panel leaving the driver plenty of space and room to sit back, relax and read the broadsheets… if they still exist.