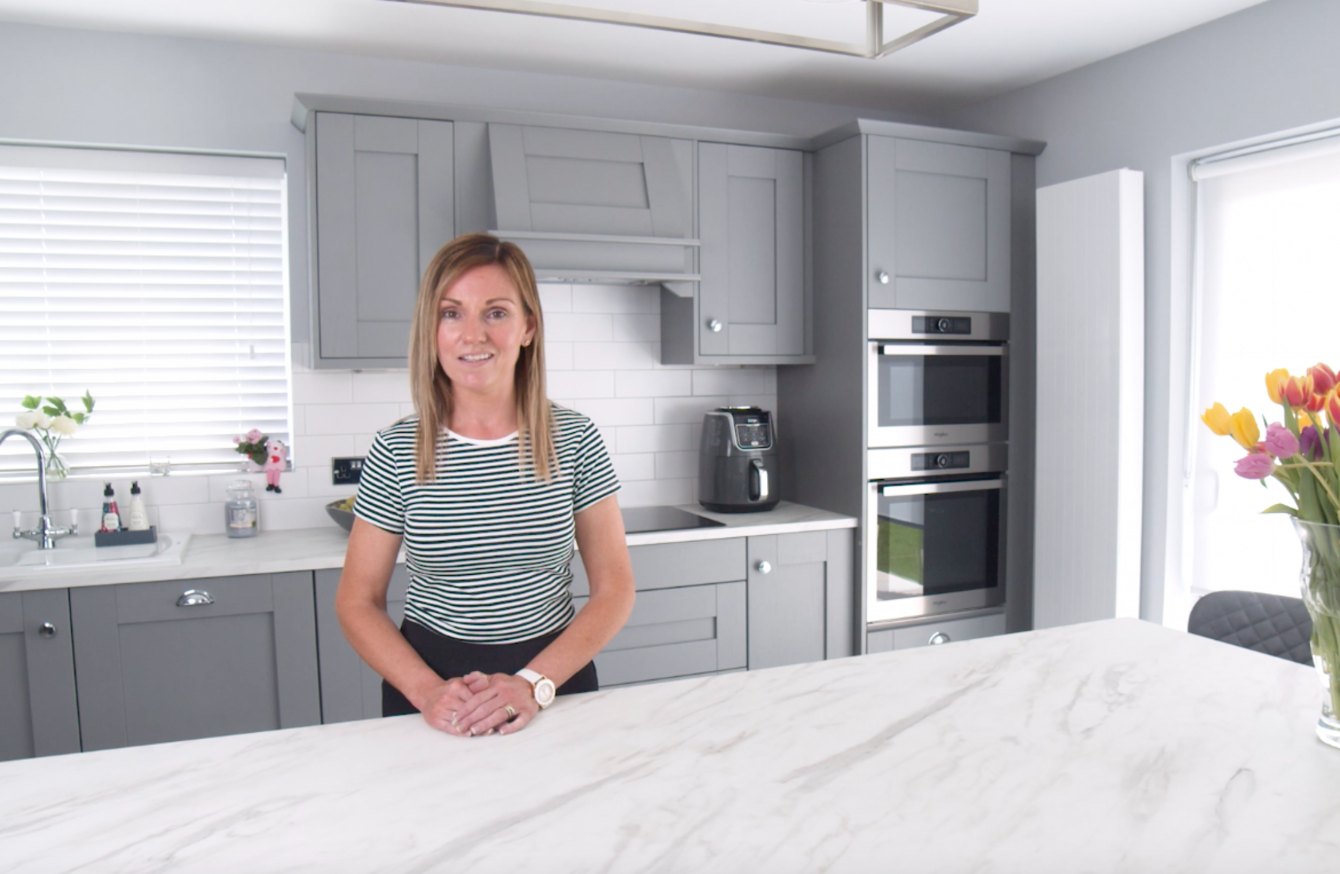 Vicki in her new kitchen.
Image: Cash & Carry Kitchens
Vicki in her new kitchen.
Image: Cash & Carry Kitchens
"MY KITCHEN WAS a very small, cramped space. I felt I was divided from everybody else," says Vicki Coakley, describing her home before it was updated last year.
"It was a room closed off on its own. Now we're all together and it has made life so much better."
Having a space where her family could gather was a priority for Vicki, who shares the house in Donaghmede, Dublin 13, with her husband Tom and their four sons. After deciding to knock down the wall that separated the kitchen and living room, Vicki went to the Cash & Carry Kitchens showroom in Swords, Co Dublin with a wish list for her new space.
Vicki's Kitchen Wishes
1. A bright and spacious place: "Lighting was really important. We have a wall here behind us and we could have closed it in and had more unit space on top, but I thought it was more important to have the window there to let the light in." 
2. A space for socialising: "It always seems to be the focal point to come to the island. You're right beside all of your kitchen amenities so if I want to do a bit of cooking while guests are here, I'm right beside them and I can actually do all of my preparation on the island while we're chatting away. Everything is all nice and compact in one area so you're not distanced from your visitors." 
3. Plenty of storage: "Storage was a big thing for us. With four boys, it used to be a big chore when I'd come back from doing the shopping trying to fit everything into my old kitchen, whereas now I just feel everything is put away a lot quicker because I've so much fridge space and freezer space."
Vicki met with Cash & Carry Kitchens designer Dee Morrissey, who set about bringing her dream kitchen to life. Dee created a digital 3D preview of the Augusta kitchen in Dust Grey, allowing Vicki to see exactly how it would look in terms of size and design. 
"The island had to be big," says Dee. "From the start, it was to be a place where the whole family could sit down. In order to do this, as well as putting storage at the front of it, we put some shallow storage at the back which meant we could go for the deeper island to allow two seats at one end and the rest of the seating at the back of it."
"There's also a wine fridge in the island, which is something Tom and Vicki wanted from the start." 
Now, Vicki's kitchen is the heart of her home where she can spend time with her husband and children – rather than somewhere where she was separated from her friends and family or guests. 
"I get to see my family a lot more, which is great," she says. "It's actually enjoyable to do a bit of cooking in the kitchen and I actually took up a bit of baking. It's just everything I need. It's a sociable space for us now.
"It's everything I ever wanted in a kitchen, and I'm quite happy to show it off. I'm confident now for people walking in the door to say 'this is my kitchen, this is my space.'"
You can book a free online design consultation with Cash & Carry Kitchens today. With a reputation built on quality, trust and expertise, Cash & Carry Kitchens are with you all the way – from the first conversation, to seeing your new kitchen installed by trained fitters. To start your journey and book a free consultation, visit cashandcarrykitchens.ie or call 1890 92 92 26.
For expert advice, design inspiration and more real kitchens, start exploring the Cash & Carry Kitchens Hub today.