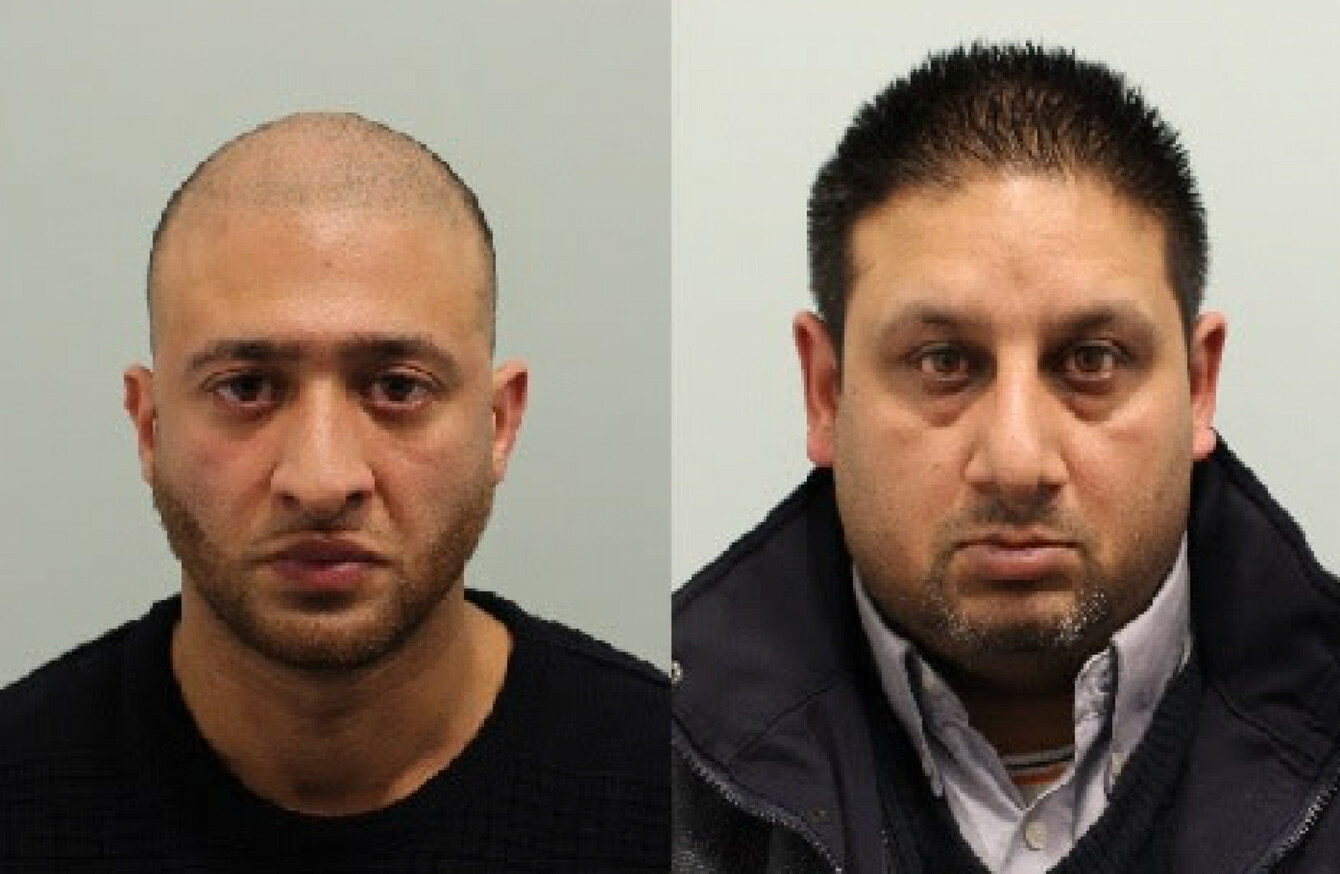 Mohammed Naheen Siddique [L] and Ranjeev Singh [R]]
Image: Met Police
Mohammed Naheen Siddique [L] and Ranjeev Singh [R]]
Image: Met Police
TWO BRITISH SECURITY guards have been convicted after staging a fake cash-in-transit robbery in which £7 million (€8.4 million) was taken.
The two men were both working for the same security firm and were caught out when police uncovered mobile phone communication between them during the "robbery".
The con began when 26 bags of cash were loaded into a security van at the BA cargo depot at Heathrow Airport.
Mohammad Siddique (32) the drove it out of the security gates of the depot with Ranjeev Singh (40) in the passenger seat.
Britain's Crown Prosecution services outlines how the pair then set about staging the robbery:
Singh waited inside the toilet block for some time before alerting colleagues to Siddique's disappearance a few minutes later. He claimed that he could not contact anyone earlier as he had left his own mobile phone in the vehicle. In reality he knew that, if he had alerted his employers straightaway, they would have had the ability to immobilise the van and their entire plot would have been foiled. In fact, Singh had a second phone all along, stored in his jacket pocket, which he used to speak to Siddique with whilst he was in the toilet. The security van was later found abandoned, but with the engine still running.
With the help of a third man, Siddique's hands and ankle were tied using cable ties and he was left by a service road before being "found" by a member of the public.
Met Police say that Siddique was interviewed as witness to the robbery and had claimed that another man had organised the robbery and threatened to burn his house down.
In reality, however, police carried out analysis of a phone that was found on Singh and found that he had been in contact with Siddique during the staged robbery.
Analysis of Siddique's phone also determined that he had been in contact with a third man, Rafaqat Hussain, who later pleaded guilty to conspiracy to burgle.
Two other men also pleaded guilty but Siddique and Singh were found guilty at Kingston Crown Court in London. They will be sentenced on 18 October.
The £7 million has still not been recovered.