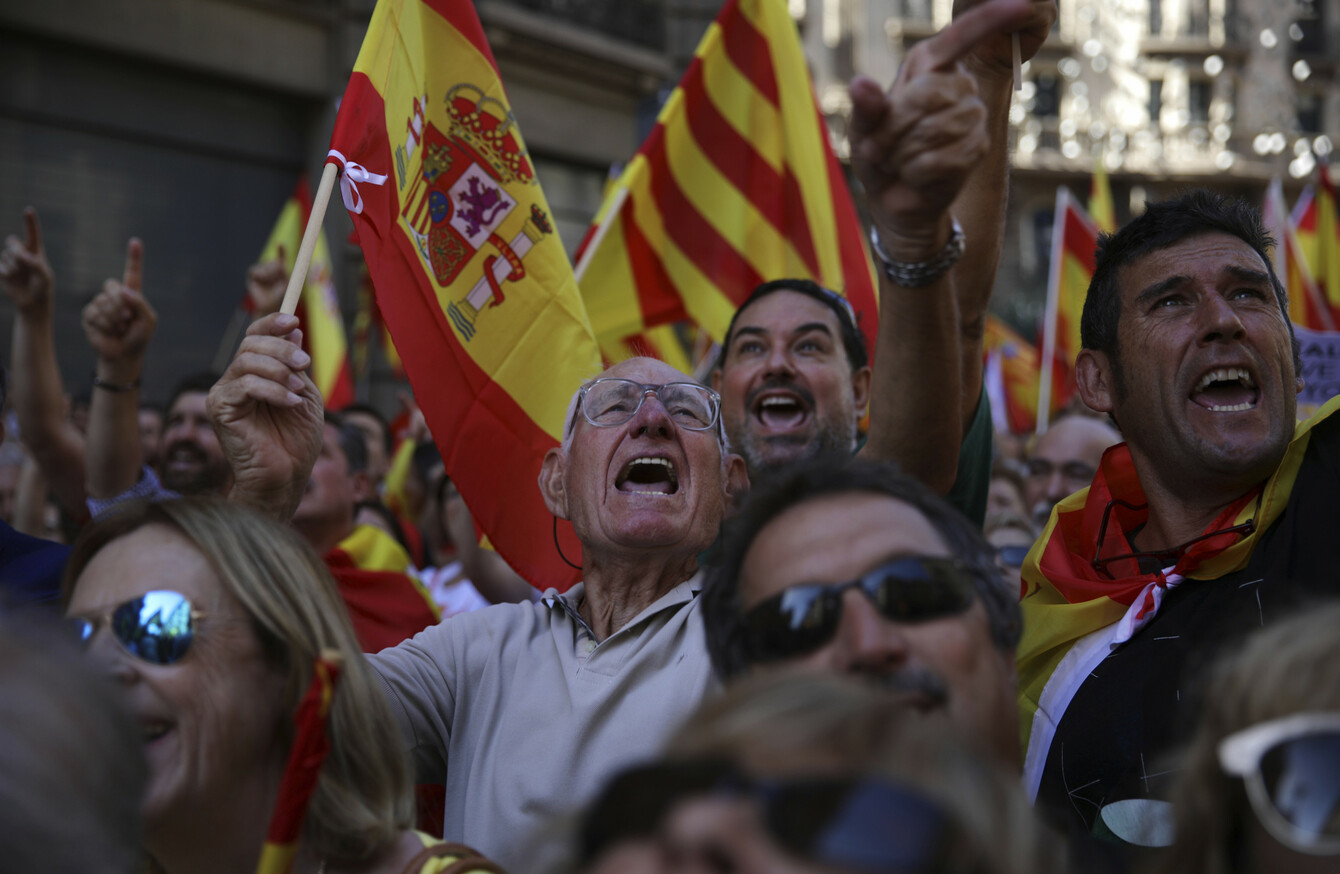 Supporters of Spanish unity at a rally in Barcelona today
Image: Emilio Morenatti AP/PA Images
Supporters of Spanish unity at a rally in Barcelona today
Image: Emilio Morenatti AP/PA Images
CATALONIA'S FOREIGN MINISTER Raul Romeva has said that the will of the people must be respected as the region prepares to declare independence from Spain later this week.
Speaking to RTÉ's This Week programme, Romeva said that the vote wasn't about independence but democracy and was critical of the "repression" of authorities in preventing people from voting in last week's referendum.
With a voter turnout of 43%, an overwhelming majority (90%) chose independence.
Today, however, thousands of people gathered in Barcelona calling for Spanish unity, rather than Catalan independence.
Catalonian authorities have said that they would declare independence this week, but face stern opposition from the Spanish government who said they will not recognise any independence call.
Spanish Prime Minister Mariano Rajoy has not ruled out suspending Catalonia's regional autonomy, a move which could lead to further unrest.
"I rule out absolutely nothing that is allowed for under the law," he said in an interview published in El Pais newspaper.
"Repression"
Romeva said that the turnout was only 43% because of the "repression of Spanish authorities".
A major police crackdown last week saw people going to vote clashing with authorities.
"Despite this, two million people went to vote," Romeva said. "We had the same turnout for this than we had for the referendum on the European constitution.
If that vote was deemed valid, this needs to be valid too.
He accused the Spanish government of refusing all requests for dialogue and said that the Catalonian government had little option but to respect the will of the people.
Romeva said: "This is not about independence. It's about democracy. 90% of people voted for this.
We have to respond. It's the people's will. This is not going to disappear.
"Silent majority"
Catalans calling themselves a "silent majority" opposed to leaving Spain broke their silence after a week of mounting anxiety over Spain's worst political crisis in a generation.
Hundreds of people gathered on the city's Urquinaona square waving red and yellow flags and singing "Viva Espana".
"We have perhaps been silent too long," Alejandro Marcos, 44, told AFP.
"It seems that the one who yells the most wins the argument. So we have to raise our voices and say loud and clear that we do not want independence."
Some protesters called for the region's separatist president Carles Puigdemont to go to jail for holding a vote on independence in defiance of the Spanish government and courts.
"The unity of Spain cannot be voted on or negotiated – it must be defended," read one sign in the crowd.
With reporting from AFP