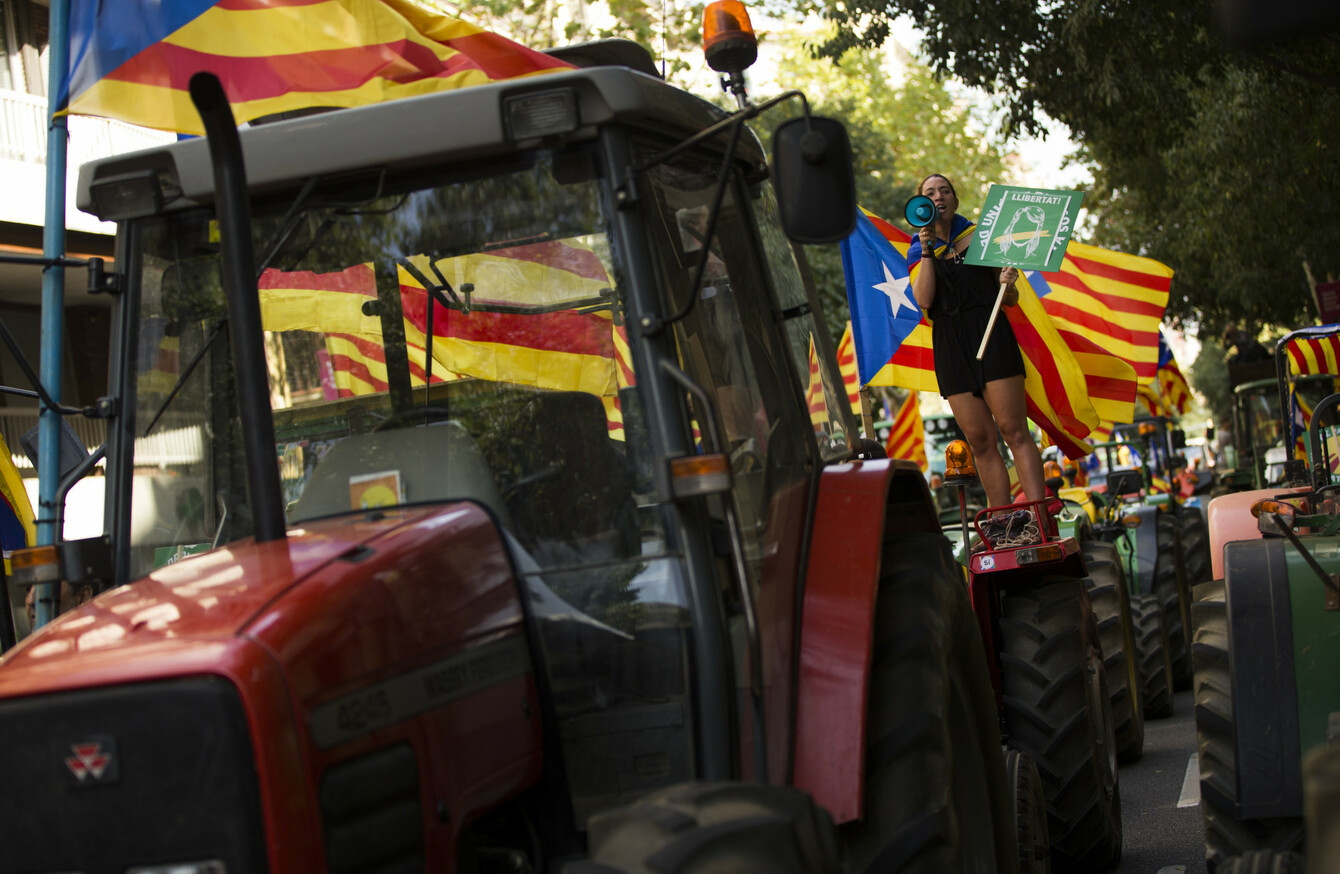 A woman with the estelada, or Catalonia independence flags, shouts slogans on top of parked tractors during a protest by farmers in Barcelona today.
Image: Francisco Seco/AP/Press Association Images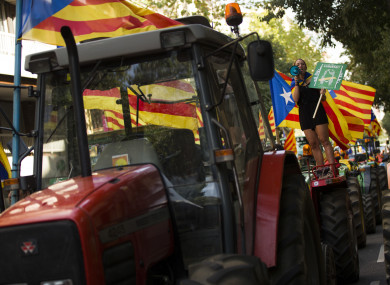 A woman with the estelada, or Catalonia independence flags, shouts slogans on top of parked tractors during a protest by farmers in Barcelona today.
Image: Francisco Seco/AP/Press Association Images
COLUMNS OF TRACTORS rolled into Barcelona this week in support of an independence vote.
Supporters of the independence referendum in Catalonia opposed by Madrid occupied schools designated as polling stations this evening in a bid to ensure the vote goes ahead, ramping up tension ahead of the bitterly-contested plebiscite.
In one of the biggest crises to hit Spain since democracy was restored after the death of Franco in 1975, the referendum has pitched the wealthy northeastern region against the central government and sown divisions among Catalans themselves.
Authorities in Madrid have instructed police to ensure no votes are cast in Sunday's vote.
A court on Wednesday ordered police to prevent the use of public buildings "for the preparation and organisation" of the referendum.
But as classes ended for the day, small groups of activists, including parents with their children, today peacefully occupied several schools in Barcelona where voting is scheduled to take place.
"I am going to sleep here, with my oldest son who is a student here," Gisela Losa, a mother of three, told AFP at the Reina Vionant primary school in Barcelona's fashionable Gracia neighbourhood where pro-independence sentiment runs high.
The occupations appeared to be partly coordinated by a platform of "schools open for the referendum" which distributed a manual via social networks with instruction on how to occupy buildings and guarantee they are available to serve as polling stations.
"The objective of this campaign is to ensure that all the polling stations planned for the October 1 referendum meet the conditions so that we can all express ourselves freely and peacefully," the platform said in one of its messages.
It posted on Twitter pictures of several public buildings that were being occupied.
Cinema and dance classes
Jordi Sanchez, the president of the Catalan National Assembly, an influential pro-independence organisation, told AFP the court order said public spaces could not be used for the referendum on Sunday "but it did not say anything about leisure activities today and Saturday".
We have proposed that citizens organise activities, that they put in place a lot of activities to give life to these spaces which on Sunday should host the referendum.
Barcelona's Joan Brassa high school advertised a series of activities for today and tomorrow, including movie screenings, football matches and Zumba dance fitness classes.
Spain's education ministry warned in a statement that school directors in Catalonia "were not exempt from liability" if they helped to stage the referendum which the courts have ruled unconstitutional.
Catalan government spokesman Jordi Turull said there would be "2,315 polling stations all over the region" the vote. It was not immediately clear how many potential polling stations were being occupied.
Police have for days been seizing electoral items such as ballot papers as they follow orders to stop the referendum while prosecutors ordered the closure of websites linked to the vote and the detention of key members of the team organising the referendum.
Polls show the 7.5 million people of Catalonia are split on the issue of independence, but a large majority want to vote in a legitimate referendum to settle the matter.
ravel warnings
With firefighters and farmers vowing to protect polling stations, Catalonia's regional police force, the Mossos d'Esquadra, have warned of the risk of the "disruption of public order" if they try to prevent people from casting ballots.
#Open journalism No news is bad news Support The Journal

Your contributions will help us continue to deliver the stories that are important to you

Support us now
In case they resist, Madrid has sent thousands of extra police officers from other forces to Catalonia – which accounts for one fifth of Spain's economy – to help suppress the referendum it deems illegal.
Central government spokesman Mendez de Vigo said he was "completely certain" that the Mossos would "obey the law and the judge's orders" because they "are subject to the law like everyone else".
"I insist that there will be no referendum," he said.
Junqueras told reporters that if "someone closes a polling station, there is an alternative for citizens to vote", without giving further details.
He urged people to vote "responsibly" and "not to yield to provocations of those who want to stop the vote."
Several European countries, including Germany and the Netherlands, urged their nationals in Catalonia to exercise caution ahead of the referendum.
Spain's King Felipe and Prime Minister Mariano Rajoy have cleared their agendas for next week.
During the last regional elections in Catalonia in 2015, pro-separatist parties captured 47.6% of the vote, giving them a narrow majority of 72 seats in the 135-seat regional assembly.