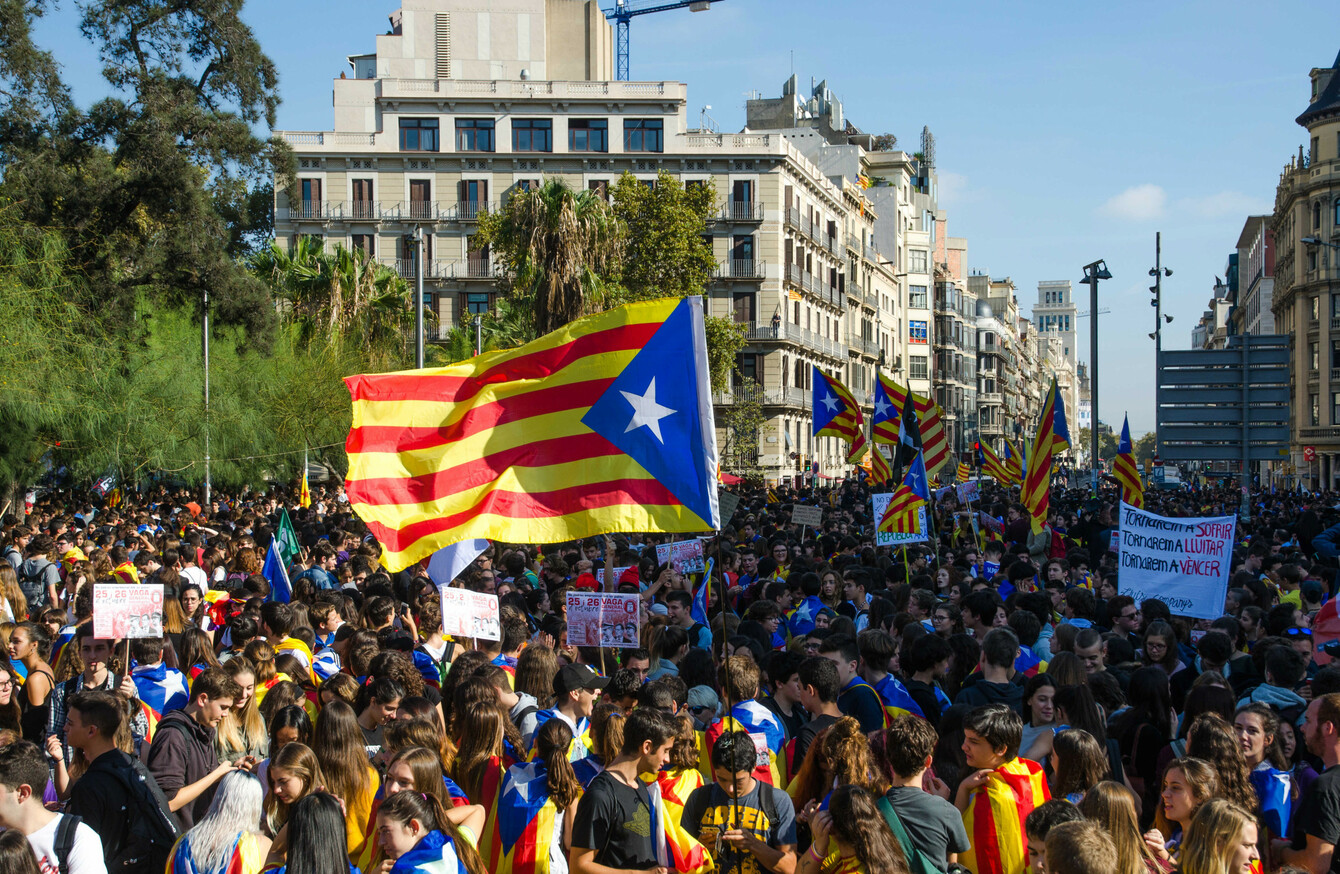 Catalonia protest in Barcelona on Thursday
Image: Copyright Paco Freire via PA Images
Catalonia protest in Barcelona on Thursday
Image: Copyright Paco Freire via PA Images
SPANISH LAWMAKERS ARE poised to adopt extraordinary measures today to seize control of Catalonia in a bid to frustrate its independence drive, though separatists are likely to push back.
The Senate, where Prime Minister Mariano Rajoy's Popular Party holds a majority, is scheduled to meet from 10am (8am Irish time) to vote on steps to depose Catalonia's secessionist government before the week is out after the region held an unlawful independence referendum on 1 October.
For its part, the Catalan parliament, where pro-secession parties hold sway, will meet in Barcelona where a proposal to vote on splitting from Spain could work its way onto the floor.
Yesterday, Catalan leader Carles Puigdemont opted not to call elections for a new regional parliament – thought to be the only way to stave off Madrid's imminent power grab.
Warning that seizure of control by the central government would escalate the crisis, he passed the buck to the regional parliament "to determine the consequences" of the threatened takeover – thus leaving the door open for a possible independence push.
Constitutional standoff
Spain and Catalonia have been locked in a constitutional standoff since a yes vote in the unregulated plebiscite which secessionist leaders hold up as a popular mandate for independence for the region of 7.5 million people.
Only about 43% of voters turned out, however, with many anti-secessionists staying away and others prevented from casting their ballot by Spanish police in a crackdown that turned violent.
Based on the vote, Puigdemont moved towards an independence declaration but suspended it pending negotiations.
Madrid turned to Article 155 of the constitution – a never-before-used provision designed to rein in rebels among Spain's 17 regions, which enjoy varying levels of autonomy.
Measures drawn up under the article are set to enter into force tomorrow and will see the central government seek to temporarily take over Catalonia's civil service, police, purse, and public broadcaster.
Deputy Prime Minister Soraya Saenz de Santamaria insisted the government was "fulfilling a legal obligation, a democratic obligation and a political obligation", by its actions.
'Impatient' to leave
Catalonia's parliament met to discuss the issue late last night, where opposition lawmakers pleaded with Puigdemont to find a solution to the standoff closely watched by a European Union wary of nationalist and secessionist sentiment, particularly after Britain's dramatic decision to leave the union.
"You still have time to return to legality and call elections," Ines Arrimadas, regional leader of the anti-independence Ciudadanos party, said in parliament.
Catalans are fiercely protective of their language, culture and autonomy – restored after the 1939-75 dictatorship of Francisco Franco.
#Open journalism No news is bad news Support The Journal

Your contributions will help us continue to deliver the stories that are important to you

Support us now
But they are also deeply divided over independence.
"We're impatient to see the proclamation of the Catalan republic," said Natalia Torres, one of the thousands of students at a pro-independence march in Barcelona yesterday.
But Manuel Herrera, a 61-year-old parking attendant, said: "I want to stay in Spain so that more companies don't leave."
Fears for Catalonia's economy have increased as uncertainty persists over the independence drive, with some 1,600 companies already having moved their legal headquarters out of the region.
Catalonia accounts for about 16 percent of Spain's population and a fifth of its economic output.