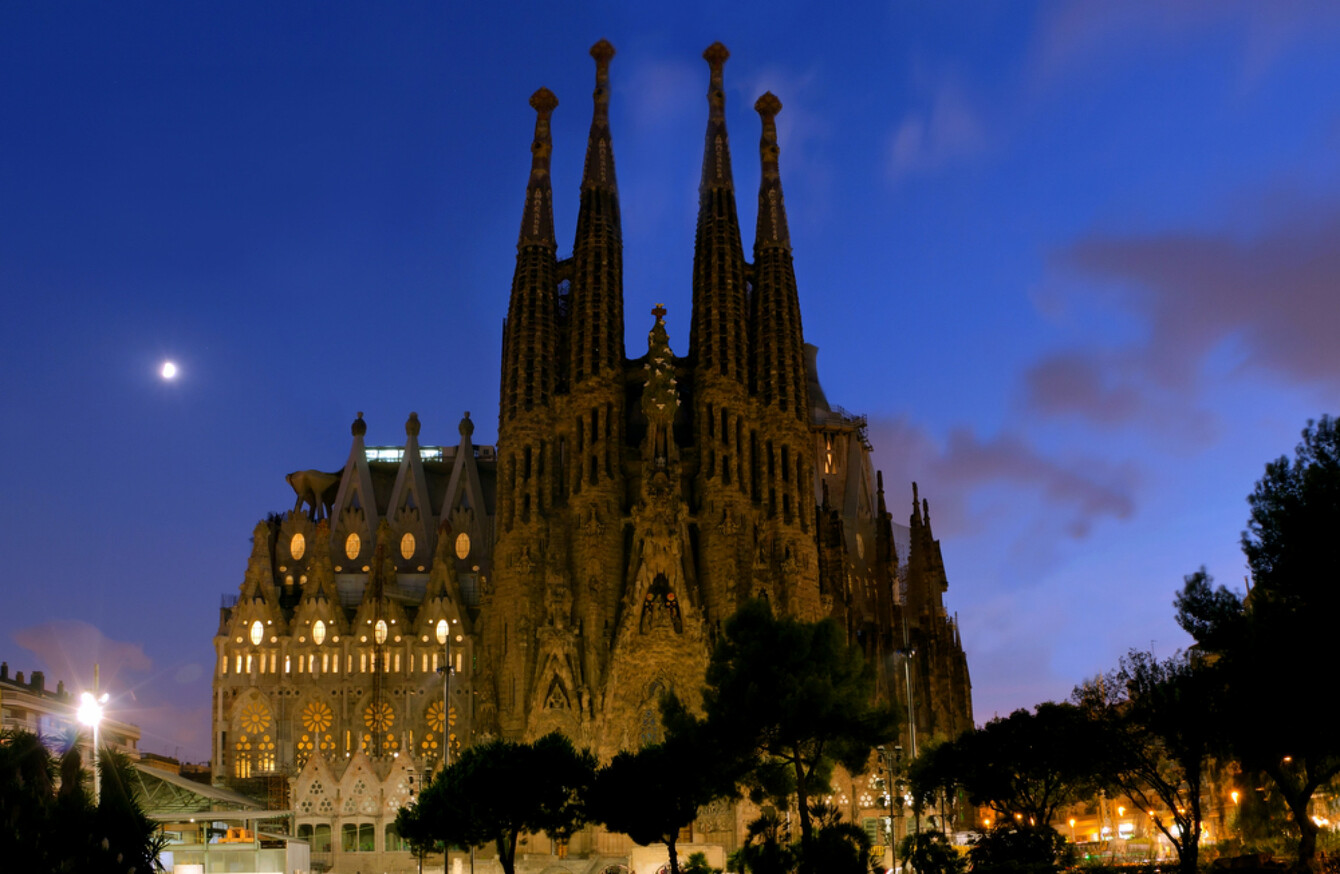 La Sagrada Familia is perhaps Barcelona's most famous landmark.
Image: Shutterstock/Danilin VladyslaV Travel
La Sagrada Familia is perhaps Barcelona's most famous landmark.
Image: Shutterstock/Danilin VladyslaV Travel
CATALONIA'S INDEPENDENCE PUSH is taking its toll on the region's tourism industry, with revenues and hotel bookings down since a banned 1 October secession referendum that was marred by violence.
"The tourism sector is one of the most strongly affected by the instability," Prime Minister Mariano Rajoy told parliament last week as defended his government's handling of the Catalan crisis.
Catalonia, with its capital Barcelona and Costa Brava beaches, is the Spanish region that most attracts foreign visitors.
More than 18 million visitors went in 2016, or a quarter of all foreigners who came to Spain.
But images of police beating would-be voters as they tried to stop the independence referendum and the massive street demonstrations in Barcelona that followed the vote had dampened visitors' enthusiasm.
Catalonia's tourism activity slumped by around 15% during the first two weeks of October compared to the same time last year, according to industry lobby group Exceltur.
Barcelona's emblematic Las Ramblas boulevard was still packed with locals and tourists, who sat in the sun on outdoor terraces or drove by on open-top buses.
But local shop owners complain of a slump in activity.
"You feel it, there are less tourists since 1 October. Our sales have dropped by about 25%, it's very worrying," said Susana Garcia, 44, who runs a confectionery stand on the boulevard.
If you watch TV, and you see Barcelona and police hitting people, and people saying there is no democracy, would you go there?
Travel warnings
Jose Luis Morais has noticed a similar drop in business at his nearby newspaper stand, but he thinks it has "more to do" with the jihadists attacks in Barcelona and the nearby resort of Cambrils in August that killed 16 people "than because of the political situation".
Catalonia's tourism activity dropped by around 5% in September in the wake of the attacks, according to Exceltur.
Just before the referendum several countries, including Germany, France and the United States, warned their citizens to be careful if they travelled to Catalonia.
Spanish airline Iberia and American Airlines allowed their passengers on flights to Barcelona to change their tickets for another destination if they wished for free.
A cruise ship which was due to dock in Barcelona on 1 October, the day of the referendum, cancelled its stop in the city.
Ireland's Department of Foreign Affairs has made no specific recommendations for the region and its advice for Spain is to "take normal precautions".
It does note however that:
Due to the current political situation, public gatherings and demonstrations have taken place in Catalonia, Madrid and elsewhere in Spain. There have been some incidents of violence. There is a possibility of further spontaneous gatherings and protests, which have the potential to affect local transport and other services.You should avoid all demonstrations, monitor local media and follow the advice of the local authorities.
With Catalan president Carles Puigdemont threatening to declare independence following the referendum, the impact on the tourism sector is likely to continue in the coming months.
Barcelona is a popular destination for French tourists when schools close for an annual holiday at the end of October but reservations for the period are down by 5-10%t, a spokesman for travel firm eDreams Odigeo said.
#Open journalism No news is bad news Support The Journal

Your contributions will help us continue to deliver the stories that are important to you

Support us now
Put the breaks
Reservations by all nationalities at hotels in Catalonia are down by around 20% until the end of the year, according to Exceltur.
It predicts the drop could reach up to 30% if the crisis continues, which would cost Catalonia €1.8 billion in lost revenues.
Tourism sector companies have also "seriously put the brakes" on all investments in Catalonia until the end of 2017, Exceltur vice president Jose Luis Zoreda told a news conference on Tuesday.
Tourism accounts for 12% of Catalonia's economic output and employs just over 400,000 people.
Exceltur warned the crisis could have "strong" effect on jobs if it continues.
The rest of Spain has not recorded a fall in reservations but the slowdown in Catalonia risks putting the brakes on a sector which has been booming and is key for the Spanish economy.
© – AFP 2017 with reporting by Rónán Duffy