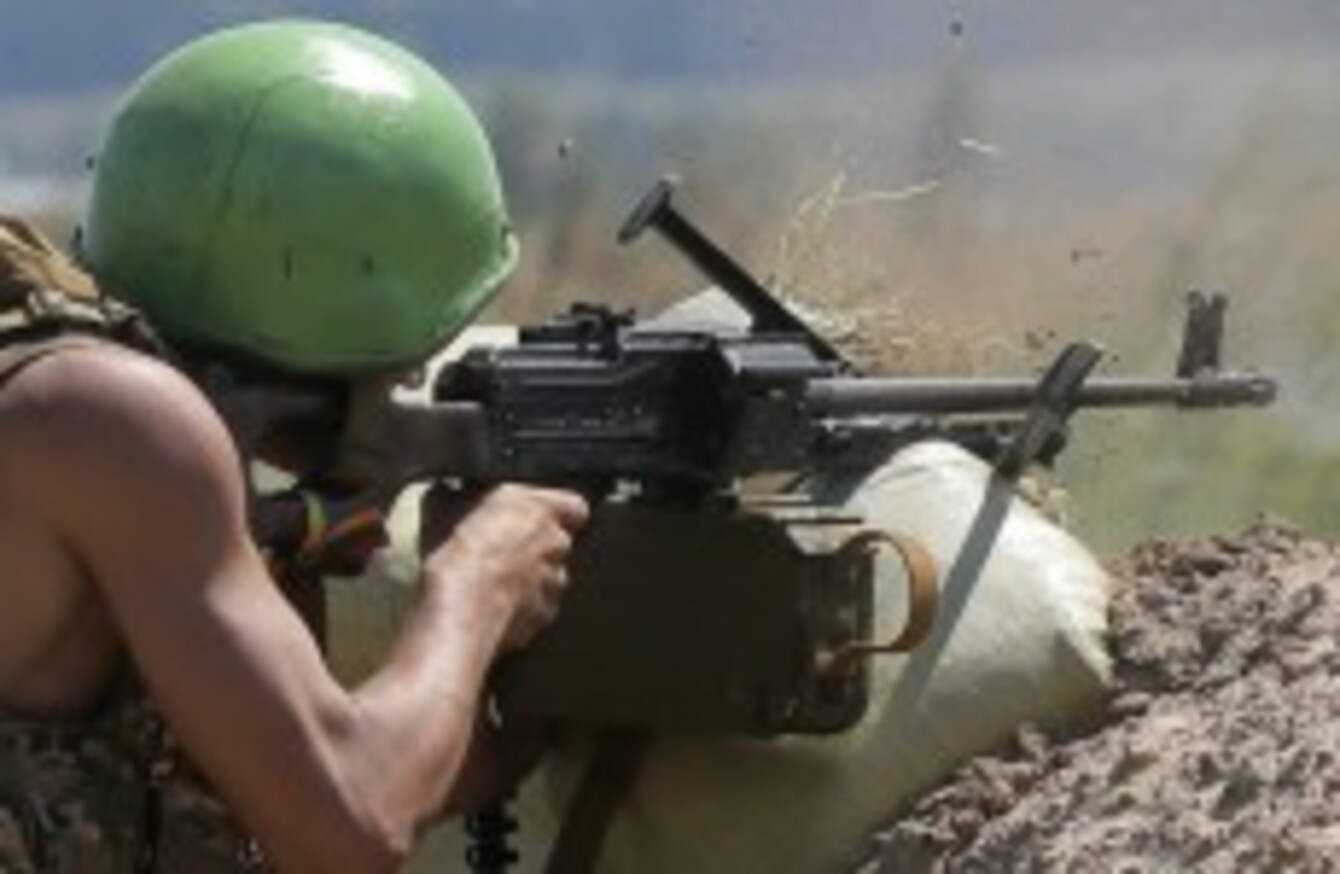 A Ukrainian soldier shoots from a machine gun during a battle with pro-Russian separatist fighters in Slovyansk.
Image: AP Photo/Efrem Lukatsky
A Ukrainian soldier shoots from a machine gun during a battle with pro-Russian separatist fighters in Slovyansk.
Image: AP Photo/Efrem Lukatsky
VLADIMIR PUTIN AND Ukrainian president-elect Petro Poroshenko have jointly called for a ceasefire in the troubled southeast of Ukraine in a potential breakthrough in a crisis that has poisoned Moscow's relations with the West.
The two leaders shook hands and talked for a quarter of an hour in a meeting brokered by French President Francois Hollande before a lunch of world leaders attending anniversary ceremonies in France, aides to Hollande said.
French officials said a potential ceasefire between Ukrainian government forces and pro-Russian separatists had been discussed, but Putin's spokesman Dmitry Peskov went further.
"Putin and Poroshenko called for the soonest possible end to bloodshed in southeastern Ukraine, and to military operations on both sides — both by the Ukrainian armed forces and by supporters of the federalisation of Ukraine," Russian news agencies quoted Peskov as saying.
"They also confirmed that there was no alternative to resolving the situation with peaceful political methods," Peskov added.
It was the first meeting between the two men since pro-Western chocolate tycoon Poroshenko won Ukraine's presidential election on May 25.
Moscow had previously said it was ready to work with the new president but stopped short of explicitly recognising him as the legitimate leader of the Ukrainian people.
Tensions in southeastern Ukraine have mounted in recent days with the government admitting on Thursday that it had lost control of three border posts that were being routinely attacked by the rebels.
On Friday, one police officer was killed and two others injured in a mortar attack in Slavyansk, the epicentre of rebel activity in the region.
A French official said Friday's Putin-Poroshenko meeting had lasted around 15 minutes.
"They were able to begin a dialogue on possible de-escalation measures including Moscow recognising Porochenko's election," he added.
"The practicalities of a ceasefire will also be discussed in the coming days."
The Kremlin has indicated that it will be sending an ambassador to Kiev for Poroshenko's investiture on Saturday in a move some have interpreted as de facto recognition of the new president's legitimacy.
A ceasefire could be harder to deliver as, for it to be accepted by the rebels, there would have to be some sort of pullback by Ukrainian government forces which Kiev would regard as an infringement of its right to police all of its sovereign territory as it sees fit.
Putin also held what US officials described as a ten to 15-minute conversation with President Barack Obama on the sidelines of the D-Day events.
The Russian president has repeatedly emphasised that he does not control the rebels while the Western powers accuse Moscow of pulling their strings.
According to French Foreign Minister Laurent Fabius, Putin admitted he could have a "certain influence but not total influence" over events in Ukraine.
#Open journalism No news is bad news Support The Journal

Your contributions will help us continue to deliver the stories that are important to you

Support us now
"He gave the example of the referendum which took place while he had asked for it not to be held," Fabius said, referring to the May 11 vote organised by the rebels which produced a large majority in favour of secession.
In their meeting on Friday, which was also attended by German Chancellor Angela Merkel, the two leaders also discussed some of the economic aspects of the crisis, the most important of which is Russian energy giant Gazprom's doubling of the price of gas it supplies to Ukraine and its demands for a rapid settlement of the country's arrears.
The meeting here followed Putin's talks with British Prime Minister David Cameron in Paris on Thursday. Those two encounters were the Russian leader's first since Russia's annexation of the Crimean peninsula, previously part of Ukraine, in March.
They was followed up by a formal bilateral discussion with Merkel in Normandy, in which she called on Russia to "live up to its responsibility" to ease the crisis in Ukraine.
"The chancellor expressed her conviction that, the time must now be used, after the internationally recognised presidential election, to stabilise the situation, especially in Eastern Ukraine. Russia must live up to its significant responsibility in this matter," Merkel said, according to her spokesman Steffen Seibert.
If there is a ceasefire and a significant de-escalation of the crisis, it will be a major coup for Hollande and the gastro-diplomacy that has brought Putin in from the cold.
On Thursday evening, the Socialist leader had to race through a dinner with Obama at a French restaurant so that he could meet Putin for a late supper at his Elysee palace.