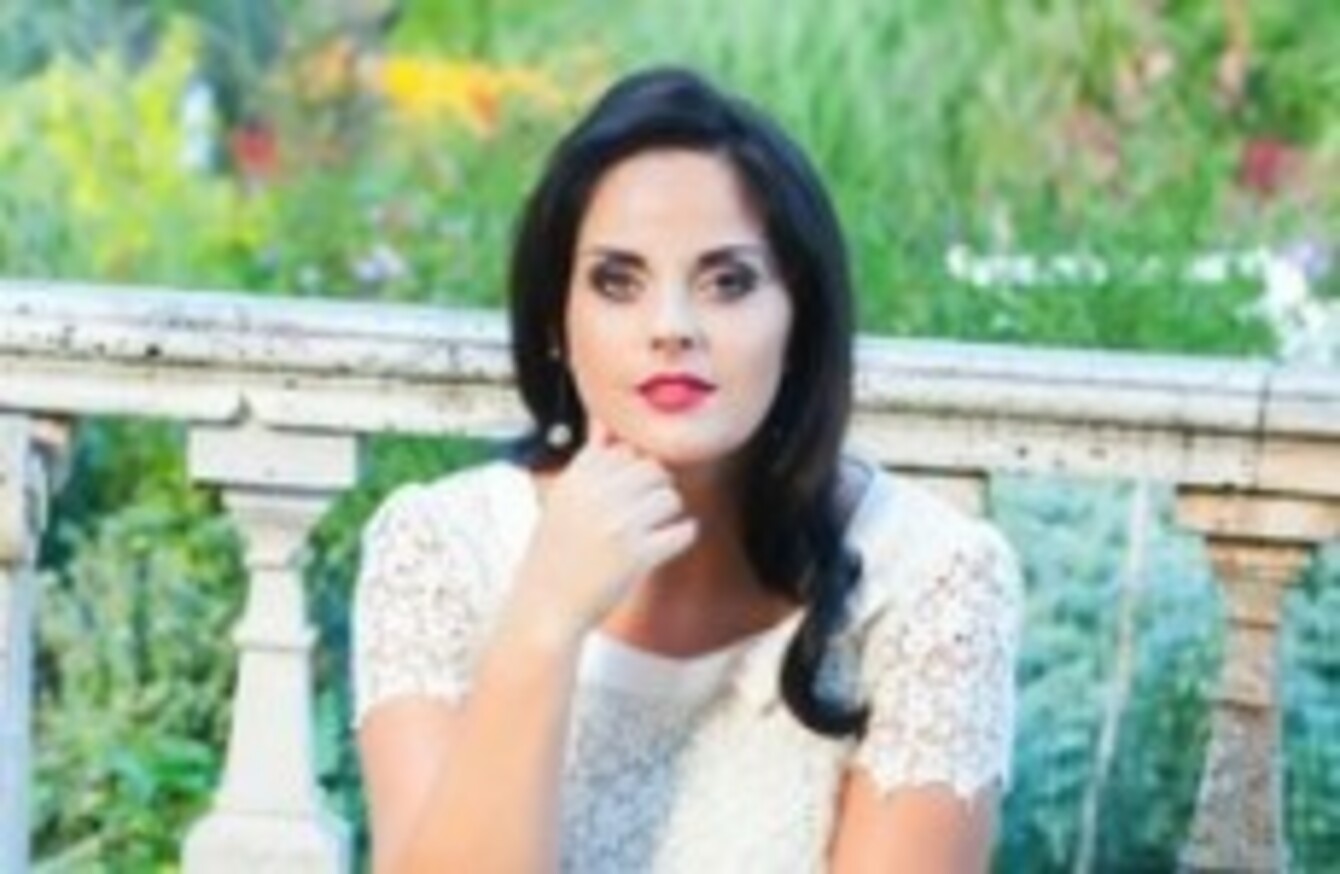 Image: Celine Byrne
Image: Celine Byrne
THE WORLD OF opera seems incredibly glamorous to those of us outside it – all of that travelling; the fancy outfits, the timeless music.
But for the hugely successful Celine Byrne, Ireland's foremost soprano, it's life – and though she adores her job, there are no airs and graces about it. If you think she lounges  around sipping on honey and warm water in between gigs, you'd be wrong.
Her motto is "everything in moderation" (though as a pioneer, she abstains from drinking), and she has no time for fancy tricks.
It's not the case where I get up in the morning and go 'I must not go outside, I must wrap myself in a scarf'. I live a normal life.
I actually know people who go on like that and I just think that is a bit… each to their own!
The only time my voice lets me down is if I'm singing a lot and I haven't rested enough. Singing on a tired voice can be damaging.
Journey to the stage
Source: RTÉ - IRELAND'S NATIONAL PUBLIC SERVICE MEDIA/YouTube
Byrne made her operatic debut in a 2010 production of La Bohéme, and has gone on to travel extensively since. But the decision to become an opera singer came like a bolt out of the blue, and Byrne – who has a strong faith – believes it's a job she is meant to do.
While watching an opera performance, she felt called to the career. But is the life of an opera singer what Byrne had imagined it would be when she first set her mind on it?
In a way it kind of is, because when I saw an opera for the first time and realised that was what I wanted to do, I almost projected myself into that person on stage anyway. Now I am doing what I imagined doing when sitting in the audience.
She's currently working on three operas – Carmen in French, Die tote Stadt in German and Don Carlo in Italian – while preparing for a concert this weekend during the Music in Monkstown festival. There, she will perform in a recital alongside pianist Dearbhla Brosnan, bringing the audience operatic arias by the likes of Mozart, Puccini, and Handel.
Doing a recital is a nice change for Byrne, who will soon be off to perform internationally with Jose Carreras.  What keeps her going on such a busy schedule (she has a family at home in Kildare)? "The adrenaline".
I don't have a moment to stop, so effectively I am kept going. So if I'm not working, I'm studying or prepping for the next project.
She doesn't want to be cliched about it – "It's hard work; it's not easy" – but it's clear she loves her craft. "It's difficult. I feel like I'm always under pressure. But at the same time, the minute I step on stage… I love it, I love it. I can't tell you how much I love it."
"Even within my fans, I think they think the job is glamorous because I travel a lot," she adds. "My job is not standing on stage and singing and taking money and going home. there is a lot of hard work going into it. I have studied for a long time."
"It's difficult to live up to that demand"
Byrne mentions a recent article that stated "days of the fat singer are gone", and though she disliked its wording, she saw where the reporter was coming from.
Nowadays it is not just standing and singing. Now you have to look good… it's not just about the voice, it's the whole package. There's pressure to conform to that. It's difficult sometimes to live up to that demand.
Once, she was even approached by someone who told her "my dress was little bit tight, and that maybe I should invest in slimming underwear or not wear that dress again".
While those moments must be frustrating, Byrne doesn't appear to let any of it affect her own work. Neither is she perturbed by the crossover 'popera', or pop-opera, acts like Charlotte Church.
"It does what it says on the tin – 'crossover'. Andrea Boccelli and Hayley Westenra, they don't assume to be anything else, They do what they do and they do it brilliantly."
In a way, yes they kind of give people an introduction to classical music, but what they're doing is not pure classical but still gives people a lean into classical music.
Don't fear the opera
As a Culture Night ambassador, Byrne wants to encourage people to get out there and experience the musical delights that Ireland has to offer. She also wants to reassure people that opera isn't just for a specific 'type' of person.
Some people, says Byrne, fear they won't understand opera, or it will "go over their head". "But it won't, because music is music," she assures. "Not every opera is the same -
it's like a book, there are thrillers, horrors, dramas."
At her own performances, she tries to always sing something Irish. "I am proud of my heritage, and some of the most beautiful music is out there and should be heard."
"[Classical] Irish music is synonymous with likes of Celtic Women – I love Celtic Woman, and Celtic Thunder and the Celtic shows - but I also want to sing Irish music in a classical style in the way it was supposed to be performed."
Celine Byrne will perform at Music at Monkstown in Monkstown Parish Church on Saturday 19 September at 7.30pm. For more details, see Facebook and the official website.