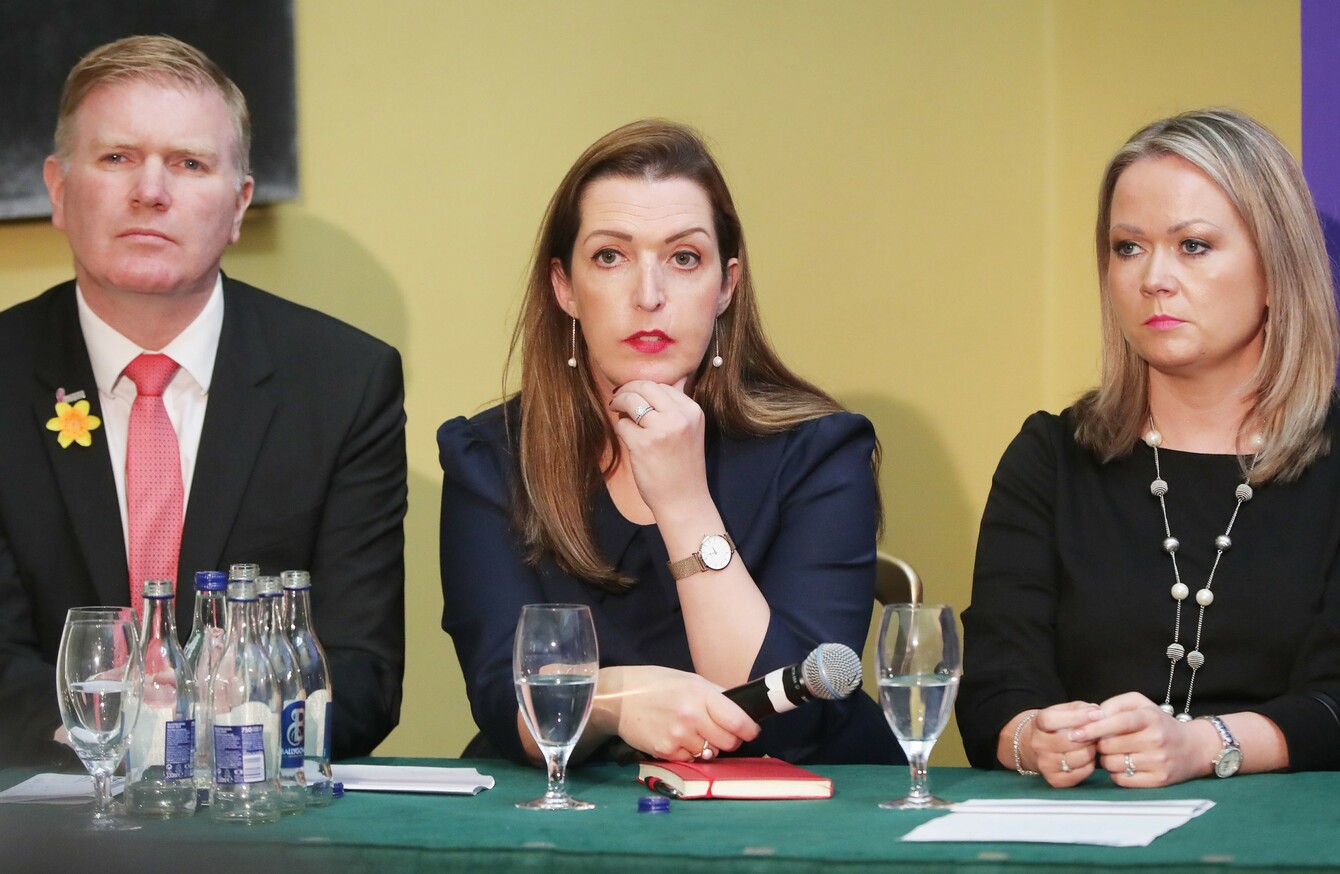 Donal Buggy, Vicky Phelan and Lorraine Walsh at the launch of 221+ Cervical Check Patient Support Group.
Image: Niall Carson
Donal Buggy, Vicky Phelan and Lorraine Walsh at the launch of 221+ Cervical Check Patient Support Group.
Image: Niall Carson
Updated Dec 18th 2019, 1:00 PM
THE OIREACHTAS HEALTH Committee has heard that it is a "remarkable" coincidence that smear results from two prominent campaigners got mixed up in a review.
The Oireachtas committee heard from representatives from the Royal College of Gynaecologists and Obstetricians (RCog) this afternoon, which recently completed a review of Ireland's CervicalCheck controversy.
During the RCog's review, two prominent campaigners, Lorraine Walsh and Vicky Phelan, had their slides mixed up, receiving each other's results.
The committee heard temporary labels were taken off and put back on following completion of the review after slides had been put into their boxes and sealed.
There was a request to remove some material used to anonymise the slides in order to keep the process independent from the HSE, and in the process of removing that, some original labels were removed and in the case of four slides, the issue arose.
Labour TD Alan Kelly queried how the RCOG panel and Health Service Executive can be confident mistakes were not made after Lorraine Walsh received two separate smear results.
Kelly said: "If she hadn't come back, she wouldn't have gotten a second report, only she knew what she was talking about and that there was a problem. So if that's one case, how can you say there isn't others?
The idea that three slides get mislabelled, two of them happen to be those two ladies, Vicky Phelan and Lorraine Walsh, their labels were taken off, and Vicky's put on Lorraine's and vice versa – how can that happen? To those two women? Two of 1,038?
"It is amazing the two people who are best known in the country in relation to this have their slides mixed up, that appears to be a remarkable coincidence."
Chief Medical Officer at the Department of Health Dr Tony Holohan said that the mislabelling "is surprising, but my understanding is the identity of any individuals were not known".
Sinn Féin's Louise O'Reilly said: "Calling it a coincidence is a huge understatement."
Response from RCog
Professor Henry Kitchener, the RCOG's lead assessor, replied to Kelly: "With reference to correct an error, we'd always work to see any similar error hadn't happened in any other case and we're confident in the final analysis, every woman has received open disclosure of her review.
It is a remarkable coincidence, but as I've said, this labelling issue took place following completion of review and therefore had no impact on the actual conduct of the slide review.
In his opening statement, Professor Kitchener stated that the review's findings "were striking in the sense that a high proportion of discordant readings were found, many with significant implications". But it added:
This however was not unexpected, not only because similar discordance rates were found in the English NHS Cervical Cancer Audit, but also because the natural history of cervical cancer indicates that it is highly probable that the cervix would have shed abnormal cells for a number of years prior to the diagnosis of cancer, whether it was screen detected or not.
He also said that "in a very small number of cases (fewer than five) it has been necessary to issue supplementary reports because new information came to light, and in two of these cases the conclusion was updated".
"While these isolated incidents are regrettable, they in no way impact the overall conclusions or recommendations laid out in our aggregate report," he said.
Prof Kitchener added: "We would be concerned if unfounded criticism of our evidence based report undermined trust in our findings and confidence in the CervicalCheck Programme.
This could have the effect of diminishing coverage, which could only place more lives at risk. It is very important that the benefits of cervical screening in the existing programme are accurately portrayed in terms of public health.
The Oireachtas Health Committee published a progress report today, which found that "our hospital colposcopy services remain under pressure with increased referrals and the requirement for increased consultation time".
The HSE Women and Infants Programme have recently completed an Impact Assessment on hospital colposcopy services that identified some immediate resource requirements.
Funding increased and rolled out to the clinics to support additional service sessions, to increase capacity and improve waiting times, the report added.
A number of roles have been filled recently to "strengthen the quality assurance arrangements for all screening programmes" – these roles include a Clinical Director (Head of CervicalCheck), a Director Public Health for the National Screening Service, and a CervicalCheck Laboratory Advisor.
The CervicalCheck Programme, "after a long search", has just appointed a National Colposcopy Advisor. 
Dramatic delays to the CervicalCheck programme were experienced by women since the announcement of free repeat smear tests for women who had availed of a free smear test before.
This was made available from May – December 2018, despite warnings to the Health Minister Simon Harris that the service couldn't handle increased demand without additional funds or resources.
#Open journalism No news is bad news Support The Journal

Your contributions will help us continue to deliver the stories that are important to you

Support us now
The knock-on effect of the repeat smear tests, coupled with increased awareness of the programme, meant that more women were in the system, and so more women were being referred to colposcopy services for further tests.
The turnaround time for reporting of results of a normal smear test had been at over 30 weeks; they are now running at an average of 6 weeks.
"We hope to sustain the turnaround times at this level going forward," Damien McCallion said, Interim National Director of the National Screening Service.
- with reporting from the Press Association