Image: John Stillwell/PA Wire/Press Association Images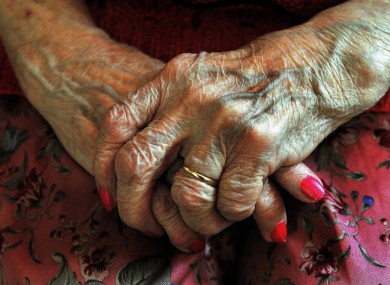 Image: John Stillwell/PA Wire/Press Association Images
ALONE, A CHARITY supporting older people in need will celebrate 35 years of volunteering on Wednesday July 25. This year marks three and a half decades for the organisation of befriending, supporting and providing homes for older people in need.
Volunteers from throughout the years will be honoured for their contribution to the charity as some have been working with Alone since it was founded in 1977.
Alone started with just a handful of people who distributed food, coal and blankets as one of the greatest dangers faced by the older people they met was the cold.
Financial worries
CEO of Alone, Seán Moynihan told TheJournal.ie that these needs have changed over the years as the economic downturn takes its toll on older people.
The organisation provides affordable accommodation to older people who are homeless or at risk of becoming so. Volunteers also offer advice to people who are anxious about their financial situation.
"People are concerned about what's coming, they're worried about the future, about money and being able to pay their bills," Moynihan said. "Last year, 20 percent of calls to Alone were about financial issues, that's a huge increase."
"The nature of our communities is changing and we have an ageing population so many people don't know who else to turn to in their time of need," he added.
Moynihan said the charity also offers a befriending service with volunteers visiting people on a weekly basis who would otherwise be lonely or isolated.
A lifetime of volunteering
Aidan Bowers has been visiting older people in excess of 20 years and told TheJournal.ie that he is honoured to be a part of the celebrations.
"You get a great satisfaction from it. The people we visit have a history of Dublin as well as a history about themselves and it's so interesting to hear about their lives growing up and to hear all about the city," he said.
Bowers said it can be a sad job as he has been visiting some people for more than ten years and "when they die unexpectedly it can be a bit of a jolt".
"One man I remember well was a terrible smoker and I used to clean hundreds of cigarette butts from the fire grate every time I visited," he said.
"He would just sit by the fire and smoke all day and I was the only person who visited him. Sometimes we would go out for a drink or two in the pub, just to get him out."
Moynihan said"At a time when people talk about a lack of community we're happy to be able to express how grateful we are for the support over the years and for the work of our volunteers."
The celebration is being held at the Alone Millenium Plot, Glasnevin Cemetery where the charity arranges burials for elderly people who are unclaimed have no one to take care of their funeral after they die.