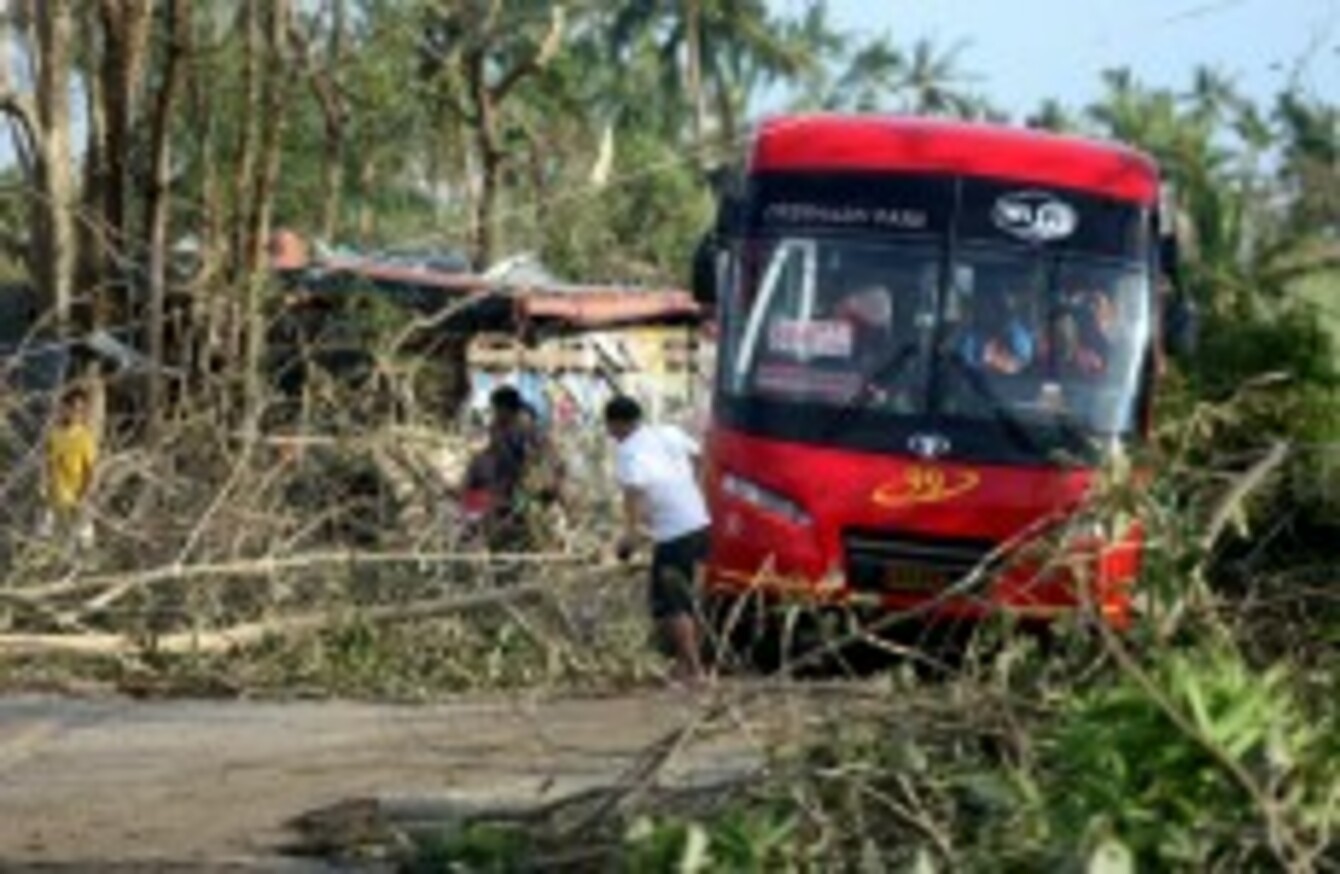 People remove fallen trees from a road in Daanbantayan town, north Cebu, central Philippines.
Image: Chester Baldicantos/AP
People remove fallen trees from a road in Daanbantayan town, north Cebu, central Philippines.
Image: Chester Baldicantos/AP
AID WORKERS FROM Irish charity Plan Ireland have arrived in some of the areas in the Philippines affected by the recent Typhoon, which ripped through communities and killed up to 10,000 people.
More than four million people are now thought to be caught up in the aftermath of the storm and Plan Ireland said that some of the roads to the worst affected areas are "blocked due to dead bodies".
Plan's country director in the Philippines, Carin van der Hor said staff in the affected areas say the disaster is "unlike anything they have seen before".
Due to the large-scale devastation, Plan staff have had to use different modes of transport to get to the affected areas. Our assessment teams now on the ground and they say the extent of destruction is unimaginable.
She said homes have been splintered, farmlands swamped and bridges wrecked, with many remote areas still cut-off.
Death toll
It has been reported that at least 3,000 families who are staying in evacuation centres need shelter, repair materials or transitional shelters due to damage caused to their housing but van der Hor said Plan staff think the number is much higher.
Speaking to TheJournal.ie today, Plan's Michael Mansfield said the reason the initial estimates of deaths were so low is because the areas affected are mainly small, isolated communities.
The charity said the main focus now is on the hundreds of thousands of internally displaced people who are now effectively refugees.
"Initially staff are looking to get shelter for people so we've pulled together enough tarpalin for 20,000 people – enough to protect them today and tomorrow and we've secured enough water for them as well," he said.
Children
Mansfield said Plan, which is mainly a children's organisation, will also be focused on assessing the affects – both physical and psychological on children living in these areas.
"There are 80,000 children in the Philippines sponsored through Plan – 171 of those are sponsored by Irish people – and about 40,000 of those are directly affected by this," he said. "There are 7,369 schools closed and that affects eight million kids."
Children are always the most effected in disasters. If they're not in school, the psychological impact can be huge so we'll be trying to get into these areas to see how the kids are faring.
It is expected that a large number of children could be left orphaned by this disaster.
I think a lot of people are drawing parallels between this and Haiti. Though it was a different type of disaster, it's similar in terms of the destruction. Over the next 24-48 hours it'll be hugely important for us to get into these areas. Unfortunately, if you look at the estimate of 10,000, lots of them are going to be mams and dads.
The storm is now moving to Vietnam where Plan workers are also helping to evacuate more than half a million people.
Plan has been working in the Philippines since 1961 and said today its aid workers are extremely familiar with the country and how best to get aid to those who need it most. The organisation has launched an emergency appeal seeking donations to help with the effort which can be made on the Plan Ireland website or by calling 1800 829 829.