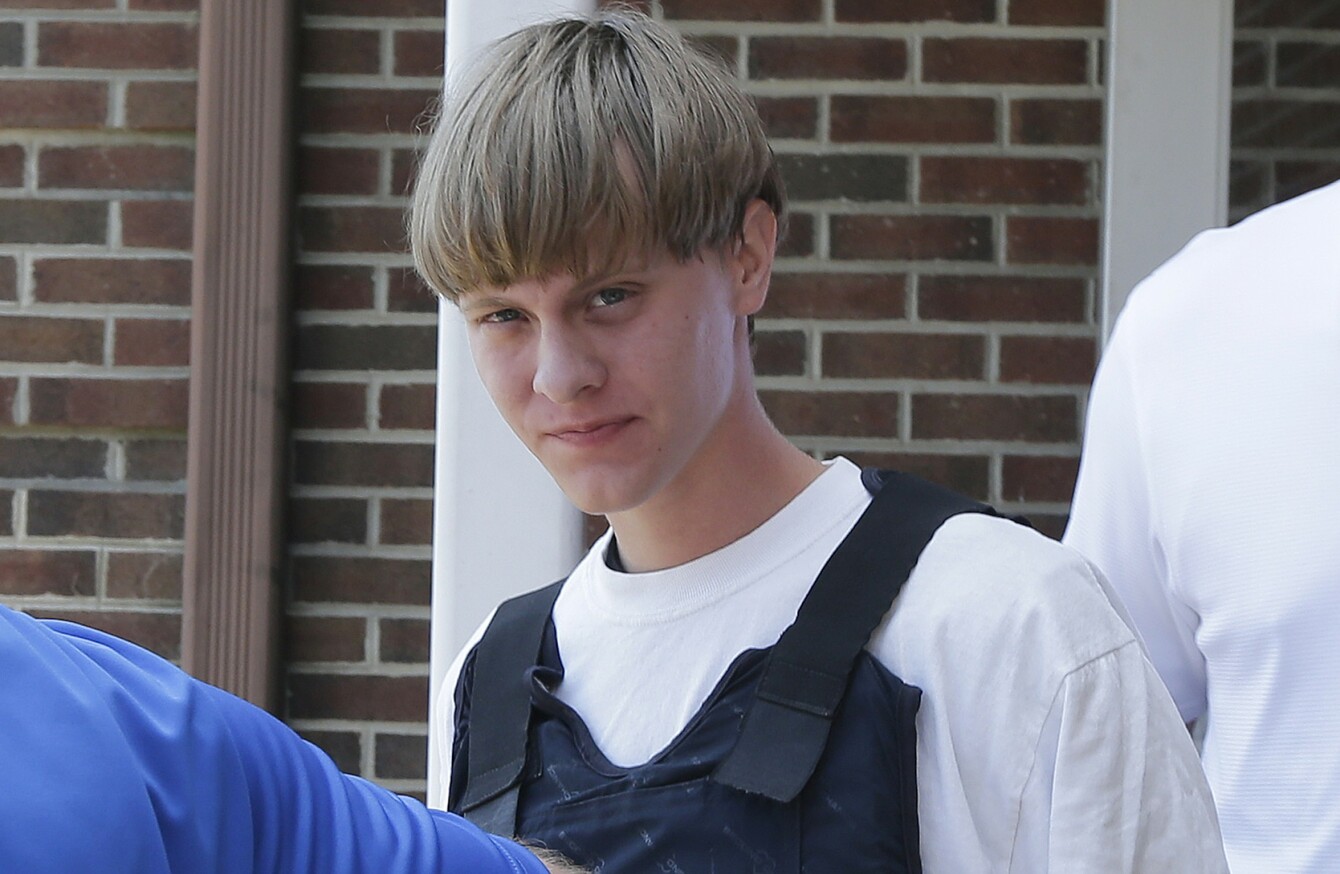 Image: Dylann Roof/PA
Image: Dylann Roof/PA
A SURVIVOR OF last year's attack on black parishioners at a historic Charleston church gave emotional testimony about watching her son die as the trial of the self-described white supremacist accused of the crime began yesterday.
Dylann Roof, who prosecutors say gunned down nine people in June last year in a cold-blooded and calculated attack, went on trial on federal hate crimes charges, and could face the death penalty if convicted.
His defence team conceded Roof's guilt, but made the case to spare his life after prosecutors made their opening argument. They have refused to accept an offer of a guilty plea on 33 federal charges in exchange for a life sentence.
But the jury also heard searing testimony from survivor Felicia Sanders, who described telling her granddaughter to play dead as her son lay dying and she cowered from the attacker, covered in the blood of her relatives.
'Evil as evil can be'
Roof turned his gun on a Bible study class at the "Mother Emanuel" church – the oldest African Methodist Episcopal place of worship in the US South – as worshippers began closing prayer, about 30 minutes after joining them.
Senior pastor Clementa Pinckney, a state senator, was among the nine people killed.
"Seventy-seven shots in that room, from someone we thought was looking for the Lord," Sanders said, choking back tears. "But the whole time he was just evil, evil, as evil as can be."
Sanders said she told her 11-year-old granddaughter to play dead.
"I muzzled her face to my body so tight I thought I'd suffocate her," Sanders, the first witness to take the stand in a trial that could last for weeks, was quoted as saying by The Post and Courier newspaper.
Assistant US Attorney Jay Richardson said Roof chose the historic church precisely because of its importance to the African American community, and stockpiled ammunition during a months-long effort to plan the massacre.
The church played a key role in the fight against slavery and segregation in Charleston, a historic port city in South Carolina.
"He chose to execute nine good and innocent men and women … And he chose to do so out of a callous hatred of the colour of their skin," Richardson was quoted by local media as telling the 12 jurors chosen earlier in the day along with six alternates.
'I saw my son leave this world'
Sanders recalled Roof telling her son Tywanza as he pleaded with the gunman to stop shooting: "You all are raping our women and you all are taking over the world."
Tywanza died shortly afterward.
"I watched my son come into this world and I saw my son leave this world," said a tearful Sanders, who burst into sobs. The judge promptly called a recess to give her time to compose herself.
When Roof's defence attorney David Bruck pointed out that the gunman was barely 21 at the time and had planned to kill himself, Sanders responded: "He is evil… There is no place on Earth for him."
Roof did not lift his eyes from the defence table to look at Sanders during her testimony.
#Open journalism No news is bad news Support The Journal

Your contributions will help us continue to deliver the stories that are important to you

Support us now
'Send a message' 
Authorities found chilling evidence of Roof's apparent neo-Nazi leanings on a website believed to be his.
He espoused racist views and posed for photos with firearms and the Confederate battle flag, once flown by the rebel army of the slave-owning South.
The banner is seen by some as a symbol of regional heritage. But many more view it as an ugly reminder of racism's cruel legacy.
"He hoped to send a message to other white people to stand up and do something," Richardson said about Roof, noting he had typed his internet manifesto on his father's computer hours before the attack.
Bruck, the defence attorney, said his side was not disputing the facts, and that he may not call any witnesses during this phase of the trial.
"This is going to be hard, it's going to be hard to sit through. You're going to see things you will never be able to unsee," he told the jurors, according to local media.
Roof is also facing state murder charges in South Carolina, though that trial is not due to begin until 17 January. State prosecutors are also seeking the death penalty.
The opening of the trial came with the city on edge after a mistrial was declared in the case of a former South Carolina cop who shot dead an unarmed black suspect in neighbouring North Charleston.
Roof had asked for a trial delay in light of that decision, but the judge rejected his request.
- © AFP 2016.