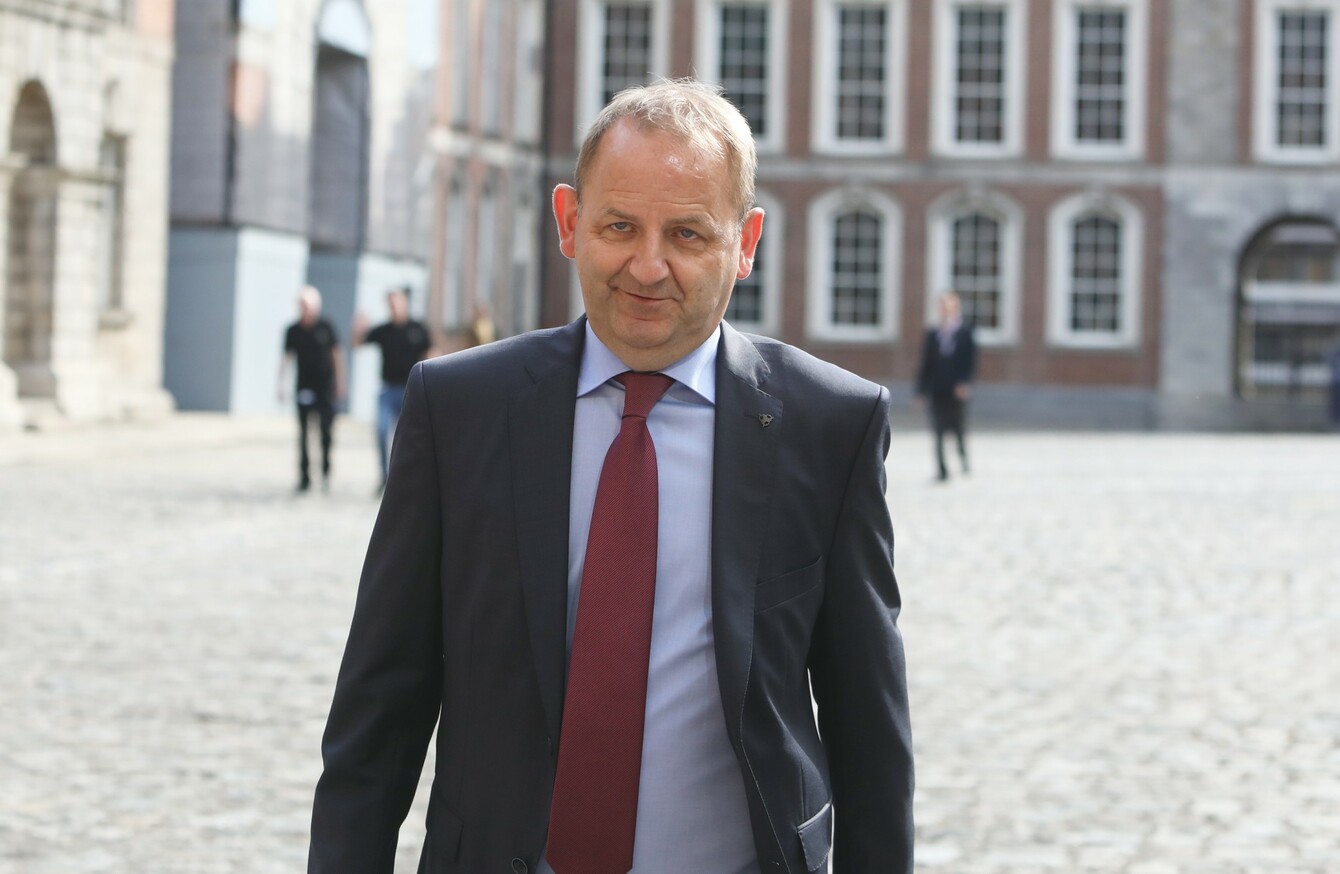 Garda whistleblower Sergeant Maurice McCabe arriving on the fourth day of public hearing at the Disclosures Tribunal in Dublin Castle.
Image: Leah Farrell/RollingNews.ie
Garda whistleblower Sergeant Maurice McCabe arriving on the fourth day of public hearing at the Disclosures Tribunal in Dublin Castle.
Image: Leah Farrell/RollingNews.ie
A SENIOR TUSLA manager has said that the failure by the child and family agency to correct a series of errors which resulted in false allegations of child abuse being made against garda whistleblower Maurice McCabe were "absolutely coincidences".
The Charleton tribunal is examining claims that allegations of sexual abuse were used as part of a campaign to smear and undermine the reputation of Sgt McCabe. The DPP decided against pressing charges in the case due to lack of evidence in 2007.
Tribunal barrister Pat Marrinan SC said there had been a "total failure" of systems in Tusla, and "every error that is made is to the detriment of Sgt McCabe. There isn't an error in his favour".
"There are those who may say that this litany of grave errors can't just be coincidence after coincidence," he said.
"I think they are terrible errors consistently but they were absolutely coincidences," said Gerard Lowry, the Tusla area manager for Cavan-Monaghan.
Lowry said in his opening evidence that he did not remember Sgt McCabe attending child protection meetings, but Marrinan cited several examples the tribunal had discovered dating to 2004 where the sergeant was present, and had been put on "core teams" to deal with protection issues.
"It is not just simply the odd meeting that Sgt McCabe is attending," Marrinan said.
Lowry said he accepted that was the record.
Marrinan said that despite the tribunal's request that anyone with information came forward, it was not until late in its inquiries that investigators learned that Sgt McCabe was known to social workers.
"Until that the tribunal were unaware anybody in Tusla knew Maurice McCabe, knew anything about him being in the media," the barrister said.
"By and large the statements we received were of one page in length and didn't really deal with the issues," Marrinan said.
Lowry said that when he received an email about Sgt McCabe, identified as "MMcC", in 2014 he "knew who the email referred to when I received it".
The email referred to allegations made to RIAN, a counselling service, by Ms D, who had made allegations against the sergeant in 2006. More serious allegations from an unrelated case by of Ms Y, were added in error to the file on Sgt McCabe.
"I instinctively said deal with this in the normal way. Don't make an exception of it, deal with it in the normal way," Lowry said.
Lowry said he erred in not ensuring that records were fully corrected once the mistakes were uncovered by Tusla.
"I think when there is a data error of this nature we should have looked at the records to see if we created records," he said.
Lowry said he "was aware RIAN had sent false information re a rape offences".
He added:
My error was in not checking what records we had created as a result of the RIAN information.
Marrinan said that by May 2014 Sgt McCabe was in the public eye "and here was your service notifying the gardai that Sgt McCabe had a rape allegation made against him when that wasn't true. Can you imagine anything more serious?"
"I agree with that," said Lowry.
Marrinan said there was a suggestion "in the ether" that the false allegations "played into senior management's hands" and that the allegations could be used to discommode or unsettle Sgt McCabe, and if allowed fester and emerge later, to break his resolve by having a letter arrive on his doorstep saying he was being investigated for raping a young child
"We need some sort of an explanation as to why the matter wasn't dealt with there and then and resolved," Marrinan said.
Lowry said he was aware of the publicity surrounding Sgt McCabe, but didn't think "there might be some misinterpretation down the line".
False allegations
He said that he did not look at an email attachment containing a draft letter to be sent to Sgt McCabe in late 2015, which contained false allegations.
Tribunal chairman, Justice Peter Charleton said it was "jumping out at everyone that it's the wrong allegation" in the draft letter.
"When I saw the email I didn't look at the draft letter," he told the tribunal. "I was working on the assumption that it was accurate."
Justice Charleton asked how this could be so, given the number of errors Tusla were already aware of in the case.
"I didn't look at the attachment," Lowry said.
Meanwhile, a social worker was unable to explain the "total silence" after an error led to false allegations being placed in reports she created on the children of garda whistleblower Sgt Maurice McCabe at the Charleton tribunal.
On 30 April 2014, Laura Connolly, a duty social worker in Cavan town, reviewed the file on Ms D, who had made allegations against Sgt McCabe in 2006 and again in 2013.
#Open journalism No news is bad news Support The Journal

Your contributions will help us continue to deliver the stories that are important to you

Support us now
'Copy and paste'
Allegations from an unrelated case involving a Ms Y were added to the Ms D case file in error in 2013.
As a result of the Ms D allegations, Connolly created records for each of Sgt McCabe's children. These records erroneously contained the allegations from the Ms Y case.
Cross-examined by Michael McDowell SC, who represents Sgt Maurice McCabe, Connolly said no one contacted her after the child protection service was alerted to the "enormous error" in May 2014.
McDowell said that "alarm bells were ringing" over the error, and asked "why it was nobody lifted a phone to you and said, what happened here?
"I don't know," said Connolly. She said she had no explanation why nobody had contacted her about the error in the years since.
"The error in the original report was never brought to my attention and I have no recollection of a discussion of it in the office environment," she told the tribunal.
'Total silence'
McDowell said that there was "total silence in relation to you and this error at the time."
Connolly told tribunal barrister Kathleen Leader she was told she would be contacted by tribunal investigators in March 2017, and before then Sgt McCabe's name meant nothing to her and he "was not a person of interest to me."
She said that she could not recall the particular case, and was not a regular newspaper buyer.
She said it was not until 23 June 2017 she realised she had made a "catastrophic" mistake in compiling the files on Sgt McCabe's children when she saw the complete files.
And she said she understood that other staff in the department including Tusla solicitors were not aware until then what had happened.
"I have no recollection of my involvement in this case," Connolly said. She said she did not recollect speaking with her supervisor, Eileen Argue, about the case.