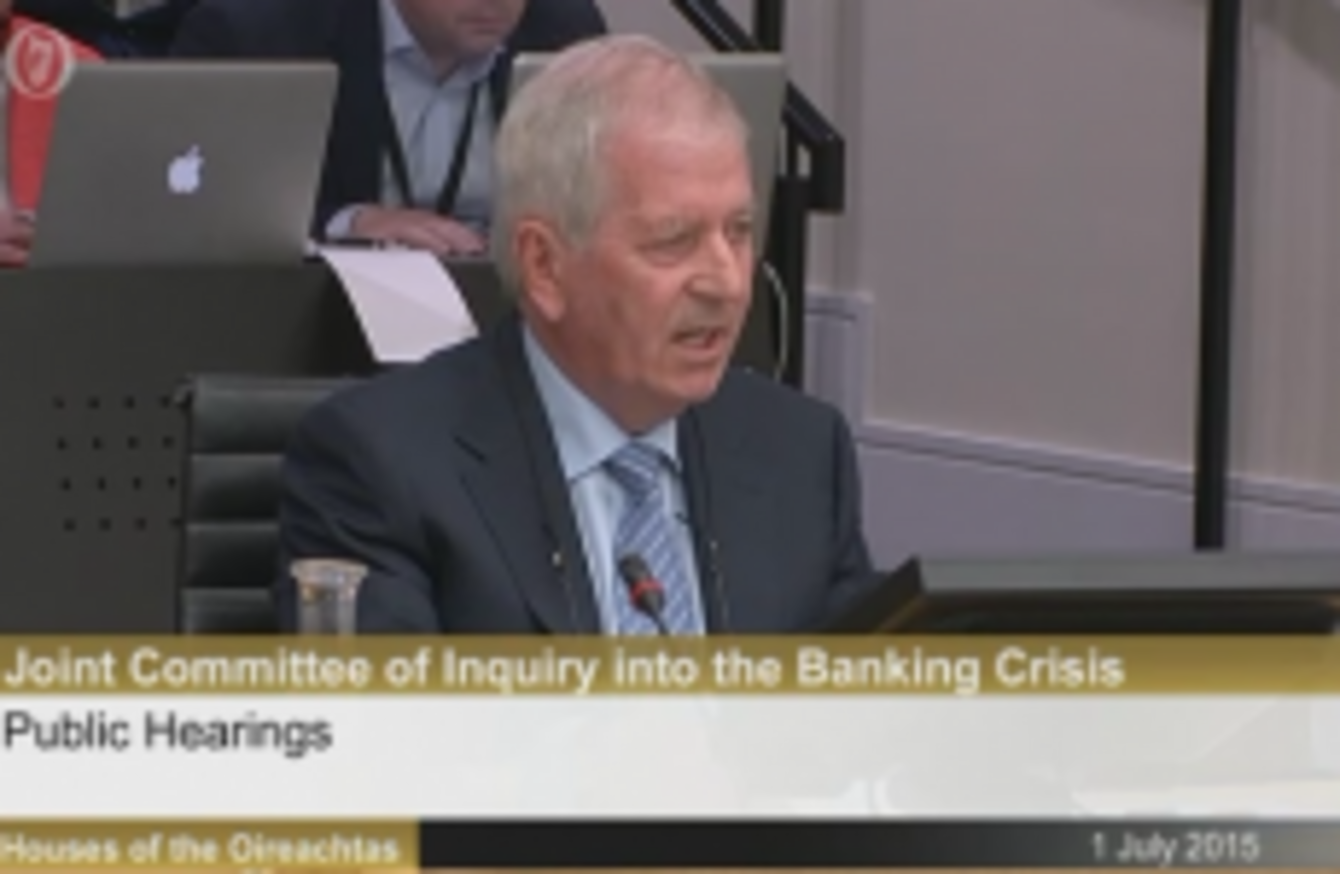 Charlie McCreevy
Image: Oireachtas.ie
Charlie McCreevy
Image: Oireachtas.ie
Updated: 5.08pm
THE BANKING INQUIRY was briefly suspended today when former Minister for Finance refused to answer questions asked by Sinn Féin's Pearse Doherty about the existence of a property bubble.
Doherty repeatedly asked McCreevy if he thought a bubble existed.
The former Fianna Fáil minister stonewalled Doherty, saying the question didn't technically relate to this tenure in office.
After much back and forth he eventually conceded: "I don't believe that there was a property bubble during my time."
Doherty argued that tax incentives introduced during McCreevy's time as minister played a role in the property crash.
Becoming increasingly frustrated, the Sinn Féin's finance spokesperson called for the meeting to be suspended. Committee chair Ciarán Lynch agreed.
McCreevy and members of the press left the room for about 15 minutes, while the committee sought legal advice.
Upon resumption, Lynch told McCreevy if he refused to answer questions he could be subject to criminal sanctions.
McCreevy was then more forthcoming, admitting housing prices increased by "an extraordinary degree" from 2003-2007. However, he said he doesn't believe his policies contributed to a property bubble.
At one stage, McCreevy referred to an alternate reality in which Doherty was Minister for Finance and Socialist TD Joe Higgins was Minister for Public Expenditure.
Earlier in the meeting, McCreevy said the infamous quote of "If I have it, I'll spend it" linked to him has been misrepresented. He noted that many people painted him as scrooge-like when Minister of Finance, and Santa Claus after the crash.
When asked about his dealings with former Anglo Irish bank chairman Sean Fitzpatrick, McCreevy said he has known him since 1973, but never played golf with him or drank with him – noting he hasn't drank alcohol in 20 years.
However, he did say: "I gather he is a very good golfer."
Defending his record
McCreevy was a member of the Dáil for County Kildare from 1977 to 2004. He held several senior posts in government and was Minister for Finance from 1997 to September 2004, after which he became EU Commissioner for Internal Market and Services from 2004 – 2010.
In his opening statement, he strongly defended the policies he pursued during his time in government, saying he "would contend that the economy and public finances were in an exceptional healthy state when I ceased as Minister for Finance in September 2004″.
#Open journalism No news is bad news Support The Journal

Your contributions will help us continue to deliver the stories that are important to you

Support us now
"There are many indicators for this period to justify this assertion: spectacular economic growth, full employment, the ending of emigration after 150 years, rises in all levels of social expenditure, finance surpluses generated which led to a reduction in the Debt/GDP ratio to 30%, massive infrastructural spending (particularly on the road network), the setting up of the National Pensions Reserve Fund and many other indicators."
McCreevy went one step further, saying:
I would contend that we were more responsible than any other government in the history of the State.
He noted that even after huge spending increases, there was money left over.
When asked if elections impacted the budget, he said: "Of course … We are politicians and we actually like to be re-elected."
McCreevy was sharply critical of people who said the Fianna Fáil government he was a member of should have "built up further rainy day funds" with budget surpluses.
He said many people were against the idea of the National Pension Reserve Fund, and wouldn't have stood for putting aside money that could have been used to provide housing or services for people with special needs.
"Are these people for real?," he asked.
Former Taoiseach and Finance Minister Brian Cowen will appear before the committee tomorrow.
McCreevy's opening statement can be read here.