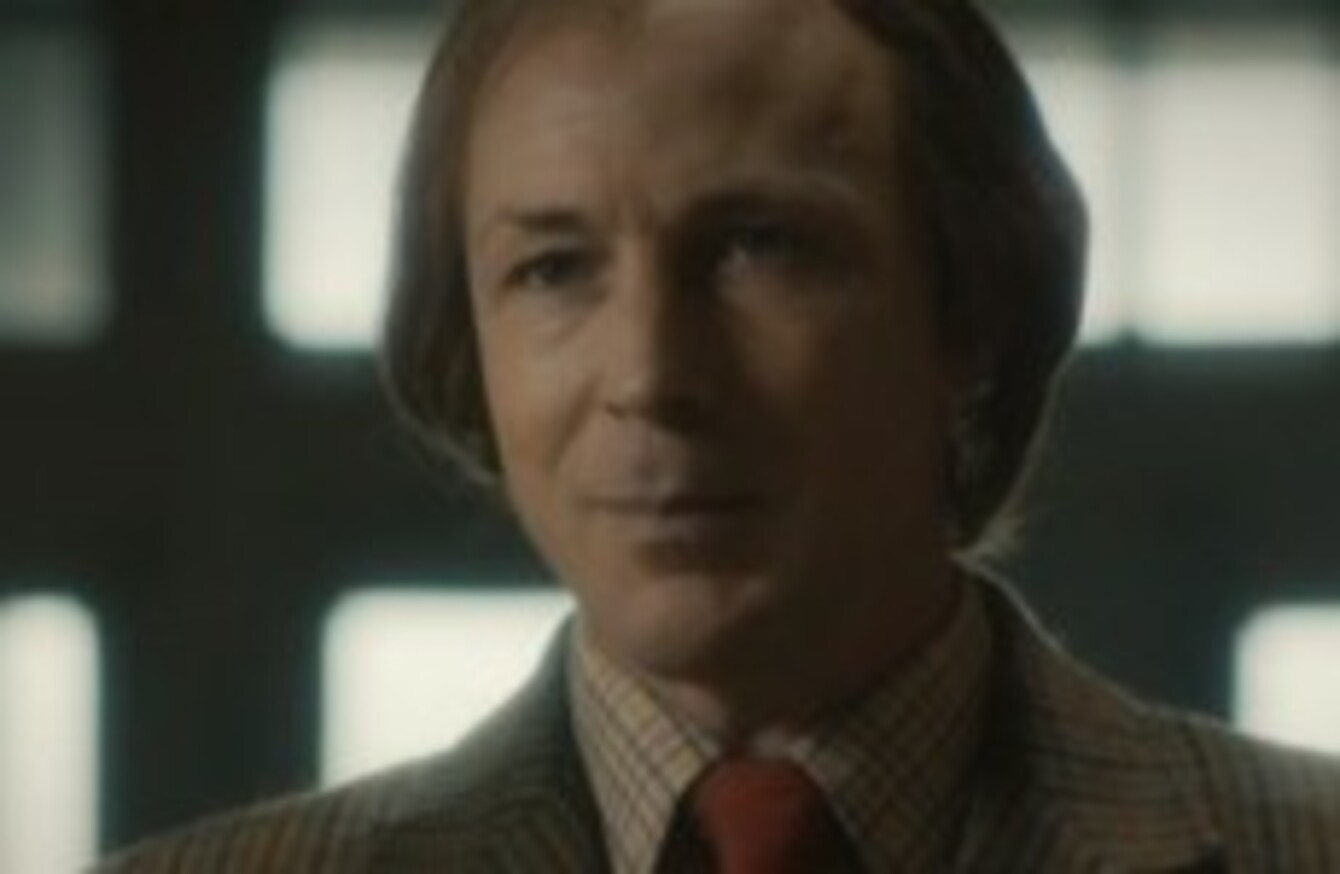 Image: RTE/Screengrab
Image: RTE/Screengrab
MANY PEOPLE TUNED in last night to see former Taoiseach Charlie Haughey depicted on screen in the RTÉ drama Charlie.
While political buffs or people over a certain age might have known immediately who everyone was, there were many who were left a little confused.
So, if you were left guessing, here's a helping hand:
PJ Mara
You may have recognised Tom Vaughan-Lawlor (Nidge from Love/Hate) playing opposite Aidan Gillen (Charles Haughey) in last night's drama.
Vaughan-Lawlor plays PJ Mara, a former Fianna Fáil political advisor to Haughey. He served as press secretary to the party, government press secretary, and director of elections for three general elections. He is generally seen as Haughey's right-hand man in the TV series though his role, particularly in the earlier years, is slightly overstated in the drama.
Here are the real-life PJ Mara and Haughey in 1991.
Brian Lenihan senior
The politician who Charlie gets pretty annoyed at for undoing all his great work with Margaret Thatcher is Brian Lenihan senior, the father of the late Brian Lenihan who served as Finance Minister during the last Fianna Fáil-led government.
Lenihan senior served in many departments during his time as a TD and was Tánaiste and Minister for Justice as well as unsuccessfully running for president in 1990 when Haughey was widely viewed as having undermined and betrayed him. Last night's programme depicted Lenihan during his time as Minister for Foreign Affairs and we're sure to see more of the pair's fascinating relationship in the coming episodes.
George Colley
Colley is the Fianna Fáil politician who came head-to-head with Haughey on a number of occasions in last night's programme and was his political arch rival for much of their careers.
Colley and Haughey both attended St Joseph's Christian Brothers (Joey's) in Fairview in Dublin where they became friends. The former encouraged the latter to join Fianna Fáil before they fell out when Haughey ousted Colley's father from his Dáil seat in 1957.
Dermot Nally 
Nally is a former secretary to the government who served under five taoisigh and was part of the negotiations on the Anglo Irish Agreement and the Downing Street Declaration. In the drama, Mara is seen to say to Nally: "He won't respect you Nally unless you stand up to him."
 Sean Doherty
Gavin O'Connor plays Sean Doherty, a former Fianna Fáil politician and Minister for Justice. In last night's drama he was depicted as wanting to "sort out" Haughey's phone system – a nod to the controversy he was later involved in with the tapping of three journalists' telephones.
Geraldine Kennedy
Who was the journalist who was constantly questioning Haughey? That would be Geraldine Kennedy, the former editor of the Irish Times who at the time the drama was set was working as a political correspondent.
Kennedy's telephone was tapped, along with two other journalists, under Haughey's government in the early 1980s.
- additional reporting from Hugh O'Connell