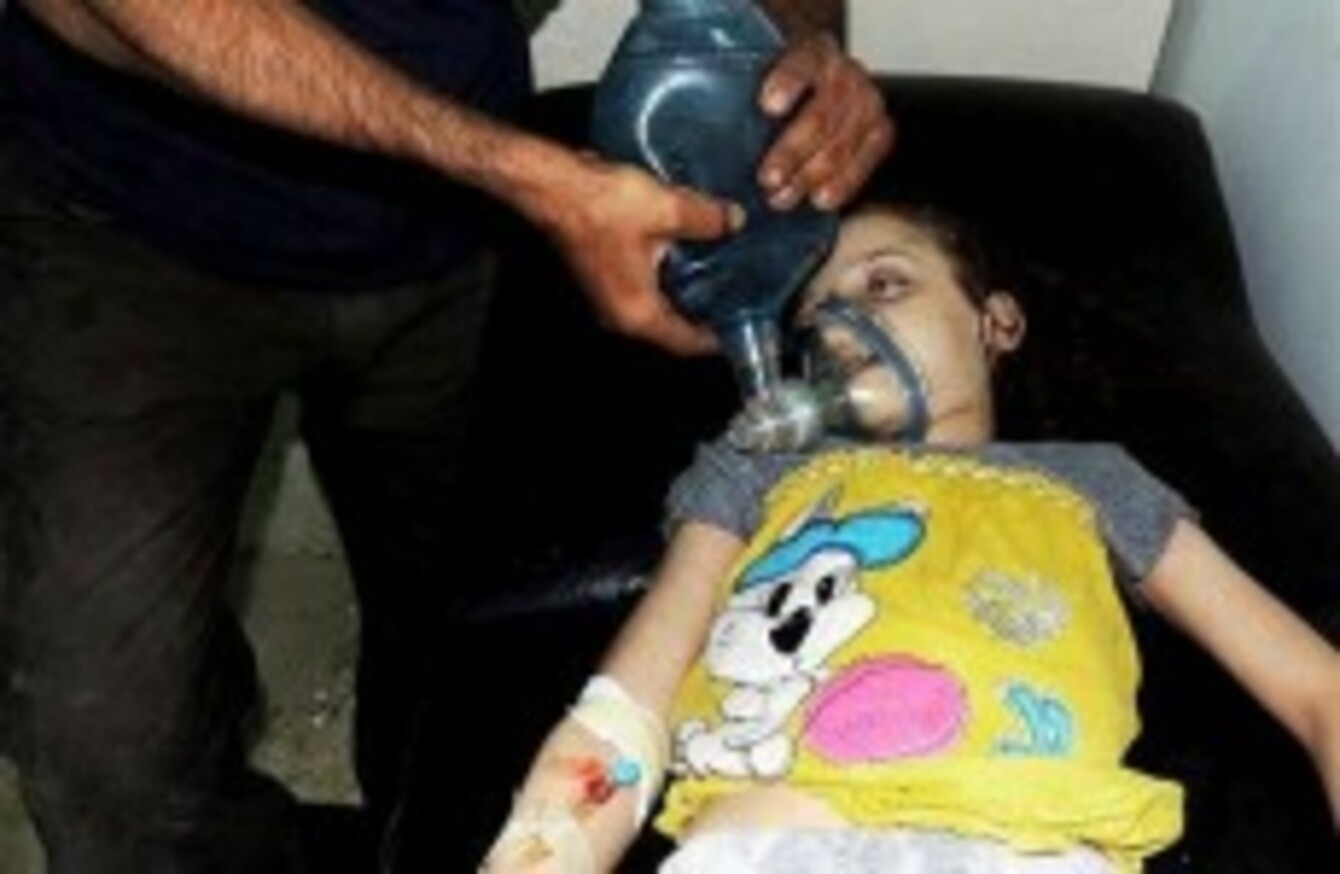 A girl is treated for injuries inflicted by chemical weapons on 21 August in Ghouta.
Image: AP Photo
A girl is treated for injuries inflicted by chemical weapons on 21 August in Ghouta.
Image: AP Photo
THE UNITED NATIONS has said that it has evidence that chemical weapons have been used against citizens on at least five occasions during the ongoing conflict in Syria.
In its report, published overnight, the Mission to Investigate Allegations of the Use of Chemical Weapons did not say which side has been responsible for the deadly attacks which have killed ordinary residents of the country.
Commenting on the large-scale incident in Ghouta, near Damascus, on 21 August, the UN said it collected "clear and convincing evidence" that chemical weapons were used.
The team of experts, led by Swede Ake Sellstrom, came to that finding based on the discovery of impacted and exploded surface-to-surface rockets that are able to carry a chemical payload and that contained Sarin.
The area where the rockets were found was also contaminated with Sarin.
"The epidemiology of over fifty interviews given by survivors and health care workers provided ample corroboration of the medical and scientific results," added the researchers, who noted that a number of survivors were "clearly diagnosed" as intoxicated by an organosphorous compound.
Blood and urine samples from the same patients also proved positive for Sarin.
The images of children who perished in the attack shocked the world in August as the conflict made the front page of newspapers.
Subsequent global pressure led to President Bashar Assad giving up his chemical weapons arsenal. Under an international agreement brokered to avoid US military strikes on the Damascus regime -which resulted in a landmark Security Council resolution – Syria's most dangerous chemical weapons have to be out of the country by 31 December and destroyed by 30 June next year.
However, the UN said there had been three previous incidents where chemical weapons were used prior to 21 August and one just after on the 24 August in Jobar.
In that attack, the chemicals were used "on a relatively small scale" against soldiers. There was not enough evidence to establish a link between the victims, the alleged event and the alleged site.
The inspectors collected "credible information" corroborating allegations that chemical weapons were used in Khan Al Asal on 19 March against soldiers and civilians.
#Open journalism No news is bad news Support The Journal

Your contributions will help us continue to deliver the stories that are important to you

Support us now
In Saraqueb, the mission collected evidence "that suggests that chemical weapons were used" on a small scale there — "also against civilians" — on April 29 of this year.
In Ashrafiah Sahnaya, near Damascus, the inspectors collected evidence that "suggests" chemical weapons were used there on August 25 "on a small scale against soldiers."
The mission said it could not corroborate their use in two of seven sites studied – Bahhariyeh and Sheik Maqsood.
Sectretary-General Ban Ki-moon is due to brief the General Assembly on the report during a closed session this afternoon. It will be followed with another meeting of the Security Council on Monday.
Additional reporting AFP