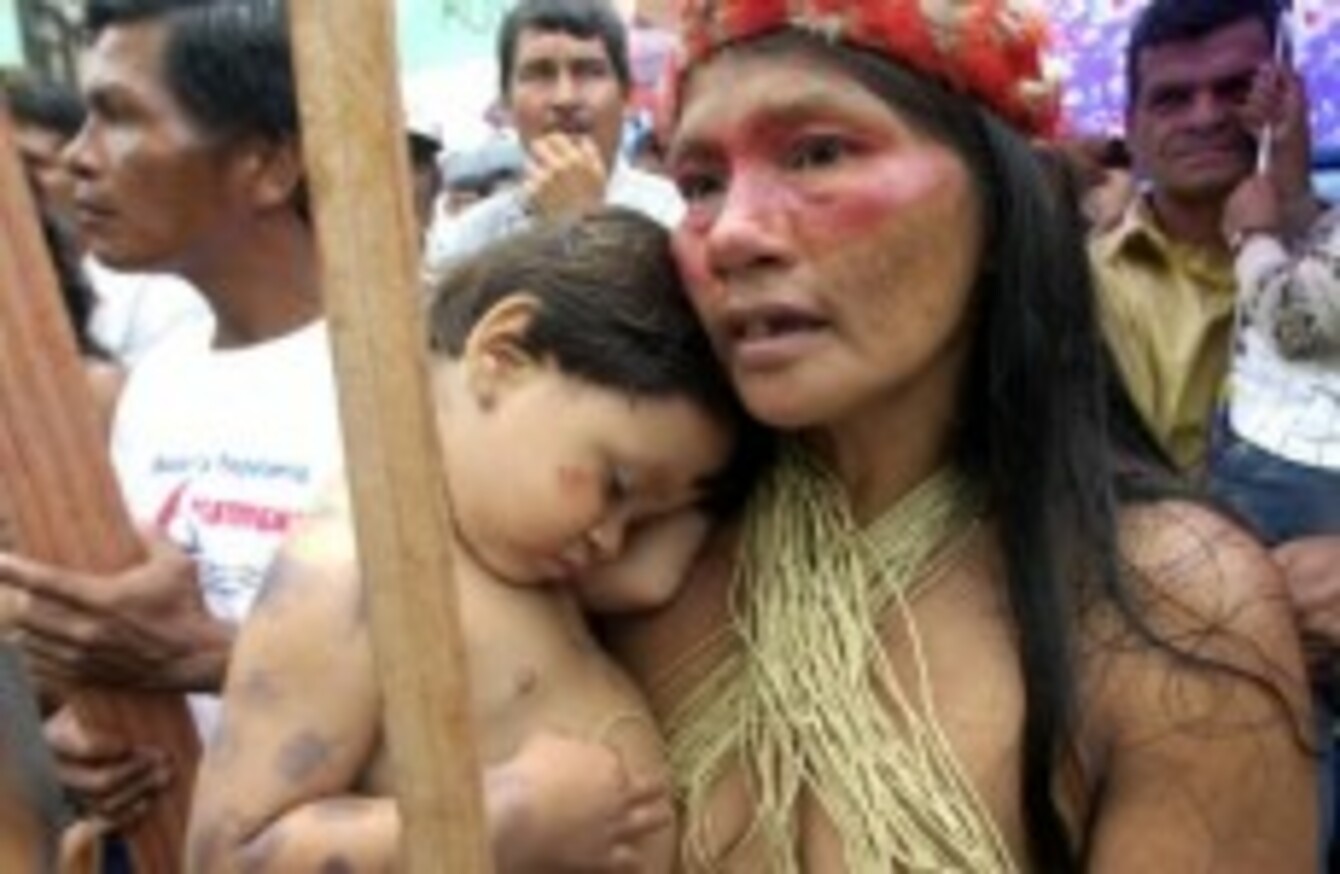 A indigenous Huaorani woman holds her son during a protest outside against Chevron-Texaco in 2003.
A indigenous Huaorani woman holds her son during a protest outside against Chevron-Texaco in 2003.
AN AMERICAN OIL giant has been fined $8.6 billion (€6.35 billion) for causing devastating pollution in large parts of the Ecuadorian Amazon.
The oil firm Texaco, which merged with Chevron in 2001, had been accused of dumping billions of gallons of toxic waste into unlined pits in the Amazon's rainforest and rivers. Tribes indigenous to the area have campaigned for almost two decades against the firm's actions, saying that the poisonous waste has increased cancer rates, killed wildlife and contaminated water.
Texaco has also been told to pay a legally mandated 10 per cent reparations fee.
Pablo Fajardo, representing the plaintiffs, said the ruling was "a triumph of justice over Chevron's crime and economic power", reports the BBC. He described the ruling as "an important step" but added that the scale of environmental devastation caused by Chevron was so immense that the damages awarded were not enough – and said they would appeal.
Meanwhile, Chevron has described the ruling as "fraudulent" and "unenforceable" said that it would also appeal. The company said that the ruling as "the product of fraud (and) contrary to the legitimate scientific evidence", Reuters reports. Chevron's Kent Robertson told the BBC that it was Ecuador's own state-run firm that caused the pollution and called the case an "extortion scheme".
Two decades
The case against Chevron had been brought on behalf of 30,000 Ecuadoreans who say the company's actions have destroyed large swathes of the rainforest.
Soon after oil was discovered in the virgin Ecuadorean Amazon in the middle of last century, Texaco began drilling. Locals say the company, which later merged with Chevron, dumped more than 18 billion gallons (68 billion litres) of toxic materials between 1972 and 1992. Indigenous Indians say that, as a result, they have suffered a host of serious health problems, including mouth, stomach and uterine cancer, birth defects, and spontaneous miscarriages.
Apart from health problems, indigenous people say that their hunting and fishing grounds were polluted and hacked down, their homes destroyed, and their way of life almost completely wiped out as a result of the oil company's actions.
ChevronToxico, a campaign group, describes the dumping of toxic waste in the region as "one of the worst environmental disasters on the planet".
Breakdown of the $8.6 billion
$5.39 billion – To restore polluted soil
$1.4 billion -_ To create a health system for the community
$800 million — To treat the sick affected by pollution
$600 million —To restore polluted sources of water
$200 million – To recover native species
$150 million –To transport water from other sites to supply community
$100 million —To create a community cultural reconstruction program