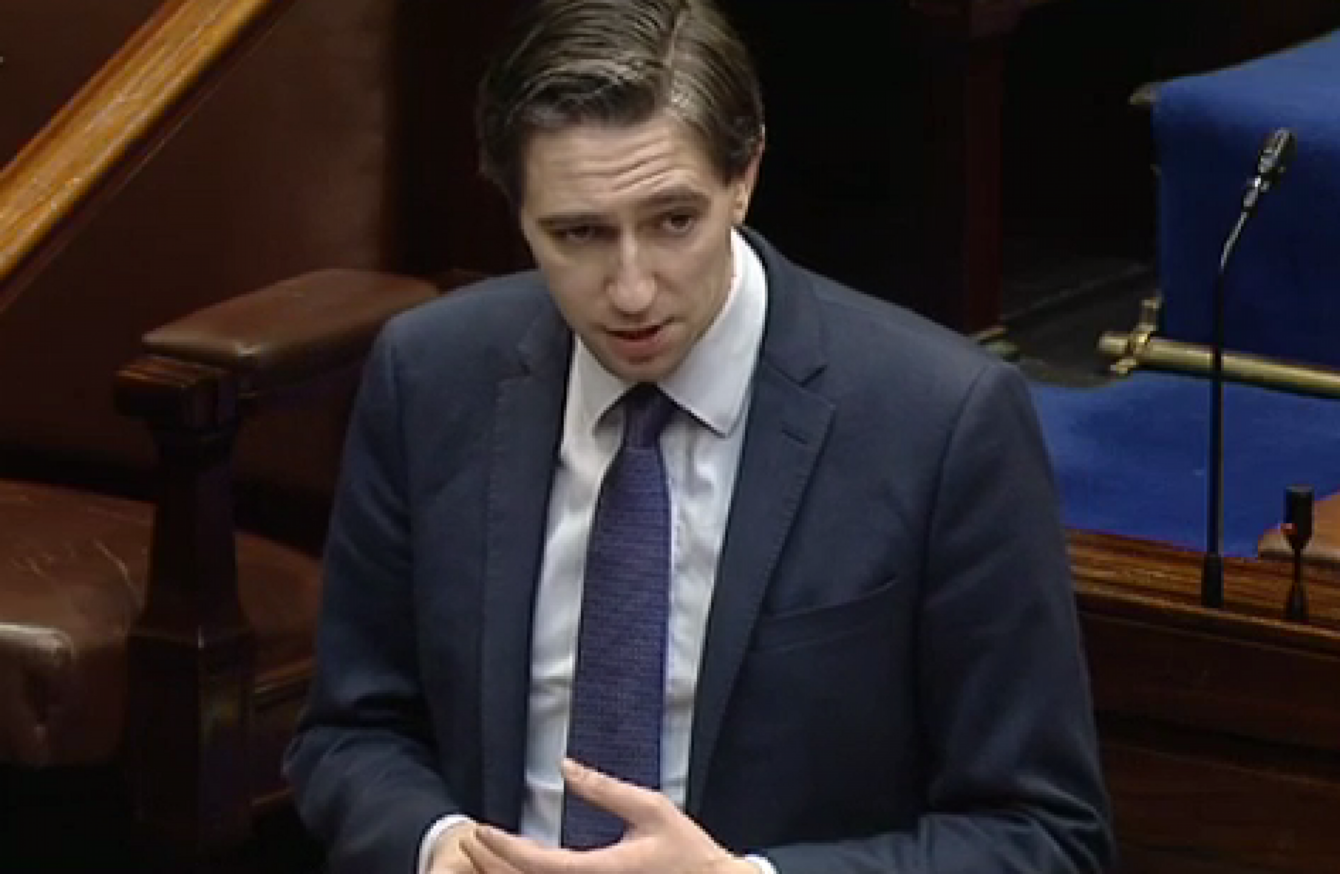 Health Minister Simon Harris said no women should be suffering or left in pain.
Image: Houses of the Oireachtas
Health Minister Simon Harris said no women should be suffering or left in pain.
Image: Houses of the Oireachtas
THE HEALTH MINISTER has asked his Chief Medical Officer to examine the use of transvaginal mesh devices as a global scandal moves to these shores.
As TheJournal.ie reported last month, a number of women have complained about complications after the devices were used in surgeries to address stress urinary incontinence and pelvic organ prolapse.
65-year-old Margaret Byrne described how the mesh tape, which was inserted like a sling around the neck of her bladder to address her urinary incontinence, began to protrude through her vagina.
So on inspection, which is not really something you want to do, I found that part of the tape had cut through my vagina and was now sticking there, sharp-edged.
Source: TheJournal.ie/YouTube
Sinn Féin TD Louise O'Reilly raised the issue in the Dáil earlier today, asking Health Minister Simon Harris what he was going to do about it.
Harris said he had been made aware of the negative experiences reported by some women who have had these devices inserted.
He said the mesh devices have been shown to be as effective as surgeries which are more invasive for the same conditions. He added that the Department is "not aware of any scientific evidence" these devices are unsafe when used as intended.
These devices continued to be certified as compliant with EU legislation and they have not been removed from the market, he told O'Reilly.
He also pointed out that there is no such thing as a medical or surgical procedure that does not "carry some risk".
'Worrying'
Harris told O'Reilly he has asked the Chief Medical Officer to provide a report on the issues raised. He said this will require engagements with both national and international bodies and the professional colleges.
It will take "some months" to complete before he can make recommendations to Harris.
The Health Products Regulatory Authority (HPRA), he said, has received six incident reports in relation to these devices, four "in very recent times, following recent media coverage".
The HPRA last month encouraged any patients who had experienced issues with these devices to report it to the authority, which they can do through this form.
"I would advise any woman who experiences or suspects that she has such a complication to discuss this with her GP and indeed with the hospital from which she has received the implant," Harris said.
The HSE has previously said that it does not collate data on the number of patients who have had mesh procedures. It does collect information on surgeries for stress incontinence and prolapse, but it does not differentiate between procedures that use mesh and those which do not.
O'Reilly said she thinks it is "worrying" that there is no data on the number of these devices that have been used.
Minister I have to say to you, if we were standing here talking about transpenile mesh or a men's health issue, I do not think that we would be having this conversation. I think it is outrageous that there isn't a register of the number of devices that have been used, the women that have used these devices, so we might know at least what the scale of the problem might be. I do believe that more people are going to come forward as this issue gets more attention.
Harris responded that he and his government colleagues take issues like this seriously, regardless of the gender involved.
#Open journalism No news is bad news Support The Journal

Your contributions will help us continue to deliver the stories that are important to you

Support us now
'Constant pain'
O'Reilly told him some of the women she has spoken to are in "constant pain".
"I do believe this is going to be an issue that we have the opportunity now to get out in front of that, rather than be chasing along behind it, as we so often are when issues of women's health specifically come to the fore," she said.
Harris said he will ask the Chief Medical Officer to ascertain how many women have availed of this procedure.
"I very much take extraordinarily seriously if there's anybody in this country who is experiencing any pain or suffering or difficulty as a result of a procedure that they've had here or indeed abroad."
He asked that any women who have experienced issues with these devices come forward, adding "no woman should be suffering or left in pain".
If you've been affected by this issue, we want to hear your story. Get in touch at michelle@thejournal.ie.