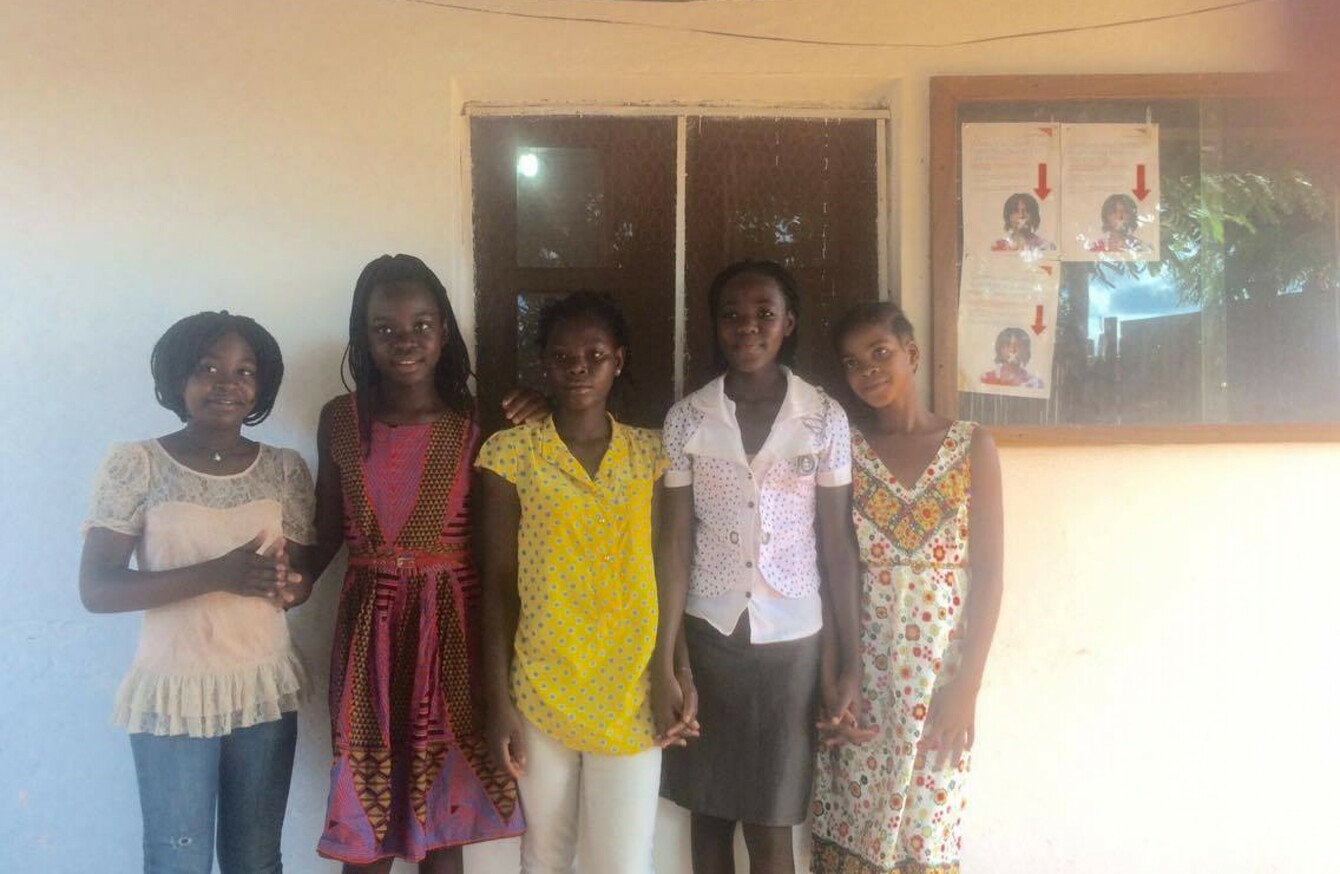 Aisling Curtis reports from Mozambique
THE VILLAGE OF Nacaroa in Nampula province, Mozambique lies between flat blue skies and shockingly orange earth.
The single hotel's lone television alternates between Mozambican national news, football, and lavish African hip-hop music videos. The biggest news concerns the half-built courthouse, which will mean that residents no longer need to travel far afield for legal concerns, something that has been an enthusiastic topic of discussion for months on end.
But in addition to this ordinary day-to-day tableau, Nampula province has one of the highest rates of child marriage in a country that is listed as tenth in the world for underage marriages.
Child marriages in Mozambique affect 1 in 2 girls, with 56% of women married before the age of 18 and 21% by the age of 15. The consequences are many and varied, but include adolescent pregnancy, high rates of HIV and AIDS, persistent poverty and hunger, loss of education, curtailment of economic potential, and high maternal mortality. The negative effect wreaked on psychological health is devastating too.
The difficulties in helping people

When I visit, the heat is pulsing in Mozambique and my meeting with Dr Esperanza Margarida, the only psychiatrist in Nacaroa, takes place in a small, warm room.
Hundreds of families dot the steps and ground outside her clinic and the other clinics, baking in the mid-morning heat, dressed in a myriad of colours and looking as tired as they are bored. Esperanza's time for me is limited, given that she's responsible for thousands of people in the region and must attempt to manage many aspects of their care.
Trained in Maputo, Esperanza moved back to Nacaroa to address the lack of psychiatric support here, though she warns of significant challenges, in that "few people here understand the importance of psychiatric help".
Most of her patients have been diagnosed with HIV and her job is then to advise on treatment and support. For those married young, she warns that while the psychological consequences for the developing woman are severe, it is difficult to generate the will in her patients to see her with any regularity. "Often I see a child once and start treatment, but then its parents think that once is enough and she is cured. But that is not the case."
A child as its parent's property
This theme finds its way into much of the thinking around mental health and child marriage. Given that the basic physical consequences of marrying and having children while young are often overlooked, this is no surprise. Though children's rights are well known in Ireland, in a community like Nacaroa – where most parents did not go to school and many of their children don't progress past primary – there's little concept of the child as a person.
Sitting in Nacaroa's community hall, a few moments after the end of a workshop on children's and women's rights run by the NGO World Vision and a hearty lunch of chicken and rice, Geraldo Castelo, a religious leader in Nacaroa, warns that many parents do not think of their children as people yet.
"Before [education], we didn't know that it was a bad thing to marry a child, that it had any negative effect on that child," he explains. Instead, the reasoning has always been practical: marrying off one's children at a young age gives poor families one less mouth to feed and one less person to educate, "freeing the parent" a small part from their poverty.
Blame put upon a child
While the parents may be freed, girls are saddled with the tangible physical consequences of child marriage, like maternal mortality and sexual abuse. Accompanying these is the psychological harm of child marriage, which can lead to depression, anxiety and even suicide. Of pregnancy-related deaths in Maputo Central Hospital, 30% were listed as due to suicide.
Esperanza and other professionals note that the psychological distress often arises from the blame heaped upon young children who are sexually abused and then corralled into marriage. Eleuterio Fenita, the director of advocacy and justice for children in World Vision Mozambique, has worked on child marriage for years and cites sexual abuse as an important factor in perpetuating child marriage, given that families see the violation of a child as a "matter of honour" rather than a matter for the courts. He adds that "whether she's pregnant or not, the family of the child believe the best way to resolve the situation is by forcing the perpetrator to marry the child".
For a town like Nacaroa, anyway, the courts are barely an option: the long-awaited courthouse is an unfinished husk beside the hospital and police station. Families seeking legal action have long had to travel for several hours to reach the nearest court, a journey impossible for people who can't afford it and can't spare time from work.
The police system is underfunded and overwhelmed, located in a white-washed building baking beneath midday sun, close to the unfinished shell of a courthouse. Police chief Alissie Paolo Hequire has no budget specifically for preventing child abuse or child marriage, relying solely upon trickles of funding from other departments. Last year, she had two cases where an investigation was successful and the abuser was brought to justice. But, she adds, "it's happening everywhere" and is a problem "difficult to tackle on the legal level".
With little recourse to bring someone to justice, those who abuse children tend to avoid punishment. The girl is made to feel like she's to blame and, in many communities, is married off to her abuser at a young age.
#Open journalism No news is bad news Support The Journal

Your contributions will help us continue to deliver the stories that are important to you

Support us now
Helping women to tackle child marriage
NGOs working in these problematic regions are making efforts to combat child marriage by targeting these attitudes of permissiveness and "marrying away" the problem, educating male community leaders and their wives and encouraging them to intervene. Young girls, too, are being taught to just say no.
Thirteen-year-old Neide Rafael Warucha goes to school in Nacaroa and loves biology, saying that she wants to be a dentist after school and study abroad in South Africa. When asked how she would react if her parents tried to encourage her to marry now, she says that "I would refuse, if they asked me to marry young". The same goes for if a friend encountered the same pressure:
"I would advise her not to marry, because she won't have a good future".
Encouraging Neide and her classmates to think about a future in which they have careers and plans is an effective way to create a grassroots disavowal amongst the very girls who would be subject to marriage while too young to appreciate the consequences. Empowering girls to say no in this way gives them strength both physically and psychologically, helping to guard against the ramifications of child marriage.
Taking matters into individual hands
The Coalition for Mozambican Youth, Coalizão, is using unique support systems to help young people with their mental health and with the many assaults on it. Farouk Simango, the general coordinator, spearheaded many of its most exciting initiatives and feels passionately about Mozambican young people taking mental health matters into their own hands. The SMS BIZ/U-report service is a new venture of theirs, with 66,000 users and 24 counsellors to support them.
"The text messaging option is completely anonymous," Farouk tells me in her office in Maputo. "They can express freely and openly their doubts and concerns", which she believes is important in making them comfortable talking about their psychological health.
For young people whose families may be encouraging them to marry young, this escape – where they can discuss their worries and fears – may be the best support they have.
While child marriage is difficult to tackle, and has stymied NGOs and the Mozambican government alike for many years, concerted efforts are starting to pay off. Looking to mental health and supporting young girls may be key ways by which negative impact is reduced.
This article was supported by a grant from the Simon Cumbers Media Fund student scheme
All photographs by Aisling Curtis