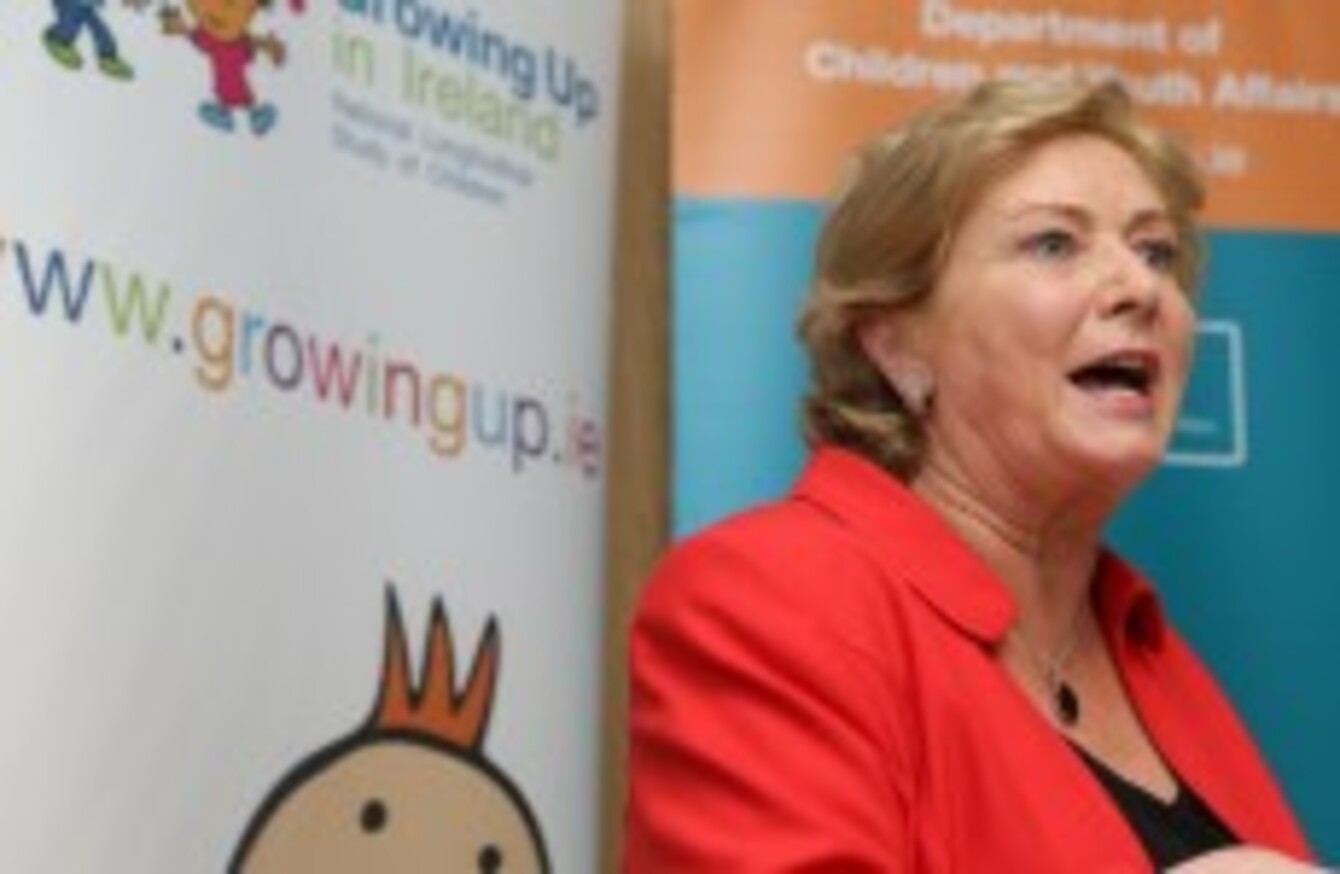 Minister Fitzgerald at he National Longitudinal Study of Children Report last month.
Image: Sam Boal / Photocall Ireland
Minister Fitzgerald at he National Longitudinal Study of Children Report last month.
Image: Sam Boal / Photocall Ireland
THE CABINET HAVE approved draft legislation that aims to increase powers to close or impose higher fines on childcare providers.
The Department of Children and Youth Affairs  say the rules being worked on will provide for a substantial deterrent for non-compliance with regulations by increasing the fines available to the District Court on foot of prosecution.
The proposed legislation is currently at an early stage and is to be added as an amendment to the Child and Family Agency Bill which was published last month. The much delayed bill hopes to set up a  Child and Family Agency to employ about 4,000 people and take over responsibility for child protection services.
Minister for Children Frances Fitzgerald said the Department are working on a comprehensive pre-school quality agenda:
These amendments will also introduce pre-prosecution enforcement powers for pre-school inspectors, including allowing for the issuing of improvement notices, improvement orders and closure orders. This will give pre-school inspectors greater flexibility to act speedily in response to findings of poor quality and non-compliance with regulations and standards.
Children's Rights Alliance
The amendments were given the go-ahead at the last Cabinet meeting before the Summer break and were welcomed by the Children's Rights Alliance who say it forms part of a "necessary response" to the RTÉ Prime Time investigation into childcare provision. The amendments will also increase the qualification requirements for all staff in pre-school services and introduce a registration system for all pre-school services.
Chief Executive of the Children's Rights Alliance Tanya Ward said that, although details of the exact provisions are sketchy at this point, any further rules are a "substantial leap forward" given the current lack of legislation in the sector.
In addition to increased powers for the inspectorate to follow up on complaints, the Children's Rights Alliance says that futher work must be done to ensure inspectors have specific training in childcare. Ward explains that, at present, inspectors are primarily tasked with looking for health and safety breaches and that they would not pick up on some of the problems detailed in the Prime Time investigation:
For this new approach to work in practice, the remit of the Inspectorate must be expanded beyond solely monitoring health and safety, and inspectors must be upskilled to focus on quality in early childhood care and education. This is vital to ensure that inspectors will be able to identify and take action on children's rights violations.