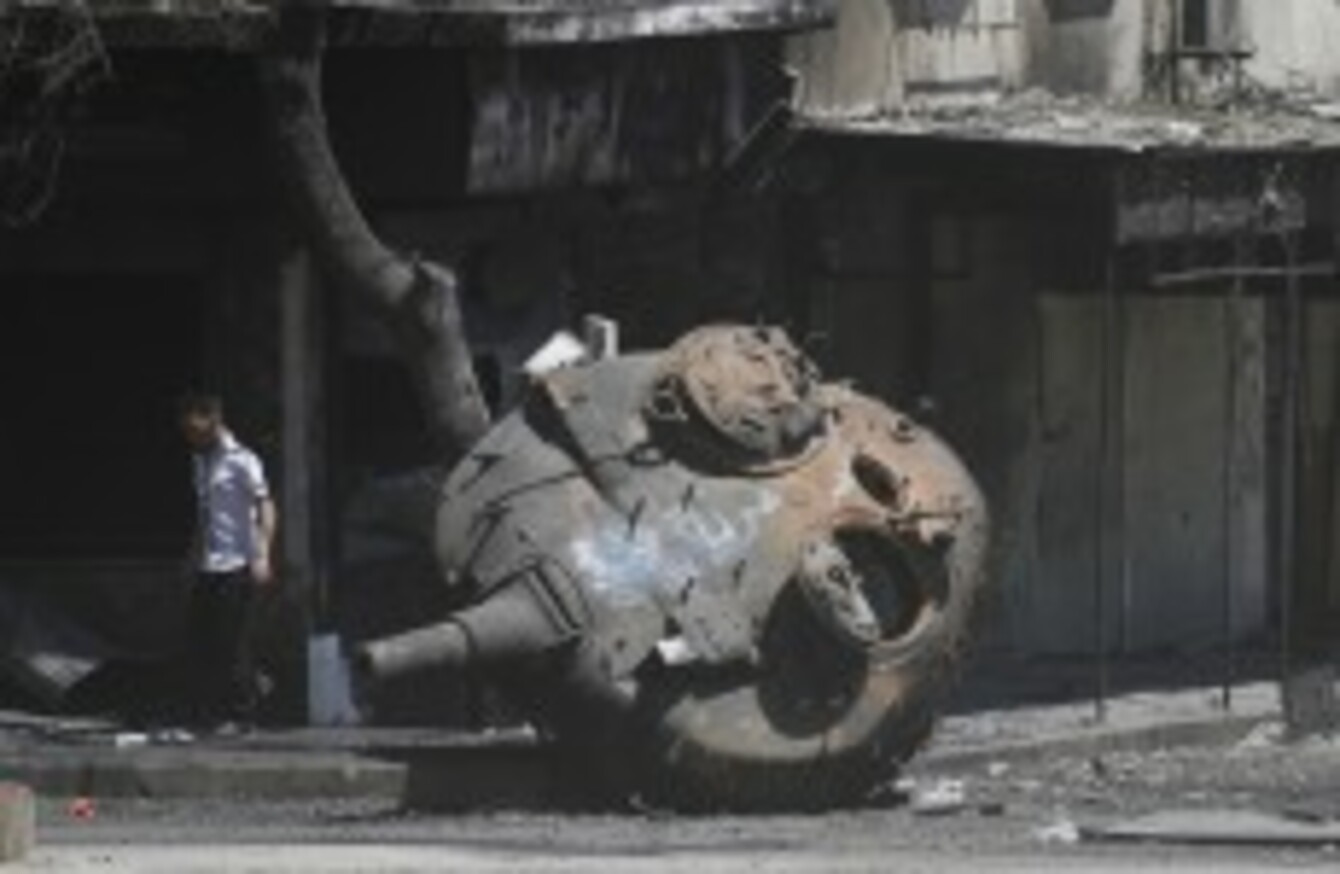 A Syrian man walks next to part of a destroyed military tank on the outskirts of Idlib in Syria
Image: AP Photo
A Syrian man walks next to part of a destroyed military tank on the outskirts of Idlib in Syria
Image: AP Photo
A NEW UN report released today says that children as young as 8 years old have been victims of killing, arbitrary arrest, detention, torture, sexual violence, and have been used as human shields in Syria.
It was the first time that Syria had been listed in the annual report on Children and Armed Conflict, which issued a 'list of shame' of 52 countries which inflicted cruelty on children in conflict zones.
Yemen and Sudan were also added to the list for the first time.
The report said that Syrian government forces regularly shell, burn and raid schools.
Children between 8 and 13 have been forcibly taken from their homes and used by soldiers as human shields, who place them in front of the windows of buses carrying Syrian government military personnel into raids on villages, the report said.
Girls and boys are being  held in detention and beaten, blindfolded, subjected to stress positions and electrical shocks, and whipped with heavy electrical cables.
"The world is keeping a detailed account of the violence committed against civilians in Syria and I am confident that these crimes will not go unpunished", said Radhika Coomaraswamy, the special representative of the Secretary-General for Children and Armed Conflict.
Persistent perpetrators
The report also noted a worrying trend with the increase of the children being used as suicide bombers. At least 11 children in Afghanistan and another 11 in Pakistan were killed while conducting suicide attacks last year. The youngest child involved was eight years old.
Coomaraswamy said that the world should unite against the 'inhuman and perverse' practice.
The number of countries which are considered persistent perpetrators of grave violations against children has doubled since last year, the report found.
32 countries have been listed by the Secretary General as offenders for at least five years.
"We must put more pressure on these parties through sanctions, other Security Council action, and closer collaboration with national and international courts, " said Coomaraswamy.