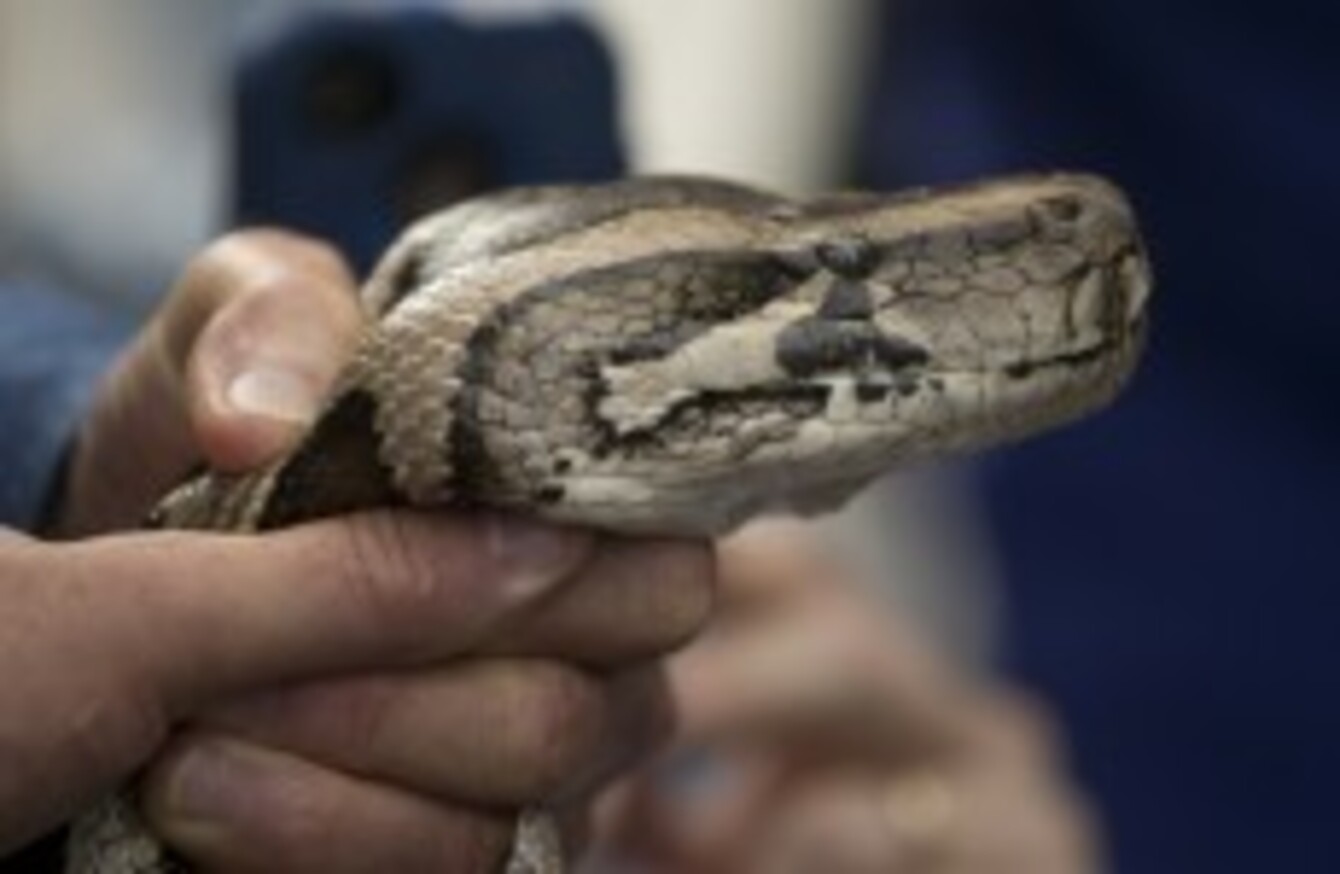 A python snake (File photo)
Image: AP Photo/J Pat Carter/File
A python snake (File photo)
Image: AP Photo/J Pat Carter/File
AN ESCAPED PYTHON killed two children in their sleep in eastern Canada, police confirmed today.
The two young boys, aged five and seven, were sleeping at a friend's apartment late on Sunday in the small town of Campbellton when they were surprised by the snake.
It had escaped from a pet store that specialised in exotic animals located on the floor below the apartment.
"The preliminary investigation has led police to believe that a large exotic snake had escaped its enclosure at the store sometime overnight, and got into the ventilation system, then into the upstairs apartment," police said in a statement.
"It's believed the two boys were strangled by the snake."
A New Brunswick police spokesman declined to give further details on the size of the snake or whether signs of strangulation were apparent on the boys.
Authorities said they were still waiting for the results of the autopsies — to be carried out on Tuesday — to determine the cause of death.
But reptile experts expressed skepticism over the incident, saying it would be extremely rare for a constrictor to attack two young boys.
"It's difficult to believe," said David Rogrigue, director of Montreal's Ecomuseum Zoo.
This type of accident would be "an isolated case and very, very extraordinary, and very improbable," he said.
These snakes typically bite to defend themselves and use strangulation solely for their prey.
"Strangling is really linked to the feeding of the animal," he said, explaining the behavior "is stimulated by hunger and by the odor of the prey."
The python had been recaptured and was being held by police, authorities said.
The incident sparked strong reactions in Campbellton, a town of just over 7,000 people on Chaleur Bay in northern New Brunswick.
Deputy Mayor Ian Comeau expressed sorrow over the accident and noted that there had been opposition to the presence of the exotic pet store in the town. He pledged the city ordinance that allowed it would immediately come under review.
(Image: Google Maps)