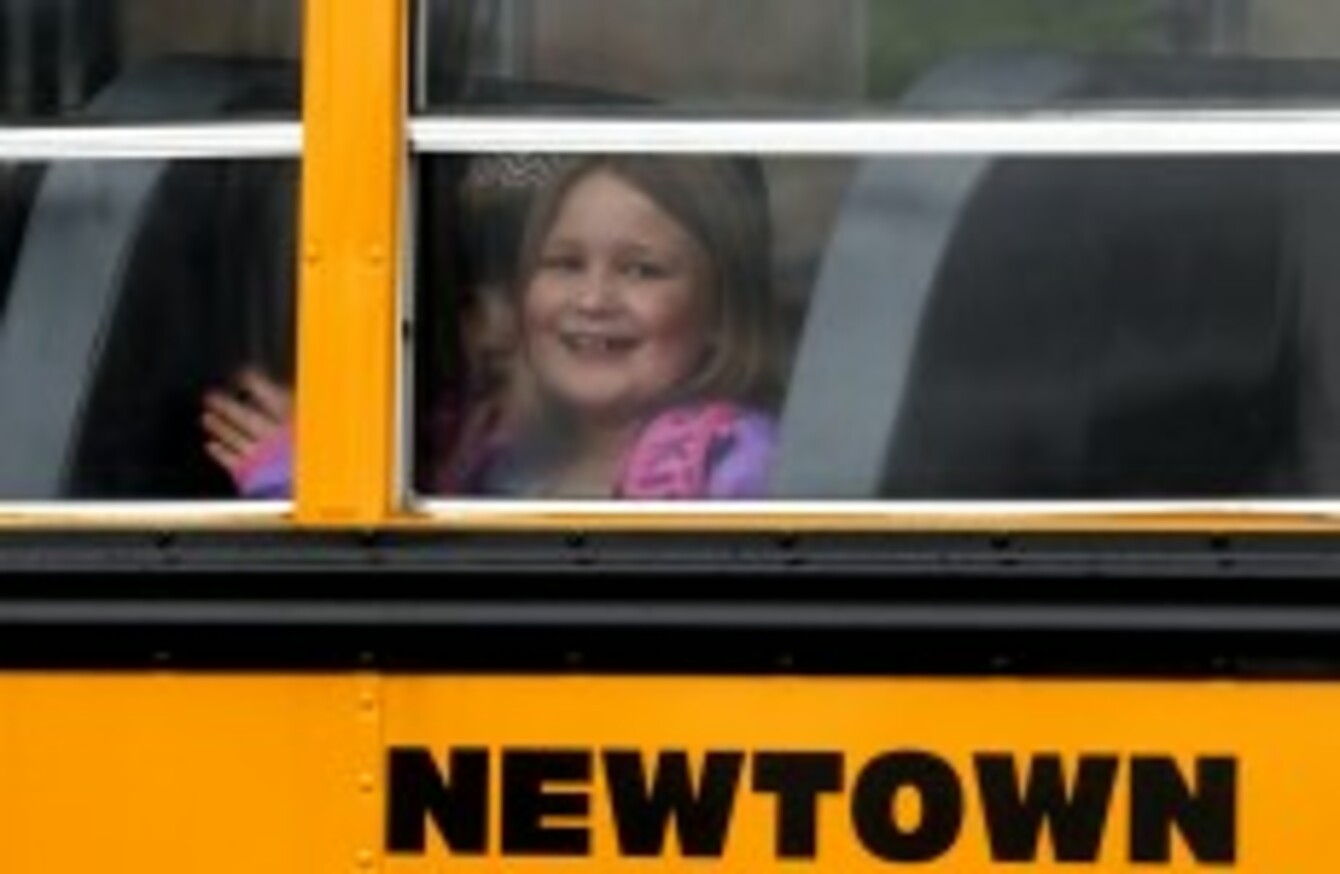 Image: Jason DeCrow/AP
Image: Jason DeCrow/AP
MOST CHILDREN in the Connecticut town of Newtown returned to classes yesterday for the first time since last week's massacre, but survivors of the shooting stayed home and their school remained a crime scene.
Four days after a disturbed 20-year-old shot his mother, then 20 first graders and six staff at Sandy Hook Elementary School, the debate over America's lax gun laws hit a new pitch with President Barack Obama coming out in support of a new bill that would ban assault weapons.
Adam Lanza's principal firearm in Friday's massacre was a military-grade Bushmaster semi-automatic rifle, exactly the kind of gun that would be banned if the Obama-backed bill gets past Congress – something far from guaranteed.
But in Newtown, a small suburban town, there were more immediate worries, as yellow school buses rolled through thin drizzle at the delayed start of the school week.
It was only a baby step back toward normality in a town that had been known for low crime and a tight sense of community until the shootings.
Classes began up to two hours late and extra security was posted outside buildings.
At Hawley Elementary School, a couple accompanying their young son held hands and hugged the policeman at the entrance.
"He was very happy to get back with his friends," one mother said, declining to give her name. But the father said he could not describe his emotions on what should have been an ordinary school run.
"There are no words. Just tears," he said.
Nearby school closed after 'undisclosed threat'
Another school, Head O'Meadow Elementary, was closed after an undisclosed threat, according to ABC News, which said police had turned away parents and students arriving for what would have been their first day back.
Police did not specify the threat, saying the school – a few miles away from Sandy Hook – was closed as a "precautionary measure", according to ABC.
Survivors of the Sandy Hook massacre stayed home.
Bill Hart, of the Newtown Board of Education, tweeted that "no date has been set" for reopening the school, adding: "We are evaluating on a daily basis."
US media reported that Newtown Superintendent of Schools Janet Robinson had sent a letter to Sandy Hook parents, inviting them to visit the former Chalk Hall school in neighbouring Monroe and saying classes would start there for survivors in January.
"We need to tend to our teachers' and students' needs to feel comfortable after this trauma in this new place," the letter said, according to Fox News and CNN.