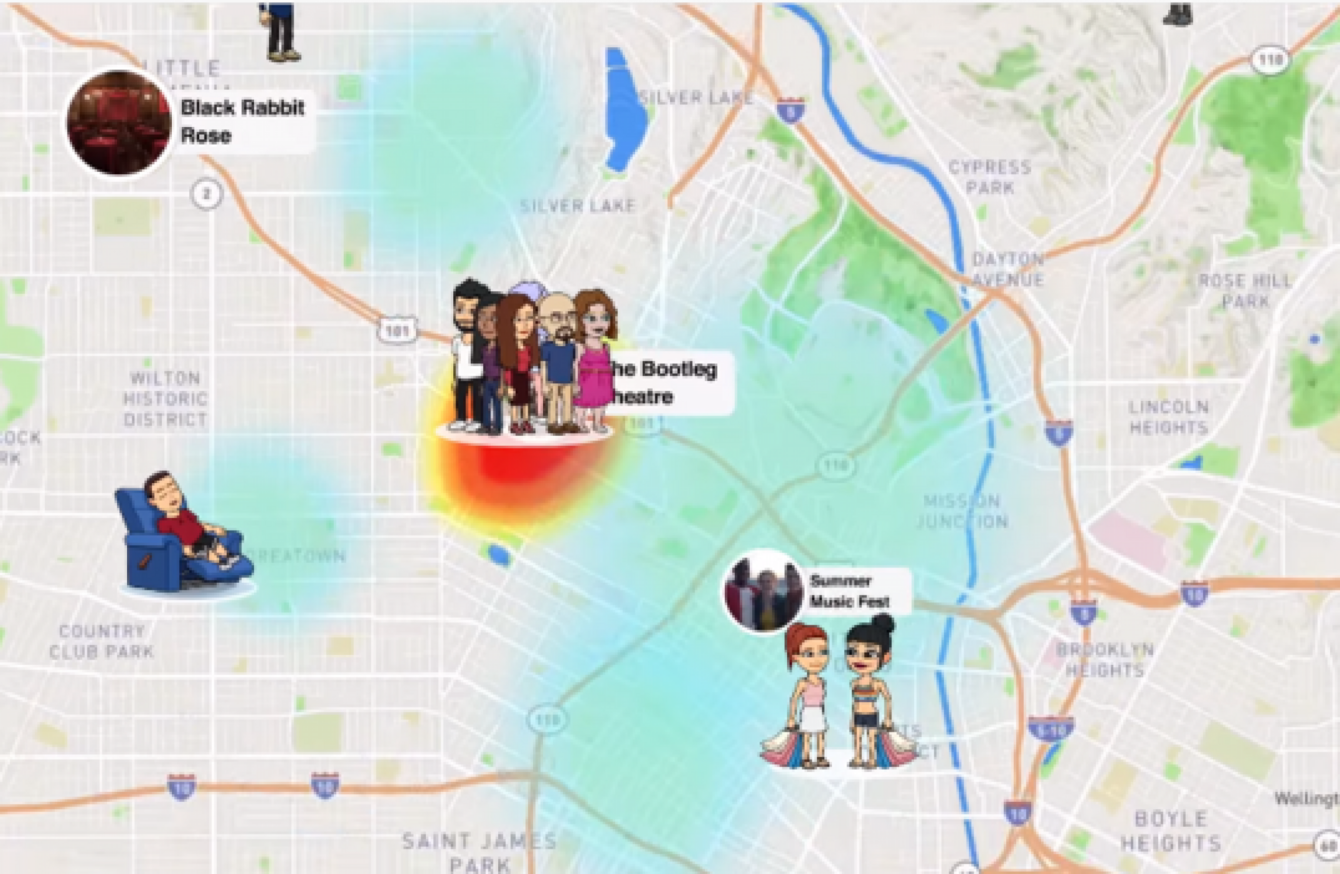 Image: Snapchat/Youtube
Image: Snapchat/Youtube
PARENTS SHOULD BE regularly checking their children's social media accounts to ensure they're not in contact with people they don't know in real-life.
This warning is coming from CyberSafeIreland, the children's internet safety charity, in light of this week's new Snapchat update which sees looser privacy settings within the app.
The introduction of 'Snap Maps' puts users and their photos onto a new interactive in-app map where friends and other Snapchat users can track where they are at any given time.
Users who have chosen to share their location with their in-app friends can be seen on the map that's precise enough to show a person's exact location on a street, in real-time.
Snapchat isn't the only app that uses location tracking – it's a common feature on the majority of social media apps including Facebook, Messenger, Instagram and Twitter.
A spokesperson for Snapchat told TheJournal.ie:
 The safety of our community is very important to us and we want to make sure that all Snapchatters, parents and educators have accurate information about how the Snap Map works.
Warning to parents
Programme Director of CyberSafeIreland Cliona Curley told TheJournal.ie that it's important for parents to be aware of the settings surrounding location-sharing in apps because children are at high risk of communicating with strangers online.
"Generally, children who are sharing information online could be more vulnerable to pedophiles, online grooming or extortion – where someone who has had contact with them online might try to have further contact with them in real life," Curley said.
"Children are too young to be left on their own on social media. It's an environment where they can have a lot of positives out of it but it's also an environment that adults have to be part of the picture."
Curley used Instagram as an example to emphasise how easy it is for people to track children online.
She said that if a person is walking through a park and sees someone taking a selfie and uploading it to Instagram, that person can do a location search on the app and find the photo if they had their location settings turned on.
How can parents keep their children safe?
Curley advised parents on how to keep their children safe while using social media apps.
She said that it's important for parents to research all the apps that are installed on their child's devices and find out how they can make their children's social media accounts more private.
"Get to know the apps. Sit down with your kids and look at [the apps] and look at what safeguards are in place," she said.
She suggested that parents review the settings in the apps and make rules around their use.
You might create a rule that they can only have people they know in real life on their friend lists.
People they know in real life are going to be in their class in school, in their after school activities or sports activities. A lot of time children are befriending others because they're on their friends' friend list and they're assuming that they know that person.
#Open journalism No news is bad news Support The Journal

Your contributions will help us continue to deliver the stories that are important to you

Support us now
"You need to sit down regularly with your children and review their privacy settings, review their friend list and ask them 'who is this child, how do you know them?'. Make sure they know everybody in real life," she said.
CyberSafeIreland's 2016 annual report found that 28% of children surveyed are in contact with a stranger either occasionally or every day through online gaming or accepting social media requests from strangers.
Whilst many connections are harmless, there are cases where the contact with strangers is of significant concern, particularly for the 5% of children who are in contact with a stranger on a daily basis.
The survey also found that whilst 84% of primary school teachers do cover internet safety in one form or another, the majority of them (64%) said that they did not feel sufficiently resourced to effectively deliver educational messages on internet safety.
"More needs to be done and everybody has a part to play in this. There needs to be a lot more done by technology providers, some of them are doing a lot more than others but it needs to be standardised across the board," Curley said.
"There also needs to be a lot more investment in education in Ireland. Sometimes there's a focus on prohibition and banning children from technology but that's not practical.
"The reality is that technology is very much part of everyday life and children will be dealing with it."
Instagram have been contacted by TheJournal.ie.