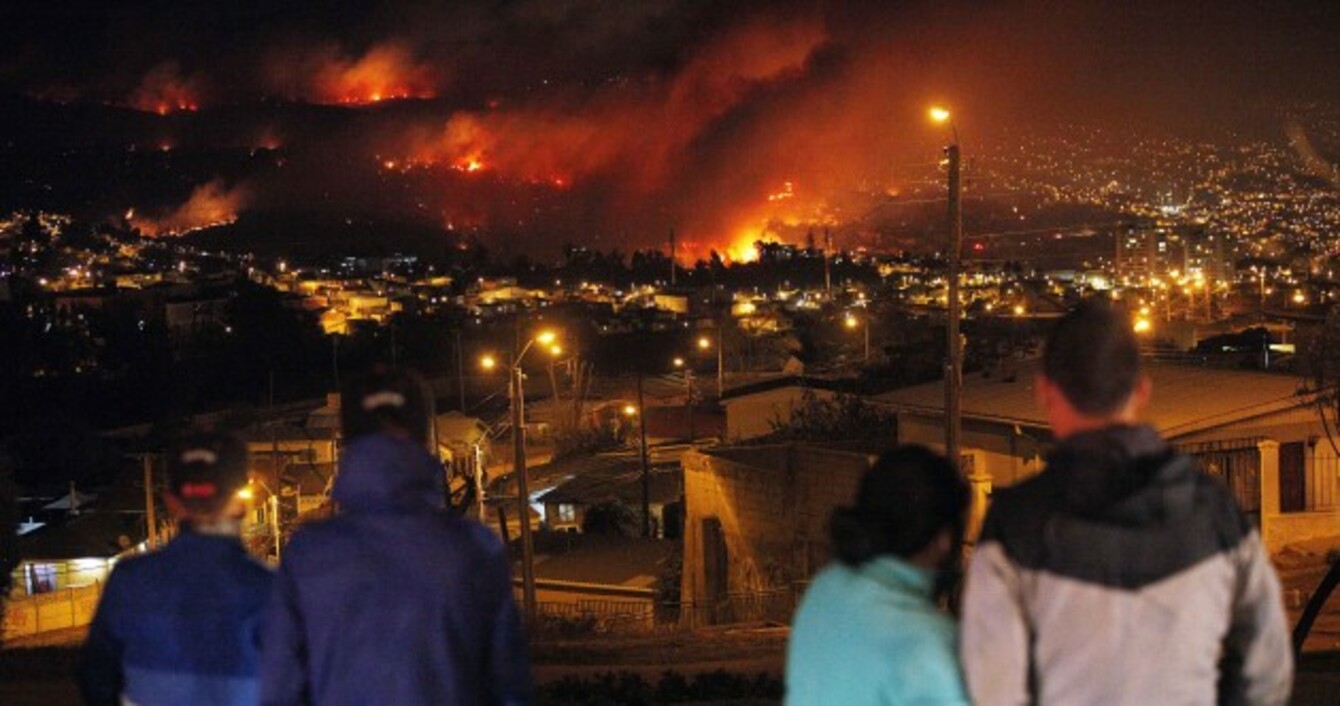 People watch as a forest fire rages towards Valparaiso.
People watch as a forest fire rages towards Valparaiso.
Updated 7.41pm
AT LEAST 16 people were confirmed dead and more than 10,000 evacuated on Sunday after a huge fire tore through Chile's historic port city of Valparaiso, officials said.
The blaze, which started in nearby woods on Saturday, gutted 500 homes as a wall of flames advanced on the city of 270,000, famed for its UNESCO-listed center.
The military has taken over security in the city, located on the Pacific coast 110 kilometers northwest of the capital Santiago and with a population of 270,000, after the government declared it a disaster zone.
"This is the worst catastrophe Valparaiso has ever seen," the regional government administrator, Ricardo Bravo, told local reporters.
Many residents overnight watched, helpless, from distant vantage points as the hills burned bright red. Thick smoke clouded the sky.
Hundreds of firemen, including ones dispatched from the capital, were hopelessly outmatched in their battle to limit the spreading disaster. They were forced to retreat time and again as flames reduced more than 500 homes to cinders, a wall of red towering above them.
The massive tongues of flame were advancing down the slopes of the city towards its port and heritage-listed center, driven by strong winds.
"At this time there are 16 confirmed dead," Valparaiso Police Chief Julio Pineda told 24 Horas television.
Roughly 500 people were being treated for injuries, mostly minor but some serious.
Firefighters warned that extinguishing the flames was complicated by the area's hilly geography, narrow streets and persistent strong winds.
The city is spread out over more than 40 hills, hindering emergency vehicle traffic.
"My brother's house was entirely burnt. We had only finished it two weeks ago. We tried to save something but it was truly an inferno," one resident, Cristobal Perez, told the Chilevision television network.
"I started to become overcome by the smoke along with my two dogs. It was terrible — impossible to breathe," another resident told the channel.
The vast blaze has caused cuts to power and drinking water in many areas of Valparaiso.
More than 200 inmates at a women's prison were evacuated due to "large amounts of smoke produced by the fire," said Tulio Arce, regional prison guard director.
The cause of the fire, which began in woodland near the city late Saturday, was being investigated.
Military called in
Chile's interior minister said the disaster decree issued on Saturday by President Michelle Bachelet activated an "exceptional" constitutional provision allowing the military to be called in to help.
The navy, which has a major base in the port city, immediately responded by taking over security. It deployed uniformed personnel into the streets to maintain order and to help with the evacuations.