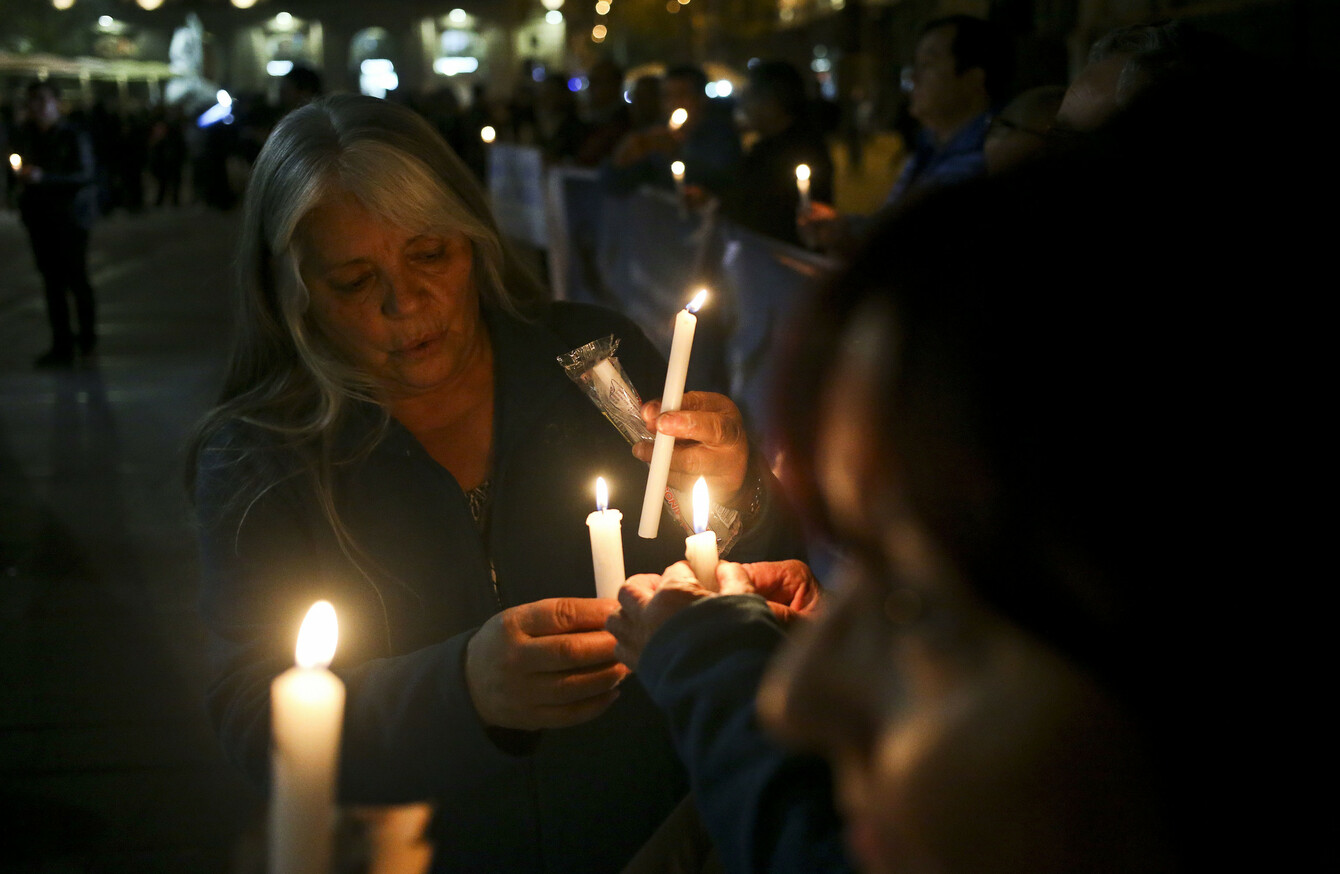 A vigil for the victims of church sexual abuse, held outside the Cathedral in Santiago, Chile (August 2018).
Image: Esteban Felix via PA Images
A vigil for the victims of church sexual abuse, held outside the Cathedral in Santiago, Chile (August 2018).
Image: Esteban Felix via PA Images
PROSECUTORS INVESTIGATING WIDESPREAD sexual abuse in Chile's Catholic Church announced scores of new cases today, deepening a crisis that has embroiled Pope Francis.
The country's chief prosecutor's office said the number of cases it was investigating had soared to 119, as more victims came forward.
A total of 167 bishops, priests and lay members of the church are now under investigation for sexual crimes committed in the South American country since 1960.
Seven of those under investigation are bishops and 96 are priests, but it was unclear from the figures released today how many were currently serving.
Pope Francis has already apologised repeatedly to Chileans over the scandal, admitting the Church failed "to listen and react" to the allegations, but vowed to "restore justice".
In May, the Argentine pontiff accepted the resignation of five Chilean bishops amid accusations of abuse and related cover-ups.
Francis himself became mired in the scandal when, during a trip to Chile in January, he defended 61-year-old bishop Juan Barros, who was accused of covering up abuse by pedophile priest Fernando Karadima in the 1980s and 1990s.
Karadima was suspended for life by the Vatican over the allegations of child molestation.
State prosecutors began investigating scores of abuse cases following outrage around the country over the Church's own probe into decades of abuse by priests, crimes over which it often failed to take any action or handed down lenient punishments.
Now bishops and other priests accused of abuse in Chile will face the full force of secular law.
Number of cases triple
Prosecutors initially indicated that 38 cases had been opened in the first weeks of their probe, which began in July.
"The number of investigations into sexual crimes committed by members of the Catholic Church has reached 119 cases," the state prosecutor said today in a statement.
Earlier this month, Episcopal Conference president Santiago Silva announced a series of measures to "at least begin to resolve the serious problem we have in the Church".
Already, one of the country's most prominent priests, Oscar Munoz, has been jailed while a probe into allegations that he raped at least seven children continues.
The prosecutor in charge of the investigation, Emiliano Arias, is seeking to question the Chile's most senior cleric, Santiago archbishop Ricardo Ezzati, in the case.
Ezzati has denied allegations that he covered up cases of abuse, including those of Munoz, who was a top aide.
In an attempt to douse the fires of the crisis engulfing the Catholic Church in the South American country over the deluge of accusations against clergy, bishops have decided to publicly disclose the previous investigations on alleged sexual abuse of minors.
Previously, bishops had insisted that canonical law prevails over criminal law.
Juan Carlos Claret, the leader of a campaign group that opposed the Catholic Church's policy of transferring priests accused of abuse rather than sacking or turning them over to judicial authorities, told AFP the Episcopal Conference knew as early as 2007 of 120 priests involved in sexual abuse.