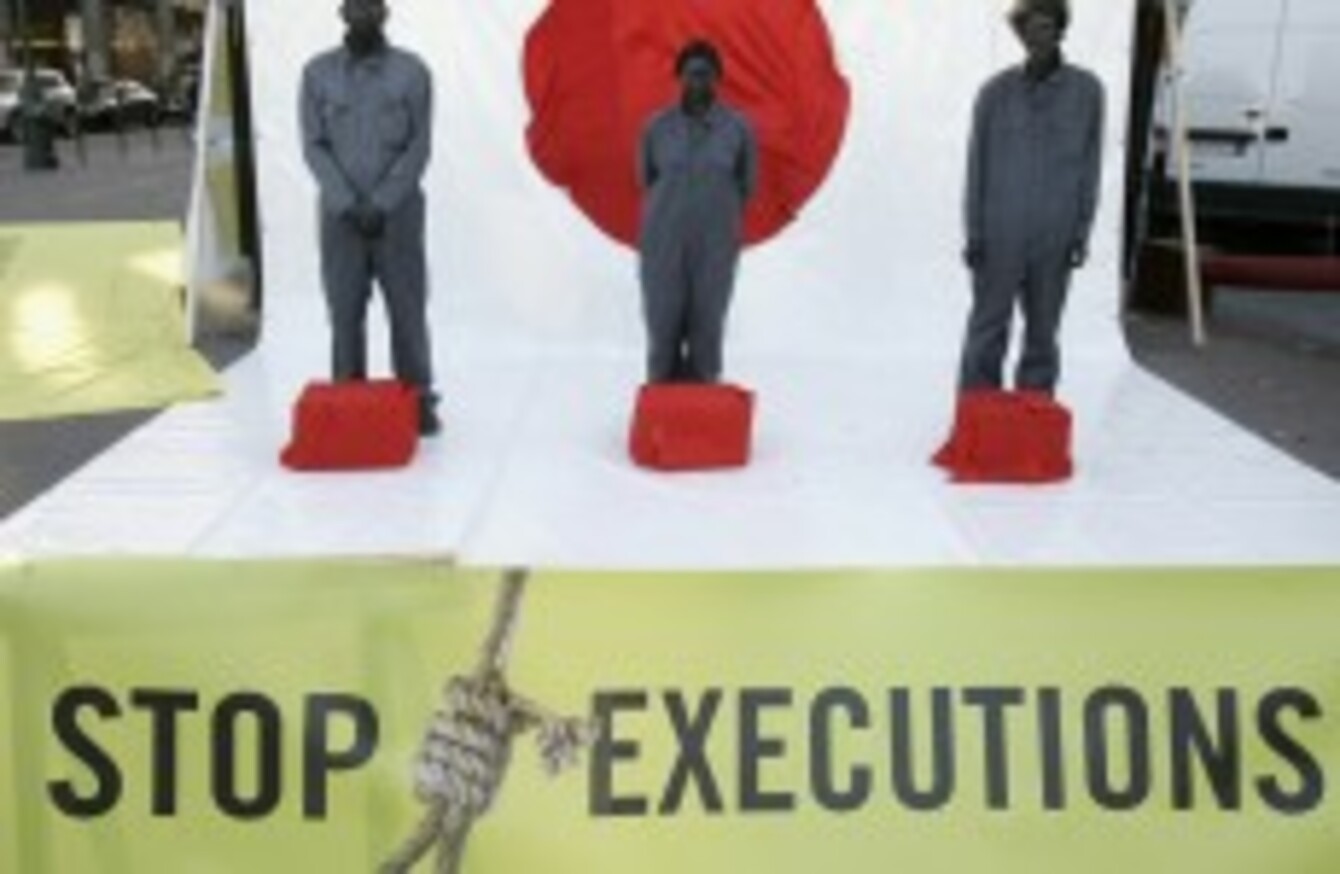 Amnesty activists campaign against the death penalty in Brussels (File photo)
Image: Yves Logghe/AP/Press Association Images
Amnesty activists campaign against the death penalty in Brussels (File photo)
Image: Yves Logghe/AP/Press Association Images
CHINA CARRIES OUT the most executions of any country in the world according to a new report from Amnesty International.
The organisation's annual death penalty report has revealed that the number of countries carrying out executions is down by more than third when compared to a decade ago.
However, there was a steep rise in executions in the Middle East in 2011 where the number of instances were up almost 50 per cent on the previous year.
This was due to four countries including Iraq, Iran, Saudi Arabia and Yemen which accounted for 99 per cent of all recorded executions in the region.
Only 20 of the world's 198 countries carried out executions last year, these included the top five of China, where there are no official numbers available, as well as Iran (360), Saudi Arabia (82), Iraq (68) and the USA (43).
Amnesty executive director Colm O'Gorman said that despite the figures progress had been made in his organisation's campaign to end capital punishment.
"The vast majority of countries have abandoned the death penalty. A tiny, and increasingly isolated, group of governments continue to put their own people to death," he said.
"Even among the small group of countries that executed in 2011, we can see gradual progress. The number of crimes for which you can receive the death penalty in China decreased. The US state of Illinois became the 16th US state to abolish the death penalty."
Amnesty says that it no longer publishes a figure for China, which has a population of over 1.25 billion, as it is likely that the estimates gleaned from public sources in the country "grossly underestimate" the true number.
It is estimated that the thousands of people executed in China last year was more  than the rest of the world put together.
YouTube: journalvideo
The US is the only member of the G8 group of leading economies in the world that executes prisoners. There was no capital punishment in Europe and most of the former Soviet Union states aside from Belarus where two people were executed.
Offences which carried the death penalty varied in different countries with executions carried out for offences such as sodomy and adultery in Iran, blasphemy in Pakistan, sorcery in Saudi Arabia, and human bones trafficking in the Republic of Congo.
Execution methods included beheading, hanging, lethal executuon. Amnesty said that public executions were known to have been carried out in North Korea, Saudi Arabia, Somalia and Iran.
Amnesty also noted that Latvia had become the world's 97th abolitionist country and that there were official moratoriums on executions declared in Sierra Leone and in Nigeria.
"The momentum around the world is towards ending executions. The leaders of the death penalty states must end the use of the death penalty and the international community must keep up the pressure on those governments to abandon this cruel and inhuman punishment," O'Gorman added.