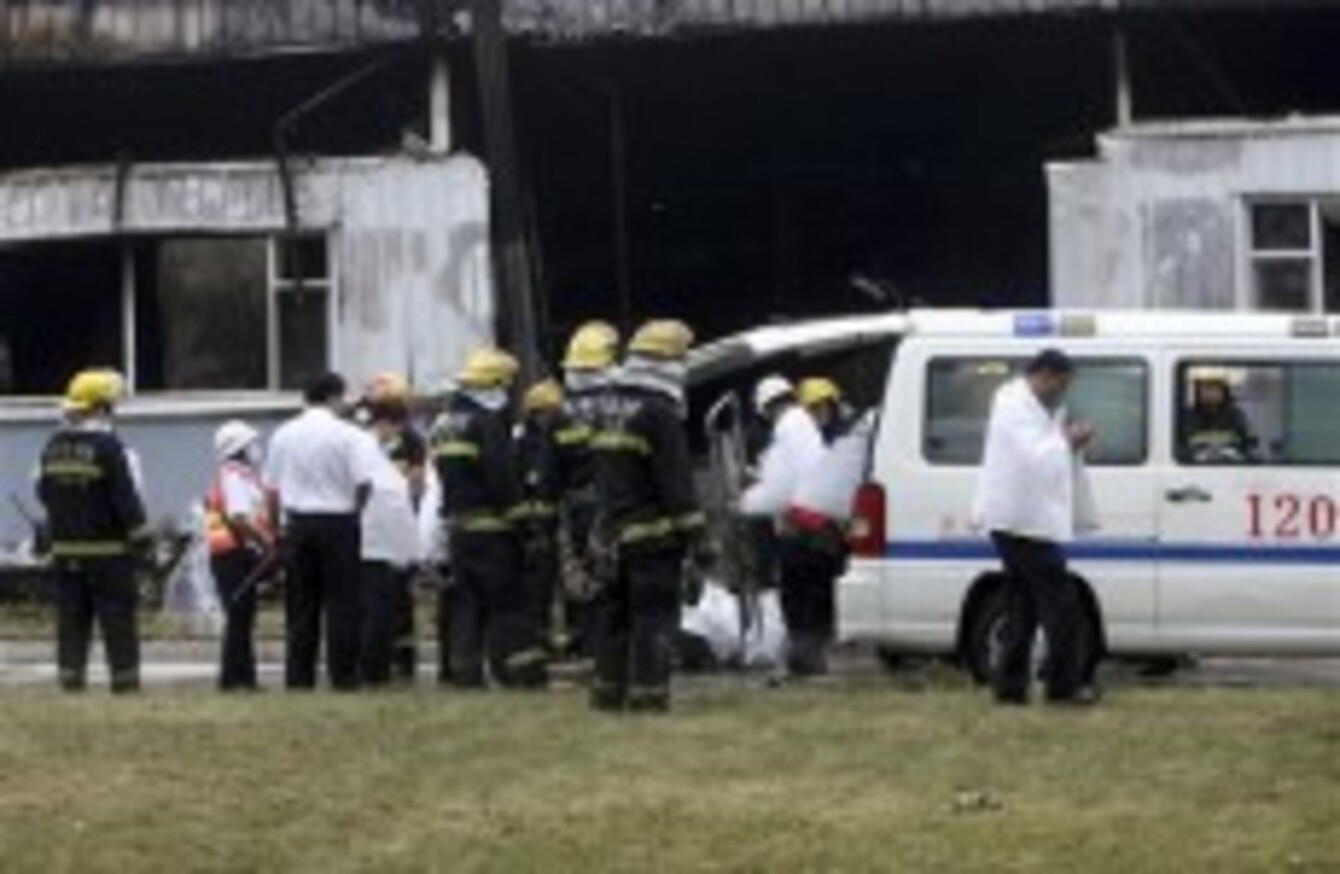 Emergency services comb the scene in the aftermath of the blaze
Image: AP Photo
Emergency services comb the scene in the aftermath of the blaze
Image: AP Photo
SURVIVORS OF AN inferno at a Chinese poultry processing plant have told of their desperate attempts to save others, as relatives of the 120 people killed demand answers from authorities.
The blaze – at a factory in the Dehui in Jilin province – is believed to be the country's worst blaze for 12 years. More than 300 workers were at the Baoyuan poultry plant when the fire broke out.
"It was complete disorder, everyone was running," said Chen Hengwu, a worker who escaped unhurt from the fire.
"When I had run out I remembered my wife was also in the workshop. But there was fire and smoke and it was impossible to go back into the workshop to find her," he told the China Daily newspaper.
His wife Pan Xijie, who escaped with slight burns, said there were "chaotic" scenes in the plant during the fire – the latest accident to highlight poor industrial safety standards in China.
Relatives of the victims surrounded police cars, accusing officers of ineffective rescue efforts and demanding an explanation for the disaster, the Southern Metropolis Daily reported.
A senior official at the processing plant has been detained, a local official told AFP Tuesday, after the blaze spread in minutes on Monday following a blast suspected to have been triggered by a chemical leak.
"The legal representative has been placed in custody and (the company's) assets have been frozen," an official with the ruling Communist Party's propaganda department in Changchun, who declined to be named, told AFP.
The representative's role in the poultry firm was not disclosed.
The fire at the plant at Dehui, around 100 km northeast of Changchun, the provincial capital of Jilin province, started in a workshop which had only one open door, media reports have said.
Up to 300 people were working inside. About 70 people were reported injured but it was not clear how many were still missing.
China's President Xi Jinping is currently visiting several Latin American countries. Official media said he ordered "all-out rescue efforts" but a posting on China's Twitter-like Sina Weibo said: "Had this been happening in other countries, the national leaders would cut off their trips abroad and come back."
Authorities are still investigating the cause of the blaze, according to the Jilin government.