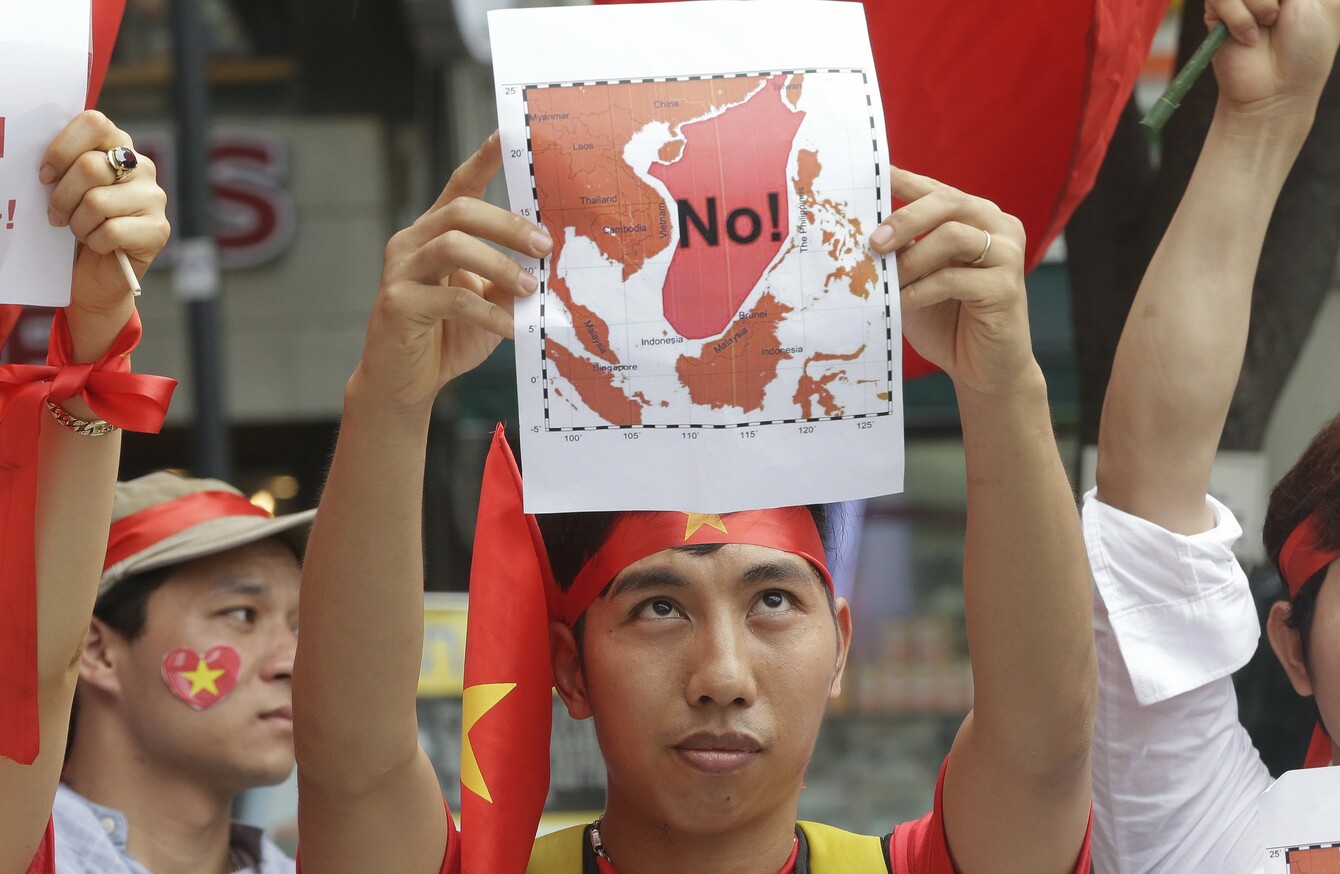 A Vietnamese protester showing a map marked "No" on the area that China claims.
Image: Ahn Young-joon AP/Press Association Images
A Vietnamese protester showing a map marked "No" on the area that China claims.
Image: Ahn Young-joon AP/Press Association Images
LAST JULY, AN international tribunal made a landmark ruling against China over their historical claim to territory in the South China Sea.
The world's most populous nation claims sovereignty over the majority of the region east of Vietnam, north of Malaysia and west of the Philippines.
Within this territory is the island of Taiwan, as well as areas of sea claimed by China's closest neighbours.
At the time of the ruling, China rejected the verdict from the Permanent Court of Arbitration in The Hague.
Chinese state media have said Beijing will not take a "single step back" after the ruling, and President Xi Jinping said around that time that China would never compromise on sovereignty, adding: "We are not afraid of trouble."
So where do China's claims come from?
China's claims to the area, called the "nine dash line", were first enshrined in a map drawn in the 1940s with a nine-dash line stretching south from China and encircling almost all of the sea, although it says Chinese fishermen have been using it for centuries.
To bolster its position it has rapidly turned reefs into artificial islands capable of hosting military planes.
It has held naval drills between the Paracels and the southern Chinese island of Hainan recent months.
A minor diplomatic incident occurred back in 2011, when an Indian naval vessel entered what the Chinese consider its national waters, with a view to exploring oil and gas exploration activities.
At the time, Chinese Foreign Ministry spokesperson Jiang Yu said: "China enjoys indisputable sovereignty over the South China Sea and the island. China's stand is based on historical facts and international law.
"China's sovereign rights and positions are formed in the course of history and this position has been held by Chinese Government for long.
As for oil and gas exploration activities, our consistent position is that we are opposed to any country engaging in oil and gas exploration and development activities in waters under China's jurisdiction.
Why is America involved?
Officially, the United States disagrees with China's claims in the South China Sea, but it has maintained diplomatic ties with the country in recent decades, ever since Richard Nixon visited the communist country.
Under President Barack Obama's administration, Washington insisted it was neutral on the question of sovereignty over the islets, reefs and shoals.
In December, Donald Trump broke a four decade stance of US policy by suggesting that Washington's "One China" stance would be reviewed under his presidency, as well as calling the Taiwanese President to offer his support.
In recent months, Taiwan was warned its closest ally, the US, of the increasing threat of china. Last week, the Taiwanese military forces were seen conducting military exercises.
Its defence minister said: "The threat from our enemy is increasing day by day. We need to maintain combat vigilance at any time."
Before leaving office, however, Obama warned Trump against provoking China.
He said: "The idea of One China is at the heart of their conception as a nation.
And so if you are going to upend this understanding, you have to have thought through what the consequences are, because the Chinese will not treat that the way they'll treat some other issues.
He warned that their actions could be "very significant".
#Open journalism No news is bad news Support The Journal

Your contributions will help us continue to deliver the stories that are important to you

Support us now
What happens now?
Sean Spicer may have made headlines at the weekend for his wild claims on crowd numbers at Trump's inauguration, but the new White House press secretary expressed strong rhetoric on this issue.
This week, he said that the US "is going to make sure we protect our interests" in the South China Sea.
"If those islands are, in fact, in international waters and not part of China proper, yeah, we'll make sure we defend international interests from being taken over by one country," he said.
Trump's nominee for secretary of state, Rex Tillerson, said last week China's access to the islands might be blocked – raising the prospect of a military confrontation.
For its part, China was quick to hit back against this new US stance, with a foreign ministry spokesperson saying that the "United States is not a party to the South China Sea issue".
The spokesperson said that said said China "firmly upholds freedom of navigation and overflight in the South China Sea in accordance with international law" and urged the US to "fully respect the efforts of regional countries to safeguard peace and stability".
This week, a leading Chinese newspaper, The Global Times, called for the country to expand its nuclear arsenal to "force the US to respect it".
They said that Beijing's nuclear forces "must be so strong that no country would dare launch a military showdown" with it.
With reporting from AFP.