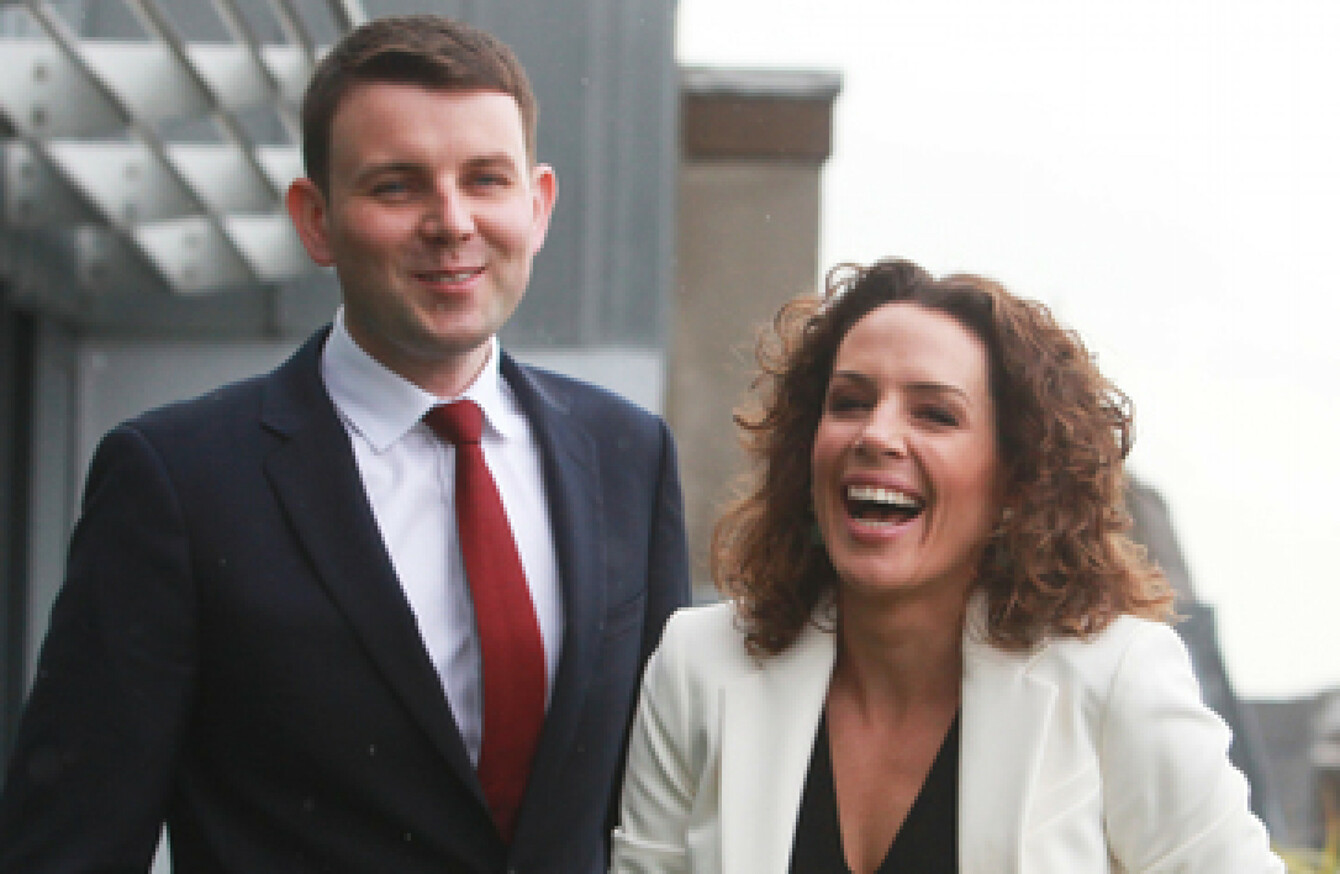 Chris Donoghue and Sarah McInerney in the roof garden at Communicorp HQ last year.
Image: Leah Farrell
Chris Donoghue and Sarah McInerney in the roof garden at Communicorp HQ last year.
Image: Leah Farrell
Updated at 2.30pm 
THE PARENT COMPANY of Newstalk has announced new roles for outgoing drivetime presenters Chris Donoghue and Sarah McInerney. They have been presenting the show for the last 12 months, after taking over from George Hook.
It was announced last week that veteran broadcaster and former Fine Gael TD Ivan Yates would replace the pair as the sole presenter during the high-profile evening slot.
Donoghue, who previously presented at breakfast-time alongside Yates, will become Group Political Editor for all of Communicorp's stations, including Newstalk, Today FM, 98FM, Spin 1038 and Spin South West.
He will also present a two hour current affairs show on Newstalk from 11am each Sunday.
According to a press release from Communicorp, McInerney will present a new show from 8-9am each Saturday.
It will be "a newly created programme focused on current affairs and politics," according to the broadcasting group. She will also provide cover "across the weekday primetime schedule including for Newstalk Breakfast".
Currently, the 8-9am slot on Saturdays is presented by Sarah Carey. Ivan Yates has been presenting the Sunday slot that Donoghue will now take over.
Gavan Reilly, who briefly held the joint role as political correspondent at both Newstalk and Today FM, left the broadcasting group at the start of this month for a new role at TV3. Previously, he had been political correspondent for Today FM alone.
Sinead Spain, Communicorp's Group Head of News, said in a press-released comment:
We are delighted to announce Chris as our Group Political Editor, which reaffirms our commitment to top quality news and current affairs across all stations. Chris brings a wealth of experience to the role and we are confident he is the right candidate to lead the political agenda for our stations and the Network News portfolio.
Regarding the changes to weekend programming she said:
We are delighted to add these two new shows from Chris and Sarah to the Newstalk schedule. Chris is a long time member of the Newstalk family and will set the agenda for the week ahead with his incisive analysis, while Sarah's extensive knowledge of current affairs and the political landscape will be brought to the fore on her new weekly show.
Communicorp's PR company did not respond to a query about Sarah Carey's future role at the station.