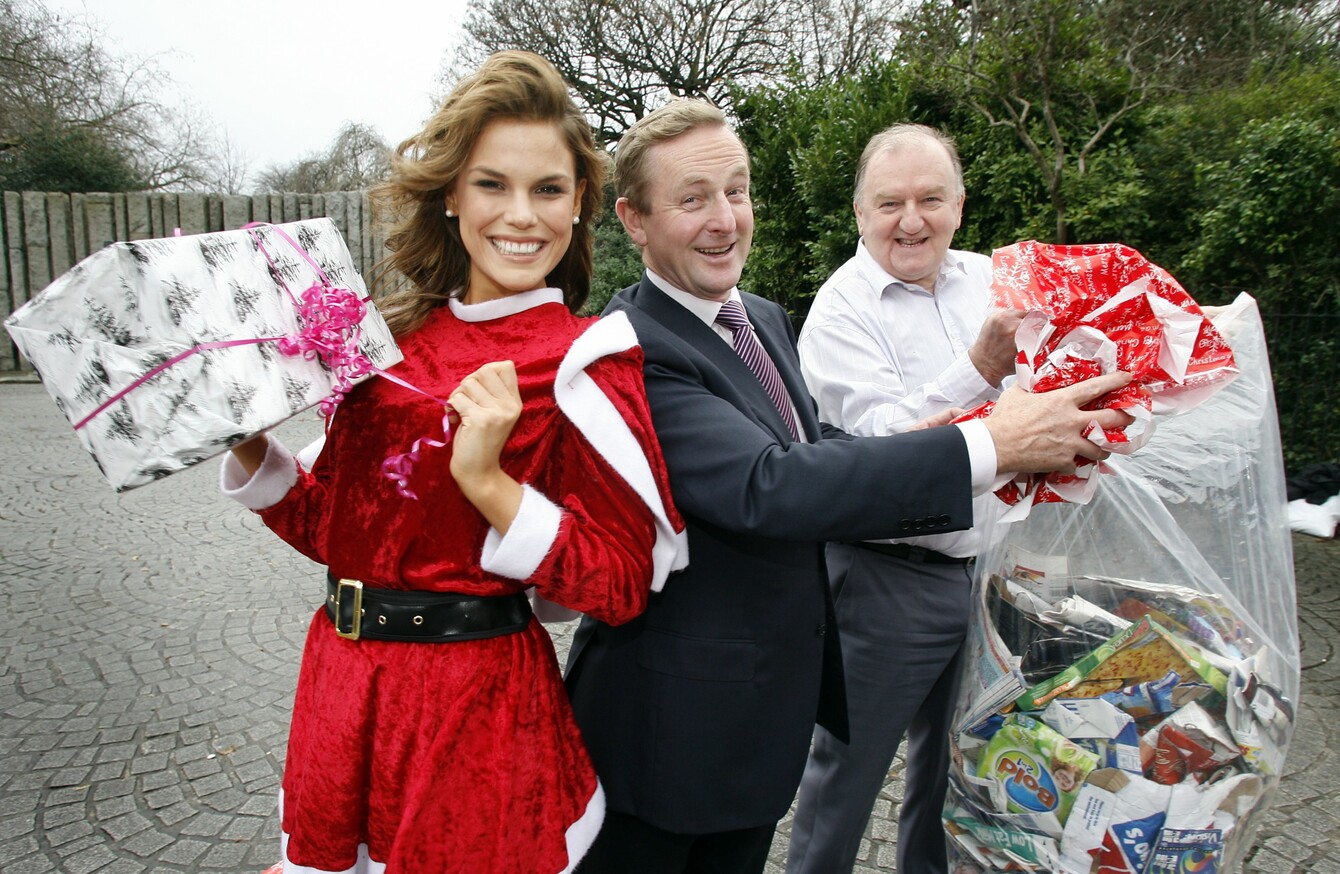 Enda Kenny in 2007 launching a free Christmas recycling service.
Image: Mark Stedman/Photocall Ireland
Enda Kenny in 2007 launching a free Christmas recycling service.
Image: Mark Stedman/Photocall Ireland
TAOISEACH ENDA KENNY would not confirm today if those in receipt of social welfare payments will receive their Christmas bonus this year.
Labour's Brendan Howlin raised the issue during Leaders' Questions in the Dáil this afternoon.
"Will the government pay the Christmas bonus this year, and if so, will it be a full weekly payment?" asked Howlin.
The previous government abolished the payment in 2009.
In 2013, Kenny was dubbed as "Scrooge" in the Dáil when he said the money was not there to restore the payment.
However, in 2014 the payment was partially restored by the previous Tánaiste Joan Burton.
Since then, it has gradually increased. Last year, it received a 75% boost.
'A long time ago'
Addressing the Dáil, the Labour leader harked back to days gone by when Fine Gael and Labour were in partnership government together.
"A long time ago," the Taoiseach told the Dáil today.
Howlin pointed out that together, both parties worked to restore the Christmas bonus to families in receipt of social welfare payments.
As he knows, these payments are incredibly important, particularly at Christmas time, to some of the lowest-income households in the country, for example, a pensioner on €230 per week.It meant having an extra €173 last year to look after Christmas. For a job seeker on a very modest €188, it made the difference for a Christmas of having an additional €141 in his or her pocket.
"I recall one of the first or second budgets we discussed in rooms not too far from here a number of years ago… the question was whether to cut the different rates of social welfare because there was not any money for anything," said Kenny.
"We resisted that," Howlin interrupted.
Challenge
Having held the portfolio of Minister for Expenditure and Reform in the past, Kenny said Howlin should know "better than most in this House" the challenge facing Paschal Donohoe in two weeks time.
Kenny said no decision has been made as of yet – but added that the issue is being discussed.
This is an issue that is one of the things that must be considered, and we will try to be as fair as possible with the resources that are available to the two ministers [Finance Minister Michael Noonan and Minister for Public Expenditure and Reform Paschal Donohoe].
The Wexford TD told the Taoiseach that the Minister for Social Protection Leo Varadkar said publicly this year that he intended to seek government support for a full payment this year.
'The decent thing to do'
Howlin said it would be the "decent thing to do" to tell families now if they will be getting the payment this Christmas.
We are now approaching the end of September. It would be helpful for those families and those people planning their future and their Christmas and what they might be able to afford…
The Taoiseach would not be pushed on the issue and would not confirm one way or the other if the payment was to go ahead this year.
I cannot confirm what the final decision of Cabinet will be. That will not be evident until the discussions are finished with the different ministers and their counterparts.
Fianna Fáil's Micheál Martin took today's Leaders' Questions as an opportunity to raise recent reports that the government is planning to entice emigrants home with tax cuts.
A report in yesterday's Irish Independent said the government will attempt to lure highly-skilled workers from the UK back to Ireland with a special 30% tax rate. This rate would be for those earning €75,000 or more.
'Bananas idea'
TheJournal.ie understands the initiative was not presented to Cabinet for approval and was not discussed at yesterday's Cabinet meeting.
"Who came up with this bananas idea?" asked Martin.
Martin called the initiative "discriminatory" and "out of touch" – something Enda Kenny agreed with, to a degree.
"Somebody away in London or New York or America, wherever, and they come back, and they're working in the same facility as somebody else and they're paying a different rate of tax simply because they've come back?
"I would regard that as being unfair and discriminatory, of course."