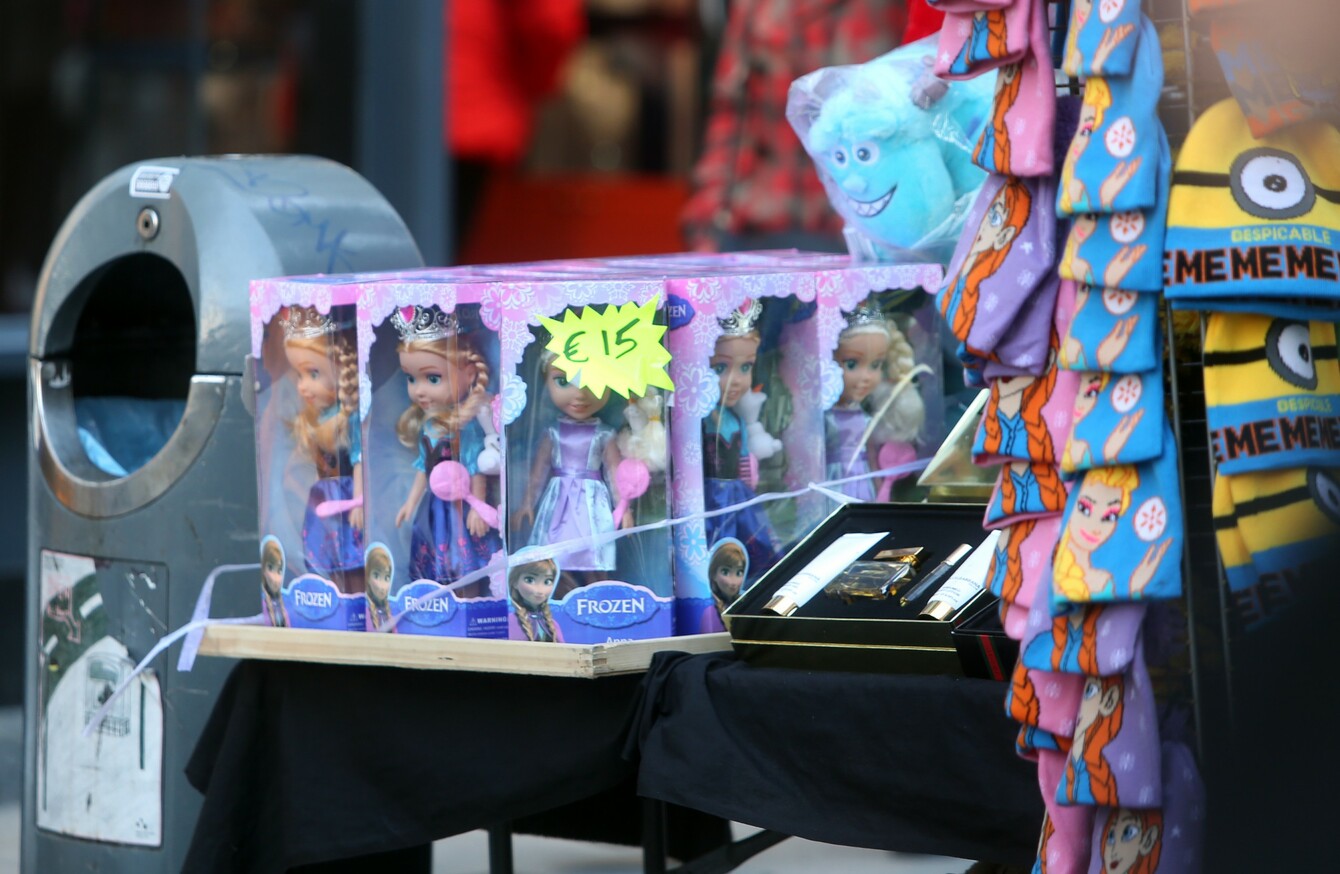 Image: RollingNews.ie
Image: RollingNews.ie
GARDAÍ HAVE EXPRESSED concern about potentially dangerous counterfeit goods that are being sold at Christmas markets.
Earlier this month, gardaí from Store Street garda station seized a large number of counterfeit handbags from the markets on Henry Street.
Officers from the city centre station have continued to make seizures from these markets and in the last number of days they removed a variety of items including perfume, jewellery, festive clothing, electrical goods and toys.
Speaking to TheJournal.ie, Garda Inspector Tony Kelly said his biggest concern would be about consumers buying toys that are potentially harmful.
"People are buying the toys a lot cheaper than they probably should be. It's just that they don't have the safety standards and the tests needed and it can cost lives unfortunately."
Kelly said electrical items that have not gone through the proper safety checks can also go on fire. There was particular concern about hoverboards last year as many had non-compliant plugs, fuses, cables, chargers and battery packs that were causing fires in homes.
"We would also be extremely concerned about the likes of perfumes and aftershaves or candles because we don't know what's in them," Kelly explained.
Among products seized in the latest haul were items of drug paraphernalia like cannabis grinders, rolling boxes, bongs, containers for concealing pills and boxes of small plastic bags for separating quantities of drugs.
Though Kelly said gardaí based around Henry Street have been cracking down on traders who breach the conditions of their licence, he said officers have a good relationship in general with them.
"The vast majority of them are decent hardworking people and they're there trying to make a few bob for Christmas. It's not easy down there, standing out all day in the cold.".