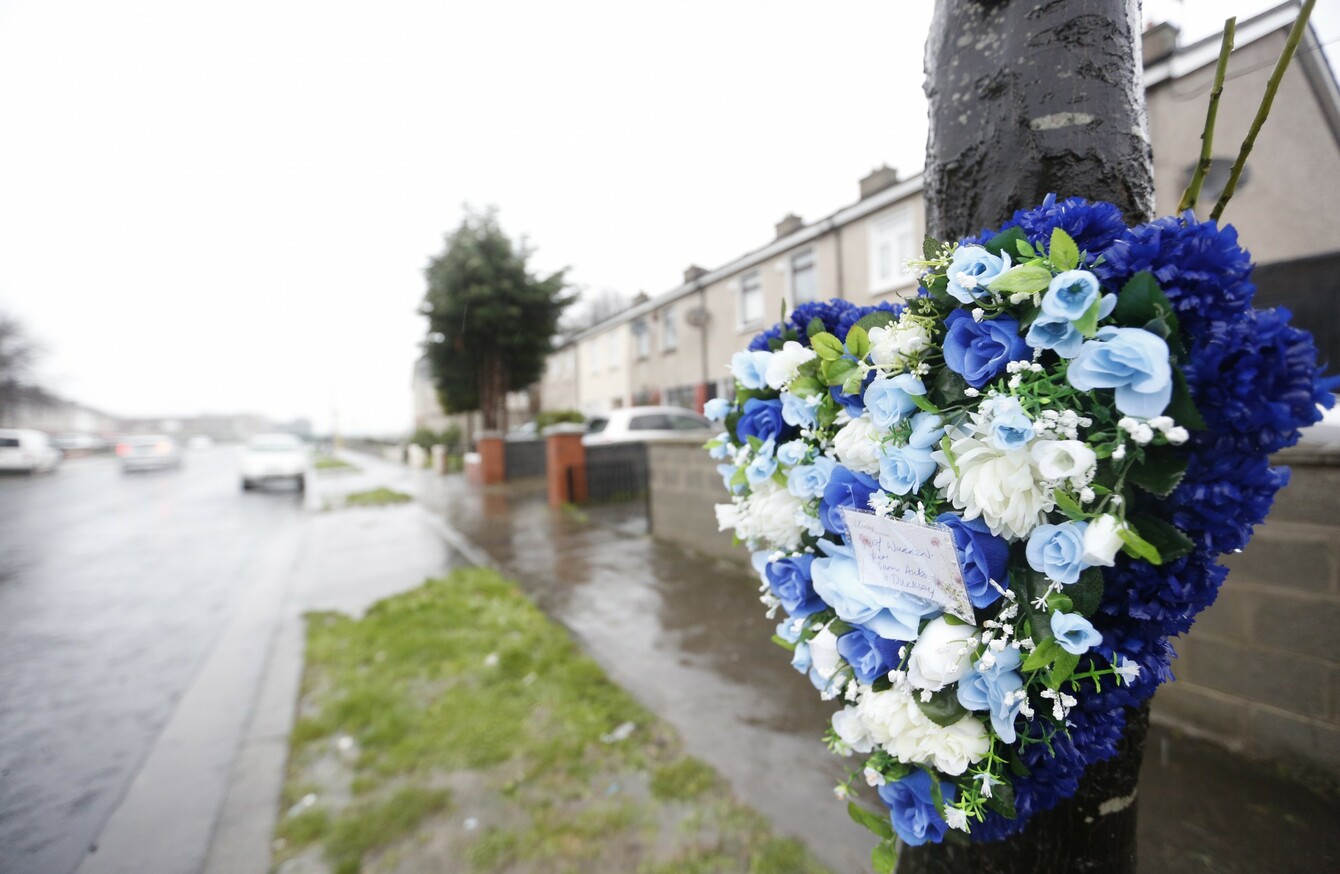 Tributes placed where Warren Kenny died on Christmas morning.
Image: Sasko Lazarov/RollingNews.ie
Tributes placed where Warren Kenny died on Christmas morning.
Image: Sasko Lazarov/RollingNews.ie
FIVE PEOPLE UNDER the age of 30 have been killed on Irish roads over the past three days.
The death toll for the Christmas period has reached five after a seven-year-old boy died in a three-car crash in Antrim last night.
The schoolboy has been named as Jackson Turner, a pupil at Sunnylands Primary School in Carrickfergus.
His death comes after four fatal road incidences since Christmas Day.
Late yesterday afternoon, a 20-year-old woman was killed when the car she was driving struck a wall in New Ross, Wexford. She was pronounced dead at the scene after 5pm.
Earlier on St Stephen's Day, an 18-year-old driver died when his car collided with a truck and another vehicle at Kilcogy in Cavan. The crash happened at 7.30am and he was pronounced dead at the scene.
The victim has been named locally as Feargal O'Reilly. He is survived by his parents Mairead and Noel and sister Eimear.
His friends have started posting tributes online to the Ballyhaise Agricultural College student.
Two people also died on Christmas Day on Irish roads. 
Gardaí are investigating the circumstances of the death of a 29-year-old man who was hit by a car while out walking on the evening of 25 December.
He was killed when he was struck by a car at 7.20pm just outside Carlow town.
It was the second tragedy of the day. Earlier on Christmas morning, 16-year-old Warren Kenny died in Ballyfermot after being involved in a crash while on a scrambler motorcycle.
Two bikes, which were reportedly Christmas presents, collided before 8am. The teenager was seriously injured and brought to St James's Hospital where he died a short time later.
The second man involved in the crash was in his 20s and suffered minor injuries.
Warren's friends have posted messages of condolences to his Facebook account.
"Hard to believe my best school mate is gone rip warren you always put a smile on my face. The class won't be the same without you love yea and you will be always be on my mind [sic]," wrote one classmate.
While another said, "On me mind all day just wish this was all a dream me and u were having great crack laughing and joking yesterday love u rest in peace [sic]."
Following news of the death, local TD Joe Costello called for gardaí to deal with scrambler bikes at Christmastime. He referenced another crash on Sean McDermott Street which left another man hospitalised with serious injuries.
"Christmas Eve and Christmas morning have become occasions for young people with scrambling bikes to take to the streets in the Inner City," he said.
They perform stunts and race each other.  Many of these bikes are illegal. They are neither taxed nor insured. Their drivers seldom wear helmets. No year goes by without injuries. Most years there are deaths.
"It is time the gardaí realised that this is an annual occurrence, that it poses a threat to life and limb not just of the people involved but also to the community in which these dangerous practices take place. A policing plan must be put in place to put a stop to these dangerous practices once and for all and to ensure that Christmas is a safe and peaceful time."
So far this year, 161 people have been killed in 150 crashes on roads in the Republic of Ireland.
This is about 30 fewer than the same time last year. More than 70 of the deaths were of drivers of vehicles, while 32 were pedestrians and nine were cyclists.