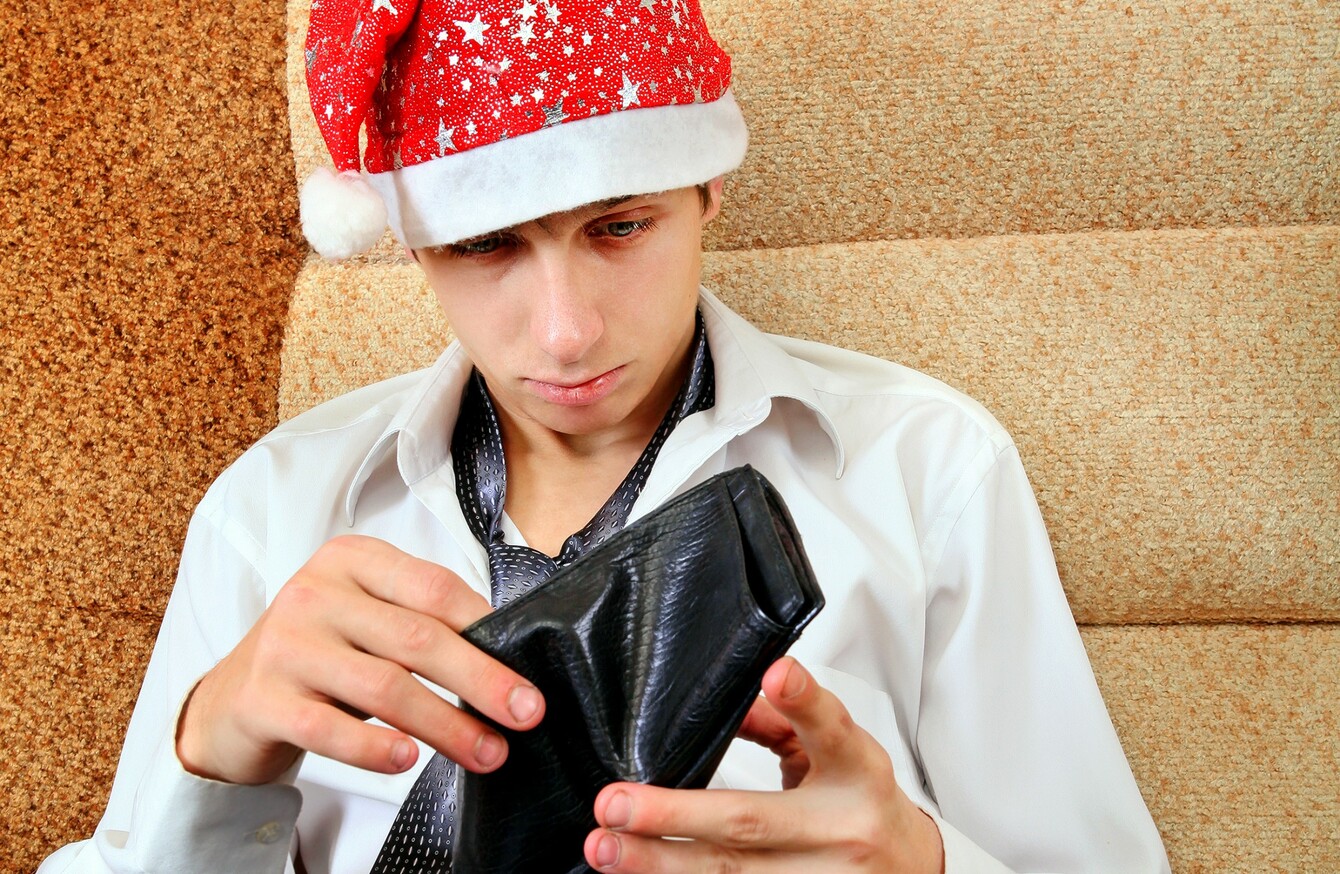 Image: Shutterstock/adriaticfoto
Image: Shutterstock/adriaticfoto
CHRISTMAS IS UPON us and that means your bank balance won't be looking the healthiest as the New Year arrives.
Gifts, dinners, bottles of wine and all those Christmas nights out all add up leaving your finances a quivering mess come January.
However, help is at hand.
Here are some of the best ways to manage your money this Christmas period.
According to the Money Advice and Budgeting Service (MABS), these are the 12 golden rules for spending during the festive period.
Make a list of what you need to buy for Christmas. Divide it into gifts, food, clothes and socialising.
Prioritise – if you had a limited amount of money, what could you cut from that list? Work your way through, numbering items in order of importance.
Try to estimate how much money you expect to spend on each of these items. What does it add up to ?
Is it a very large figure? If the number makes your eyes bulge, look at each individual item again. See if there is a way you could reduce the cost.
What does it add up to now? Is that a better figure?
Keep going with this until you get to a number you can live with – it is important to be honest with yourself.
#Open journalism No news is bad news Support The Journal

Your contributions will help us continue to deliver the stories that are important to you

Support us now
7. This is the amount of money you have decided you NEED for Christmas.
8. Will your savings for the year be enough to cover the costs you planned for?
9. If you have not been able to put aside any money, or if what you have saved is not enough, then you have a choice; either you cut the amount you intend to spend again, until your savings can cover it, or you may decide to borrow.
10. Try not to build your plans on the basis of a bonus or overtime payment, or any other payment that you are not absolutely certain you will get – only count the money you can rely on getting.
11. Smart Shopping : Try to get the best value you can when shopping for gifts – look for offers in the shops, three-for two deals and so on, but remember the value is only there if you actually need the three items.
12. Borrowing:  If you really believe borrowing is your only option, then remember to only borrow what you truly need and not one cent more and make sure you can pay back this loan before the middle of next year.
While MABS are the experts in all things financial, here are five tips from TheJournal.ie to save money.
Be that guy/girl and nip off to the loo as it's your round. Fix hair/apply make-up until you're absolutely sure an impatient mate would have gotten the round in.
Pretend you thought the Kris Kringle max spend was  €5 even though you knew i was €20 all along. 'Enjoy your two cans of cider, Paul!'
Buy presents for people you absolutely have to buy for – your mam, your partner etc. Your dad will be sound with a pint on Christmas Eve.
Lump some cash on the favourite in the Stephen's Day racing at Leopardstown (warning: don't do this)
Beware the Christmas sales – you can always do without that cashmere jumper.