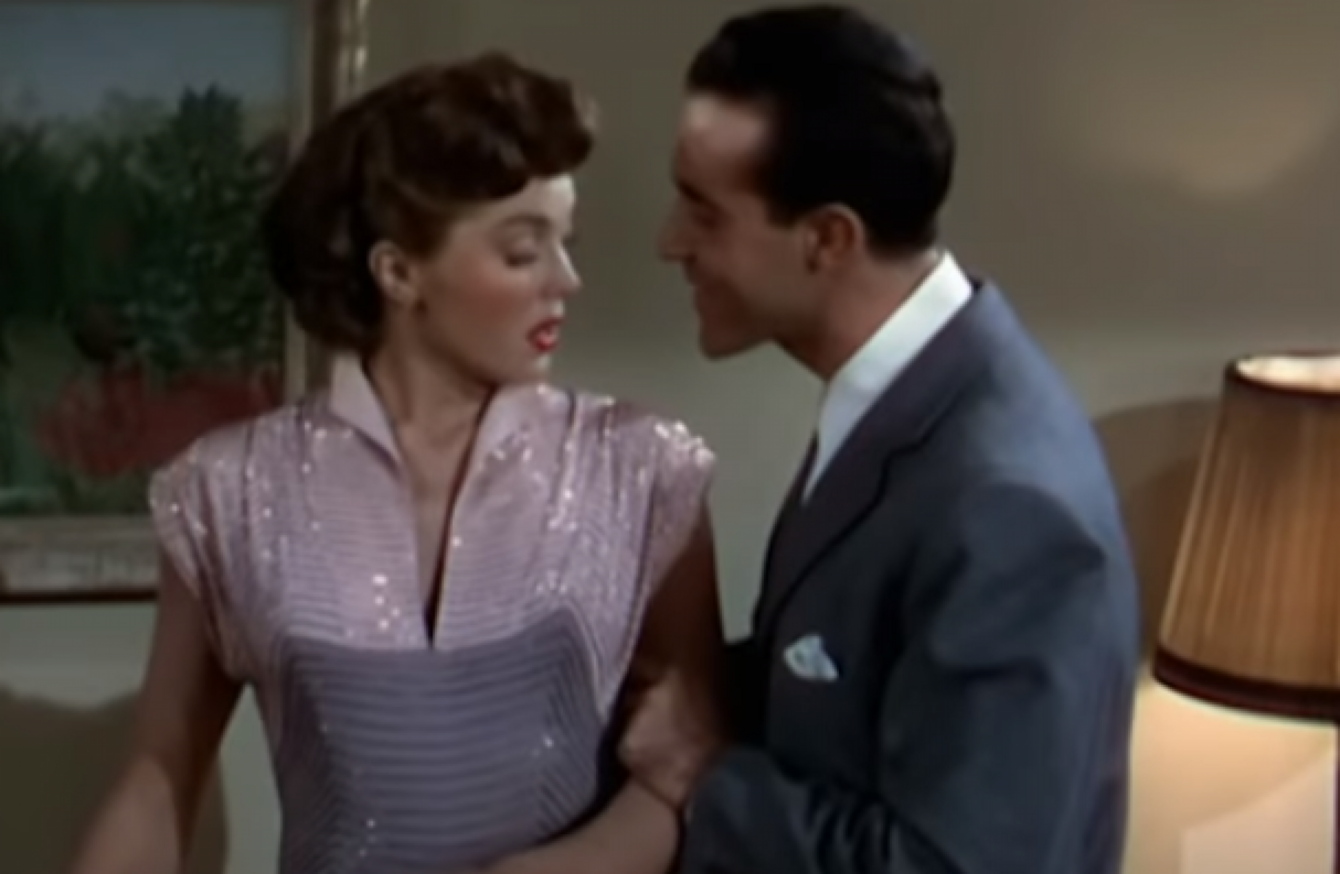 A still from 1949 movie Neptune's Daughter, where the song featured.
Image: Screengrab
A still from 1949 movie Neptune's Daughter, where the song featured.
Image: Screengrab
THE DEBATE AROUND what is or isn't acceptable to air on radios or show on television is constantly raging. 
With the advent of social media and the changing times we live in, old artefacts of pop culture are seen in a new light and talked about in terms of the modern cultural context, separate from the one in which they were originally created. 
Today, in this more hyper-aware era, movies and pop songs from bygone days are seen in a different light, with aspects that were once fine or seen as acceptable not regarded as such anymore.
This week (for the season that it), this debate zeroed in on beloved and not-so-beloved Christmas classics and whether radios should censor parts of songs or not play them at all.
The flashpoint of this has been the old song Baby, It's Cold Outside – a duet written in 1944 and performed over the years by scores of artists, including Dean Martin, Dolly Parton, Ray Charles and Lady Gaga.
The song is seen by many commentators as problematic, with its depiction of a man seemingly pressuring a woman into staying the night with him, when she appears reluctant to do so.
Lyrics include:
"I've gotta get home (but baby, you'd freeze out there)
Say lend me a coat (it's up to your knees out there)."
"Say what's in this drink? (No cabs to be had out there)", sung by the woman, is arguably the song's most controversial lyric.
A radio station in the state of Ohio was first to announce it was pulling the song from its playlist last weekend after receiving complaints.
Several other stations across the country and in Canada duly followed suit. 
On this side of the world, beloved seasonal station Christmas FM confirmed that the song had been pulled from its own playlists last year, as it didn't "resonate" with listeners. 
Cue cries of "PC gone mad", and "censorship" and offended "snowflakes".
Controversy 
The debate has gone on all week, amplified of course by Twitter and other social media, where every argument is put forth and regarded and cast aside. 
Inputs and opinions have come from music critics, celebrities, radio hosts, songwriters and everyday punters on the matter.
Arguments have ranged from differing interpretations of the song, to whether any song should be banned for its content, to the inevitable anger that people feel when they believe someone is trying to ban or censor something beloved from the past. 
Following the initial story about one radio station pulling the song  going viral, a huge amount has been written on the subject with lots of different opinions expressed. 
They have ranged from the flippant:
 To the well-thought out:
Comedian Jen Kirkman put forward an argument in a series of tweets stating that the song was being wrongly interpreted. 
"The song seems odd now not cuz it's about coercing sex but about a woman who knows her reputation is ruined if she stays. 'Say what's in this drink' is an old movie line from the 30's that means 'I'm telling the truth.' She wanted to get down and stay over," she said.
A reading in the pop culture magazine Persephone builds on this, stating that the song is about the woman wanting to stay the night in the man's house, but society frowning on this.  
Others take a less favourable view on the song, calling it "rapey" and offensive and saying it shouldn't be played. In the song, the woman gives some version of "No" several times, while the man apparently wears her down.
#Open journalism No news is bad news Support The Journal

Your contributions will help us continue to deliver the stories that are important to you

Support us now
Other songs
Moving on from this particular controversy, the debate then focused on other classic Christmas songs, and whether they, too, should be censored or stopped being played altogether. 
In Ireland, it stopped on The Pogues' classic Christmas song Fairytale of New York.
Debate around the use of the word "faggot" in the iconic song has rumbled on for several years and it returned to the headlines this week following the controversy around "Baby".
Two RTÉ 2FM DJs raised objections to the festive hit. Eoghan McDermott said he asked two gay members of his team how they felt about it and one favoured censoring the song while the other didn't want to play it at all.
Fellow presenter Stephen Byrne also talked about he felt when he heard the song played in a club:
I stood in a room as over 200 people screamed a word that's been used to make me feel like an outsider, with such joy and cheer.
Both of these statements were met with vitriol and criticism, prompting McDermott to tweet this in response. 
My basic point is it just doesn't seem at all radical to me beep one word, when we – all of us, beep a thousand others in songs all the time. Tis just a conversation. Play away! Namaste.
After this, songwriter Shane MacGowan himself weighed in, saying that the word was "used by the character because it fitted with the way she would speak and with her character".
She is not supposed to be a nice person, or even a wholesome person. She is a woman of a certain generation at a certain time in history and she is down on her luck and desperate. 
He said he had no problem with people bleeping the word if they chose to, but that he didn't want to get into an argument over it.  
RTÉ followed this up by saying that it wouldn't be bleeping the word when it played the song.   
Ongoing debates
Debates like these around old songs and what they mean in a modern context have been ongoing for years and will continue to crop up as long as society keeps having conversations with its past (or playing old Christmas songs).
With that said, you don't need to look to the past to find hugely offensive terms or imagery in pop music, with modern music arguably pushing the boundaries in terms of what is acceptable on the airwaves (Kanye and Lil Pump anyone?).
But old classics will be brought up again and again and looked at and talked about and considered as long as the pop culture machine keeps churning. Opposing sides should try to set out their stall in measured, considered way and listen openly to those who oppose them.
And what better platform than social media to have respectful debates, right?