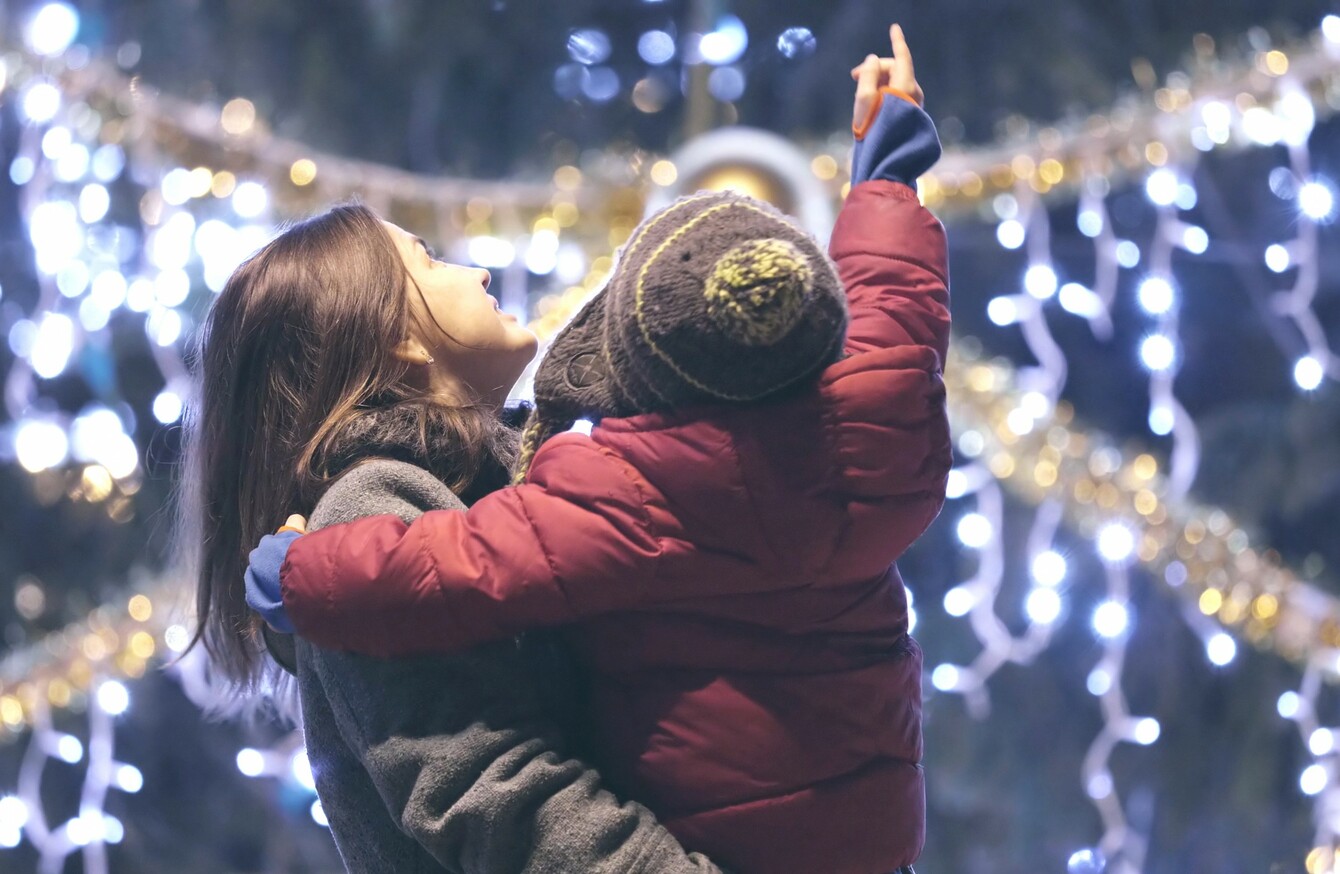 Image: Shutterstock/MEDIAIMAG
Image: Shutterstock/MEDIAIMAG
WHEN IT COMES to being pregnant, or parenting a newborn, everyone's just figuring things out as they go. That's why it can be so helpful to hear how other people are getting through the mess of it all, from the first nappy change to the countless sleepless nights.
Our Newborn and Baby Parents Panel is made up of parents and parents-to-be, all raising little ones aged up to 24 months.
This week, we asked parents what Christmas tradition they're most looking forward to starting with a new baby in the family…
Leaving treats for Santa: I am really looking forward to getting him involved in putting up the tree and decorations when he is older. I can't wait until he is old enough to understand about Santa, so he can write his letter to him and leave leave treats out on Christmas Eve for Santa and carrots for his reindeers. The same traditions I had when I was growing up. 
- Julie Ann Walsh
Looking at the decorations in the Arnotts windows: The tradition I loved most when I was younger was going into town on Christmas Eve with my dad to see the window displays and lights and the crib at the Mansion House. Now Switzers is gone a long time now and I don't think the Brown Thomas window holds that much excitement for my 17-month-old so we're going to try Arnotts this year!
- Brianan Nolan
Meeting Santa in Cork: I hope to make a tradition of a day out in Cork in the run up to Christmas. Getting the bus to town, going for lunch, meeting Santa, seeing the lights and just enjoying the atmosphere. I have a very idyllic picture in my head… If only my children weren't terrified of Santa!
- Aisling Drake
Donning novelty socks: I'm hoping to make Santa socks a tradition in our house, regardless of age! And also a little trip down into our local town on Christmas Eve for general atmosphere enjoyment and some serious people watching. 
- Niamh Roche
Combining Irish and Polish traditions: We're incorporating both Irish and Polish traditions in our house. On the 24th, we eat a traditional meatless dinner with 12 dishes, like spiced prune soup (I know – sounds delicious) fish, cabbage with wild mushrooms, and pierogis. 
We also clean our shoes/boots on the 6th of December and leave them out for Santa to fill them with sweets and small gifts overnight. I also love Christmas entertainment and every year go to either Panto, Santa Experience or/and Christmas Concert in National Concert Hall.  
- Marta Lisiecka
Reading a special story: The Polar Express book came out the year I was born and my parents bought it for my first Christmas and read it to me and my siblings every Christmas Eve. I'm buying my son the book and plan to continue that tradition with our kids. 
My partner and I usually bop through the town and go for pints at Matt Molloy's on Christmas Eve, and while that will be a bit trickier this year, I'm excited to keep the tradition alive and show off the baby to friends and family we only see at Christmastime.
- Kristi Paris
Enjoy the Dublin city lights: We are very excited for our 10-months-old's first Christmas! It's also the start of establishing Christmas traditions in Dublin as we used to head home to our families for Christmas until last year. I'm looking forward to soaking up the Christmas lights in Dublin city centre and the buzz with all the crowds with our own little family. 
- Siobhan Mehigan
A festive trip to Airfield Estate: We go to Airfield Christmas experience every year and it's just so lovely. We tend to take a trip there most weekends anyway (annual membership was a great investment!) but at Christmas it's just extra special. It's definitely something we will continue! 
We also have Polish traditions in my home house. My sister's husband is Polish, so he makes beetroot soup for their Christmas Eve dinner and makes enough to feed us all on Christmas day!
- Valerie Murray
#Open journalism No news is bad news Support The Journal

Your contributions will help us continue to deliver the stories that are important to you

Support us now
Spending time with family: Christmas is nearly as magical here in Ireland as my home of Canada. I'm not quite sure what it is, maybe it's the bigger family here than my family back home, but just being with them all and the fun we have is really what I'm looking forward to sharing with the little guy and the new baby next year. I can't wait to spend Christmas Eve and morning in PJs with the family, making memories, eating copious amounts of chocolate from the selection boxes, watching all the movies and eating delicious food! 
- Jess Mushanski
Matching family PJs: This will be my son's second Christmas and last year we started two traditions, one was reading 'Twas the night before Christmas' on Christmas Eve as a family just before bed in our matching PJs. The second was to open one small gift on Christmas Eve. This year my son understands a lot more then last year, which makes it more exciting for us parents.
- Paula Lynch
Watch The Muppets Christmas Carol: I'm a sucker for tradition, and there are a few I can't wait to share. He's only going to be eight months at Christmas but we'll start them anyway. The first is decorating the tree. I always do it with The Muppets Christmas Carol playing in the background, I can quote it from start to finish. And each year we get one new decoration to add to the tree. 
Santa still brings stockings to my parents house for everyone. It's gotten a little out of hand, with 16 stockings some years, but it's these small moments he will hold on to and enjoy as he gets older. 
- Martha Mernagh
Seeing the lights being turned on: My little man is only 16 months, so not old enough to enjoy it fully yet but we have taken him to our local village this year and last when they turned on the Christmas lights. I'm looking forward to the reaction from this year on! Love the magic of it all. 
- Flora Buckley
Ham sandwiches for Santa, ahem, the parents: Really looking forward to Christmas morning, even though he'll only be 10 months, it'll be magical. This will be our first Christmas Day together as we usually travelled to our family homes on Christmas Eve. But we'll continue the tradition of Christmas Eve breakfast in a small cafe in our village, with a few drinks with friends later in the day.  A tradition passed down from my grandparents is for the parents to have warm ham sandwiches on Christmas Eve, at about 10/11pm with a drink or two, before Santa arrives.
- Alex Quinn