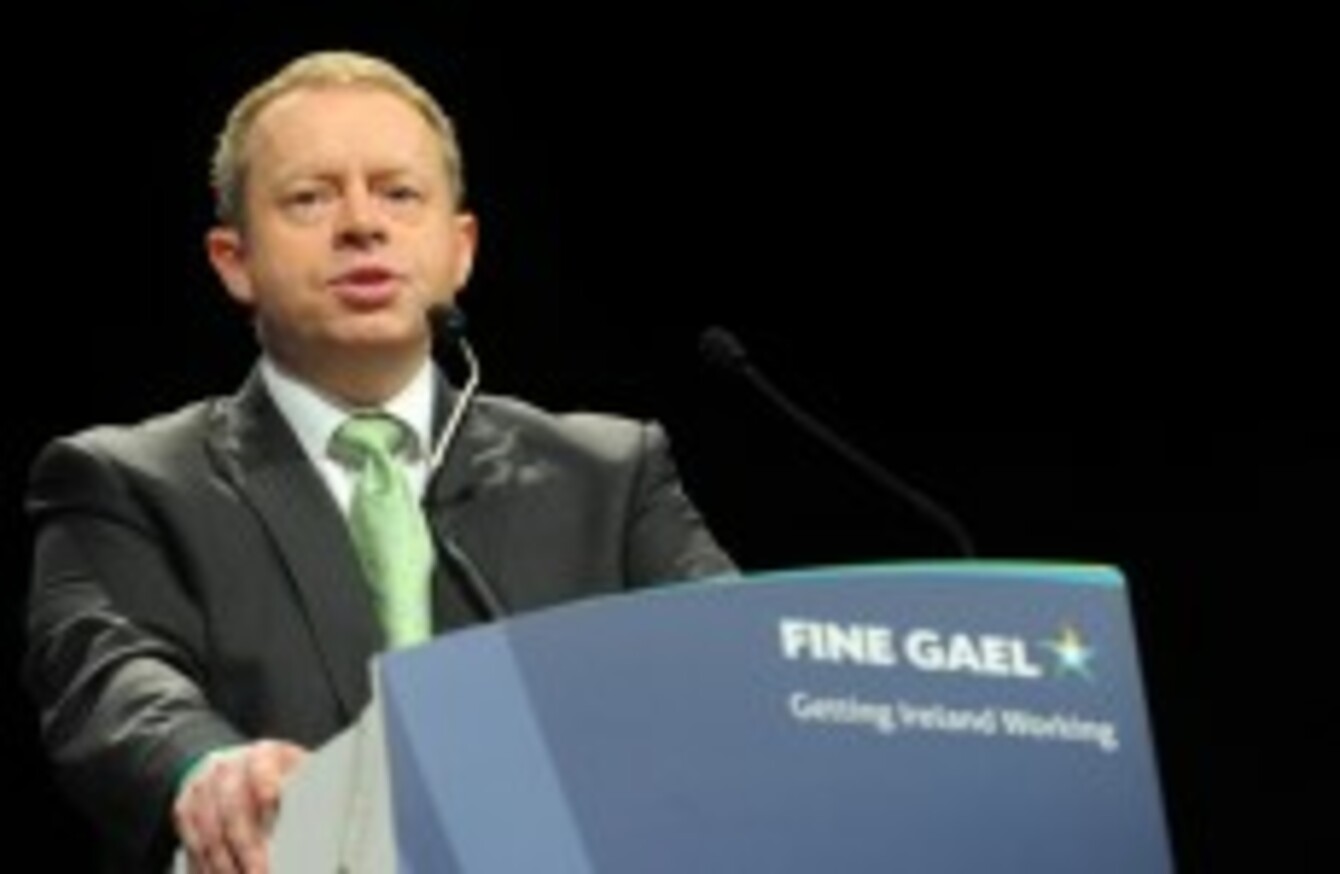 Ciarán Cannon speaking at the Fine Gael Ard Fheis last year.
Image: Laura Hutton/Photocall Ireland
Ciarán Cannon speaking at the Fine Gael Ard Fheis last year.
Image: Laura Hutton/Photocall Ireland
A JUNIOR MINISTER says that there should be no additional regulation of social media despite recent controversies and claims that some politicians fear the 'transfer of power' being created by new technology.
Fine Gael TD, Ciarán Cannon, who is the Minister of State for Training and Skills says that social media sites like Facebook and Twitter are merely new methods of communications and should be subject to "no more or no less regulation than our existing methods".
Writing for TheJournal.ie today Cannon says that existing laws and regulation are enough to deal with instances of bullying, abuse and defamatory statements aimed at politicians or anyone using social media.
He writes: "As politicians we have to be open to fair criticism. We are also mature enough to discern the difference between someone who wishes to express a passionately held opinion and someone who is just spewing spiteful bile.
"If we are subjected to unwarranted abuse on our own social media accounts we do have fairly simple options open to us to immediately end that abuse, the "unfriend" and "block" buttons.
"These options are no different to binning hate mail or hanging up on abusive callers, something right minded politicians have been doing for decades."
Cannon was responding to suggestions that social media could be subjected to further regulation in Ireland following a number of recent controversies including the death of two sisters in Donegal following the alleged bullying of one on the website Ask.fm.
While the death of junior minister Shane McEntee in December led to his brother hitting out at "faceless cowards" who made comments about the Minister of State on the internet which he said affected his brother before his death.
Losing control
Cannon writes that the death of his party colleague had forced all politicians to reflect on their careers and because of this the issue of social media had come up in recent weeks.
He says that there is a lack of understanding among some and writes that there needs to be efforts made to make people aware of the protection afforded to them from online abuse through existing laws and regulations.
However he also says that in some cases the fear of social media arises from "transfer of communicative power from the few to the many" because of the advent of social media sites.
"There are some in the political sphere, both practitioners and media commentators, who are distinctly uncomfortable with this recent transfer of power," he writes.
#Open journalism No news is bad news Support The Journal

Your contributions will help us continue to deliver the stories that are important to you

Support us now
"They are losing control of the "message" and feel challenged, now that the power to communicate with many is no longer the preserve of the few.
"Some calls for regulation of social media are well intentioned. My fear is that those who would like to regain control of public discourse could exploit the genuinely held concerns of others to do exactly that."
Cannon added that all politicians who "value genuine freedom of expression" should resist calls for regulation of social media and should instead engage with it to communicate directly with the people who elected them.
The Oireachtas Committee on Communications is to hold a special meeting about social media and internet bullying later this month to examine whether there is a need for new laws or regulation of internet comments.