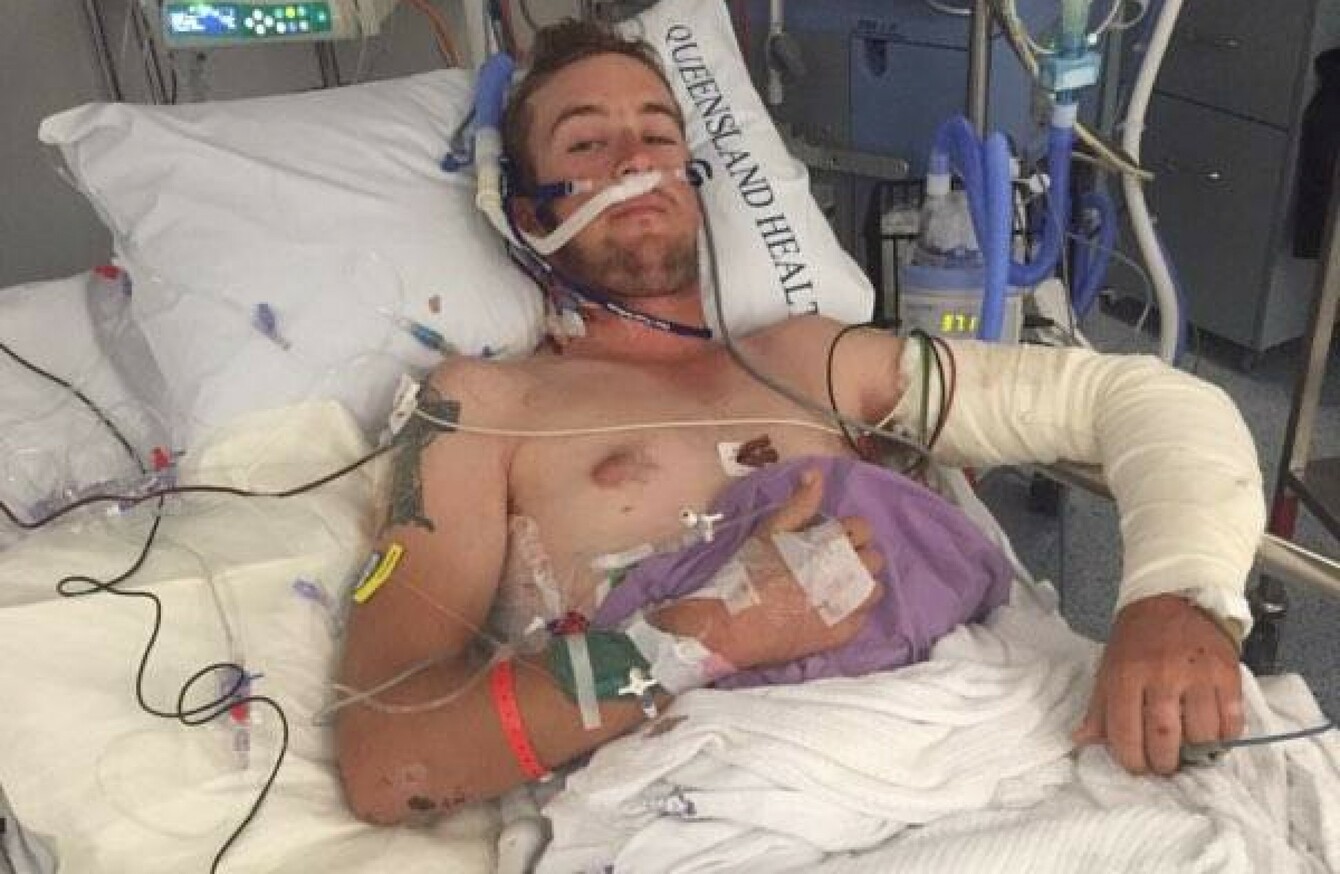 Carolon lying in his hospital bed after the horrific fire.
Image: Facebook
Carolon lying in his hospital bed after the horrific fire.
Image: Facebook
A CORK MAN living and working in Australia has spoken about how his feet were burnt "to the bone" when his sleeping bag went on fire while sleeping by a campfire.
Ciaran Carolan from Mitchelstown has been working on a cattle ranch since moving to Queensland and was working at a rodeo on 30 June when the accident happened.
The 28-year-old was sleeping in a swag in the middle of the night beside a fire. A swag is a kind of all-in-one portable bed that includes a sleeping bag, a mattress and a duvet.
Speaking to The Neil Prendeville Show on Cork's RedFM, Carolan says that he just remembers being woken up engulfed by flames.
"(I remember) getting into my swag and going to sleep and next I just woke up and all I could see were orange flames basically," he said.
The Corkman says he doesn't remember if it was the pain that woke him but "thankfully something woke me".
It was just instinct, I started climbing out of it. I must have been rolling and screaming 'cause my colleagues that were sleeping, by the time I got out of it they were standing beside me.
Carolan says that the flames were so great that all that was left of his bed were the buckles of the two straps.
His injuries were severe:
I got one skin graft across the bottom of my back and everything from my buttocks to my toenails pretty much. It would have got up as far as my waist when I woke up, but thankfully a lot of the burns higher up weren't too bad,  but my feet they were to the bone.
He explains that the ambulance didn't have much in the way of painkillers, just some dressing for his burns and cloths to shield him from his wounds. He was awake for the journey to hospital before he was airlifted to Brisbane.
I can't remember (the pain), I'd say it was just so bad that I couldn't feel anything, I was numb. I probably would have gone into shock if I'd seen the injuries but they had me well covered.
Ciarán's friends have started a Go Fund Me page to raise money for his recovery and for his family to travel from Ireland.