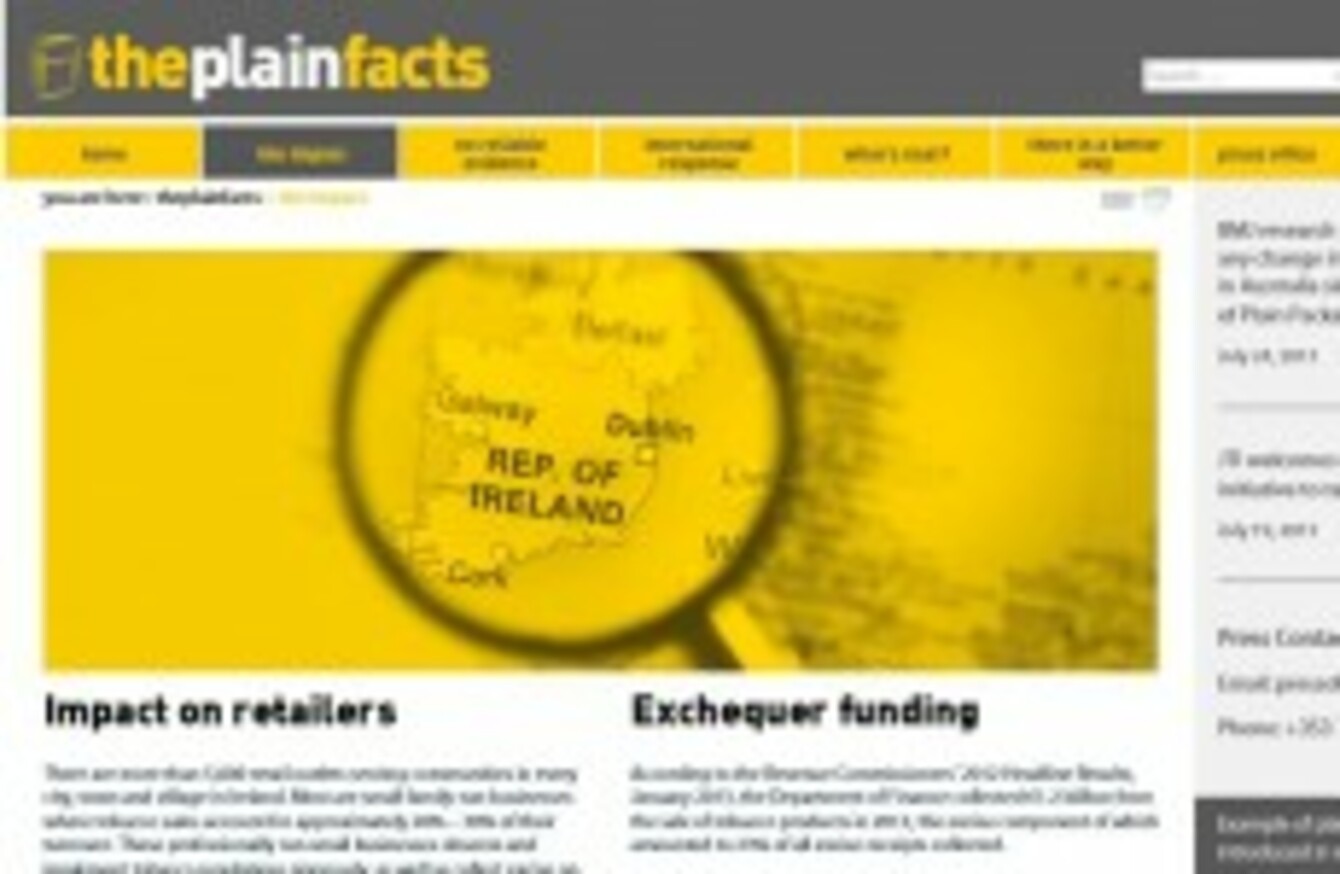 Image: JTI IRELAND
Image: JTI IRELAND
A TOBACCO COMPANY has unveiled a new website claiming to offer the 'plain facts' on the issue of the revised rules for cigarette packaging being planned by Health Minister James Reilly.
The site — designed in a stark grey, white and yellow colour scheme — sets out the industry's arguments against the new plans.
In a press release sent out this morning by JTI Ireland, General Manager of the company John Freda states that the issue is "not as simple as it sounds".
According to the statement:
There is absolutely no credible evidence that 'plain' packaging has had positive health impacts in Australia, or would have any in Ireland.

15 months following the introduction of plain packaging in Australia, there is still no official Government assessment to say that plain packaging has reduced smoking rates.
The site also claims that the introduction of plain packs would act as a 'counterfeiters charter' and lead to an increase in the illegal trade of tobacco.
[Image: JTI Ireland]
The unveiling of the website comes in the wake of the recent Health Committee meetings to consider the planned changes to legislation.
Last month, a coalition of charities came together to throw their support behind the move. They included the Irish Heart Foundation, Irish Cancer Society, the Asthma Society of Ireland, the Irish Thoracic Society, the ISPCC, Barnardos, the Children's Rights Alliance and ASH Ireland.
The groups involved said the new laws, which would introduce plain packaging on all tobacco products as well as large graphic health warnings, would be "vital" in protecting the next generation from the negative health effects of smoking.
Evidence
Tobacco bosses also appeared before the Health Committee last week.
The heads of PJ Carroll, John Player, JTI Ireland and smokers group Forest Éireann told the panel of TDs and senators there was no "real-world" evidence that plain packaging on cigarettes would bring about a decline in children taking up smoking.
James Reilly poses with an oversize version of the Australian 'plain-pack' [Photocall Ireland]
The JTI website theplainfacts.ie includes excerpts of submissions made to the World Trade Organisation from seven countries that called for Ireland adopt measures that were less restrictive of trade than plain packaging.
It references WTO submissions from Malawi, the Dominican Republic and one from Cuba which states "there are serious doubts concerning the relevance of this measure".
JTI Ireland Ltd markets the Benson & Hedges, Silk Cut, Camel and Amber Leaf leaf brands.