Votes being cast at the Citizens Assembly today
Image: Sam Boal/Rollingnews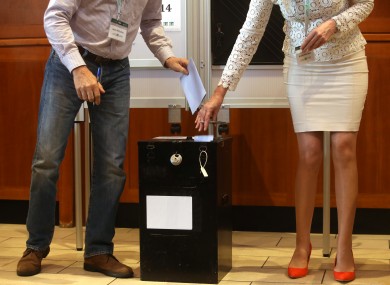 Votes being cast at the Citizens Assembly today
Image: Sam Boal/Rollingnews
TODAY, THE CITIZENS' Assembly recommended that the Eighth Amendment of the Constitution be replaced or amended – but not repealed.
It means that the citizen-led body, set up by the Oireachtas, recommended that Ireland's constitution should deal with abortion in some way, but in a manner different to how it currently does.
Earlier, its members had voted to recommend that the Eighth Amendment should not be retained in its current form. The assembly also recommended that the Oireachtas be given the constitutional power to legislate on abortion.
The Eighth Amendment of the Constitution guarantees "the right to life" of an unborn child.
So, tonight we're asking you: Do you agree with the Citizens' Assembly recommendation to replace or amend – but not repeal – the Eighth Amendment?

Poll Results: