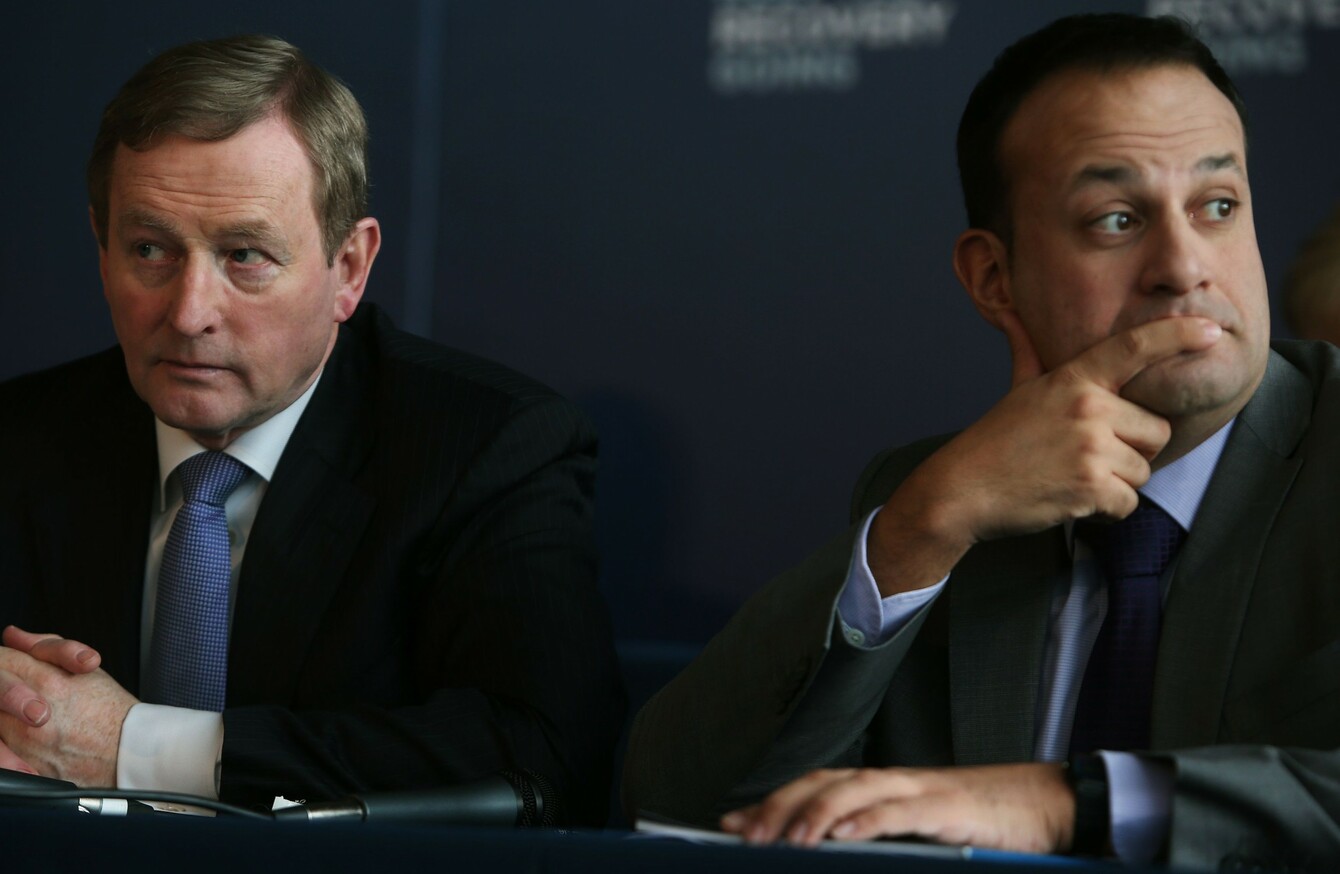 Enda Kenny and Leo Varadkar.
Image: PA Archive/PA Images
Enda Kenny and Leo Varadkar.
Image: PA Archive/PA Images
THE PEOPLE OF Ireland would prefer Leo Varadkar over Simon Coveney to be the next leader of Fine Gael – according to a new poll from Claire Byrne Live.
As the talk about Enda Kenny's leadership – and when it will come to an end – rumbles on, this new Amárach poll shows that Varadkar has a clear lead ahead of Coveney in the popularity stakes.
A poll of Irish Independent readers today showed a distinctly different result, however –  40% said they thought Simon Coveney should be the next Taoiseach. Varadkar came second with 33%, Richard Bruton received 18% of the votes, Simon Harris got 8% and Francis Fitzgerald got 3%.
Earlier today, Education Minister Richard Bruton had to deal with questions about him possibly putting his name forward, while Health Minister Simon Harris had to tackle queries about a comment made about him in a Fine Gael Whatsapp group.
Meanwhile, Enda Kenny has been under increasing pressure to clarify a timeline for his retirement – pressure that's coming from within his own party.
Q1. Who would you prefer to see as the next leader of Fine Gael?
Simon Coveney – 23%
Leo Varadkar – 35%
Richard Bruton – 6%
Simon Harris – 2%
Other – 8%
Don't know – 26%
Respondents were also asked: When should Enda Kenny move aside as Fine Gael leader?
Perhaps surprisingly, most said he should leave immediately, with only 29% saying he should wait until after his trip to the United States for St Patrick's Day.
Immediately – 37%
After St Patrick's Day – 29%
At the Dáil summer recess – 16%
Next year – 6%
Other – 2%
Don't know – 10%
In the third poll question, people were asked: Should schools be permitted to take religion into consideration when enrolling new pupils?
Yes – 30%
No – 63%
Don't know – 7%
The poll was carried out by Amárach Research for Claire Byrne Live earlier today, on a panel that consists of over 1,000 Irish adults, all aged 18+.