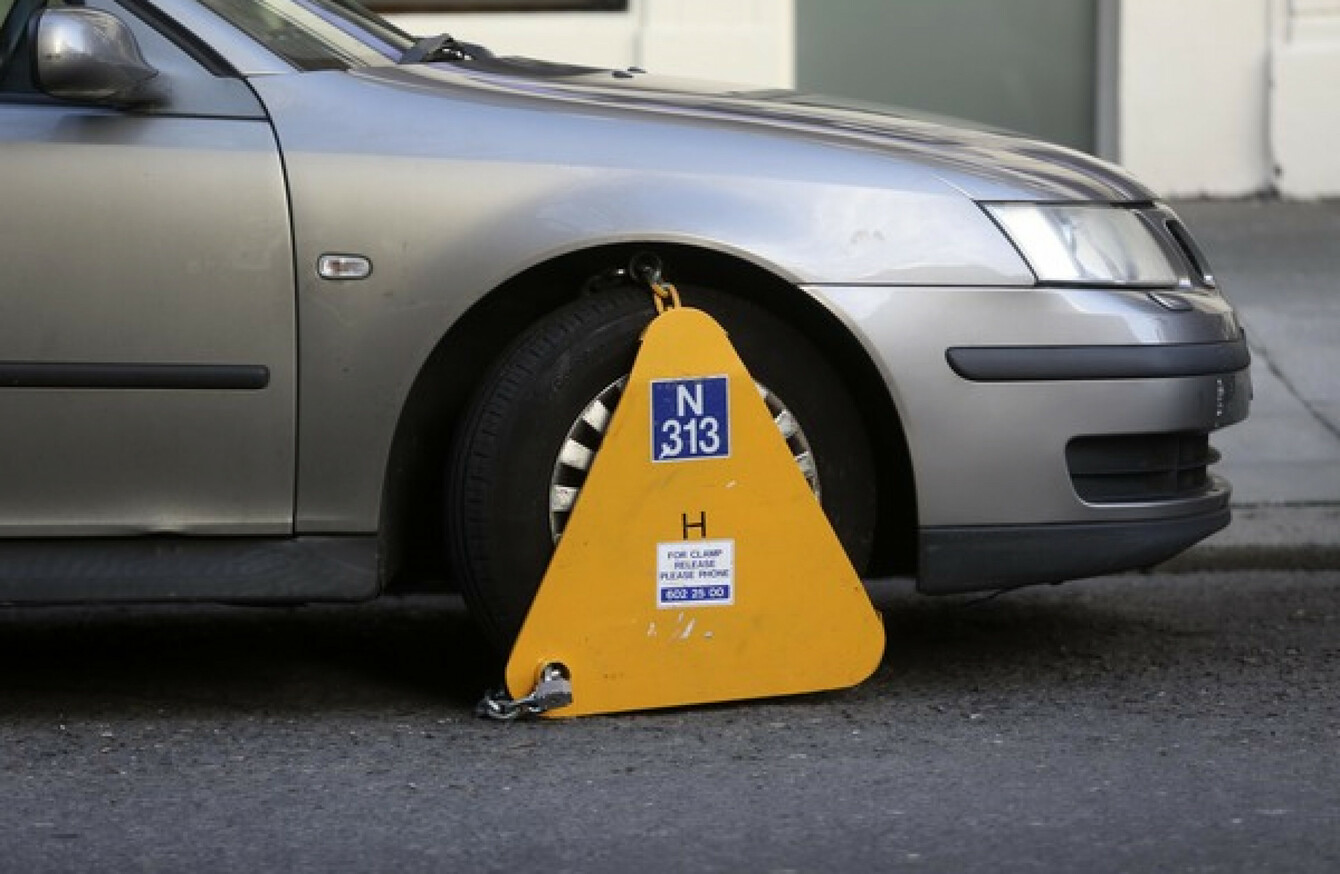 Image: samboal
Image: samboal
PARKING TICKETS GETTING turned upside down because of the wind and getting clamped while trying to find a working machine were just some of the recurring complaints Dublin City Council (DCC) received from people who have been clamped in recent times.
Last month, TheJournal.ie revealed the most common areas and offences that DCC receive clamping complaints about.
Today we're looking at exactly what those complaints were about. From May 2016 to May 2017, the council recorded 63 complaints about clamping on its appeals system. A number of them led to refunds or partial refunds.
According to information received under a Freedom of Information request, a number of these complaints had recurring themes. Namely, pay machines being out of service; tickets being turned upside down because of wind and a few cases of clamps not being put on properly.
Broken machines
In one case a man described how, while parking on 9 October at the start of Rathdown Avenue in Terenure, the nearby machine would not take any of his coins. He had two €2 coins, two €1 coins and three 50 cent coins.
He said he spent 15 minutes walking around looking for another machine but only found other people in the same situation – and no working machine.
A resolution note on this complaint read, "Refund with caution, gesture of goodwill."
Two of the complaints about machines not working were in Lotts North in north Dublin, both of which resulted in refunds.
The first complaint, dated 16 February, describes how the complainant noticed the pay machine was broken and continued to walk around looking for one until being told by a passerby that they could buy a ticket in Spar. On the way to the shop, the person noticed their car was being clamped and said the clamper "wasn't very interested" when they explained the situation.
The second complaint about being clamped at Lotts North, also dated 16 February, described how the complainant ran back to their apartment to get their phone and add the recently rented vehicle to park-by-text when the machine was broken and they couldn't find another one nearby.
They said the back gate to their apartment was "no further than 100 metres away from the parking location", adding "it took no longer than six minutes until I was back at my car".
The complainant spotted their car being clamped on their way back and the Dublin Street Parking Services (DSPS) staff member told them they should have gone to another machine. The person states in the complaint, "I agreed and explained that it would have taken the same amount of time if not longer to go to another machine."
The person also urged the DSPS staff to feel the heat of the car engine and showed screenshots of previously paid parking through texts.
In another complaint, a parent described parking on Grenville St in the north inner city while attending an appointment with a sick child in Temple Street Hospital. They said the nearest machine wouldn't take their coins but a machine on Mountjoy Square South worked. The person paid up until 12.10pm – one hour after the appointment time.
On the way back to the car to top up as the appointment was delayed, two machines were broken. They paid at the third machine but "went around the corner to find the clampers at my car".
The complaint states, "I informed them of my situation and the fact that if the first two meters were working I would have got to my car before them.
It's stressful enough taking a child from Donegal to Temple Street without being clamped for a ticket being 15 minutes out. With your grace period of 10 minutes that meant I was clamped after five minutes, I had the new ticket bought on my way down at nine minutes.
A note on this complaint said, "Refund".
Another person described how they parked next to Holles Street Hospital but the two nearest pay machines were out of service. They said they left a note to explain but they were still clamped. A note on this complaint said 'declined'.
Blown Away 
Another common issue seems to be tickets being blown upside down by the wind – thank you Irish weather.
One driver put in a second appeal after being clamped near Temple Street Hospital on 28 July 2016. It stated:
I put a ticket on my dashboard but when I closed the door it blew over and was upside down on my screen. I called the clamper who was just up the road and tried to explain, but he just stared blankly at me, saying nothing.
The person added that they've worked in Temple Street for 17 years and have never been clamped. A note on this complaint read, "50% refund with caution, gesture of goodwill".
Another driver described a similar situation where their ticket was displayed upside down. They stated in the complaint:
I was unaware of the ticket being upside down. When I returned to my car it was clamped.
They also took issue with the manner in which they were dealt with, saying they were told to "pay and complain later or your car will be towed away". The complainant said:
I couldn't believe this tone. This is unacceptable to older people and I was bullied into paying forcefully or I would not see my car again. How dare anyone treat me like this.
A note on this complaint also read, "50% refund with caution, gesture of goodwill".
A third complaint about being clamped because of an upside-down parking ticket also stated that they had paid for their parking in full.
Parking was paid in full and the ticket was placed facing the correct way up however 23 October was a very windy day in Dublin and the ticket must have blown over. The ticket was not in the original place where I had left it.
The note on this ticket echoed the other two stating, "50% refund with caution, gesture of goodwill".
Loose clamp 
Two complaints based in the same area of Dublin and just three days apart describe being clamped even though there was no road signage or markings stating they could not park in the location and, oddly, neither vehicle was correctly clamped.
#Open journalism No news is bad news Support The Journal

Your contributions will help us continue to deliver the stories that are important to you

Support us now
The first complainant parked on Inchicore Road on 15 April 2016 while visiting Kilmainham Gaol. The driver said there was no signs or road markings indicating it was a pay and display area.
They also described being confused over how their car was clamped:
The person said they were unsure if this was a hoax but decided to pay the fine as they were told they had to either pay the fine or the car "would be located and towed".
A note on this complaint read, "refund".
A similar set of events occurred on 18 April 2016. Again the driver noted that they passed no signs indicating that parking restrictions existed in the area, writing "neither did I see any road markings or pass any parking metres".
The complainant also said, "The clamp was not correctly fitted to my vehicle as it had fallen off."
A note on this complaint stated, "Refund with caution, gesture of goodwill."
In another case, a complainant described how "the clamp did not immobilise my car as stated by Dublin Street Parking Services".
The clamp was not fitted to the wheel at all. The heavy chains were locked around the spring and shock absorber. This is a dangerous practice as brake pipes are also in this area.
The person questions the regulations around this, "I would like to know what Dublin City Council bylaws state about clamps causing damage to any road vehicle."
The note on this complaint stated, "Refund with caution, gesture of goodwill."
Safety was also brought up in a complaint where the driver stated the sticker informing them of the clamp was not on their car window and they attempted to drive the car as they did not see the clamp.
I now have the sticker and I can show that the sticky backing was not removed at all and remains on there. No sticker was there when I came to my car and I tried to drive the car.
They also claimed they had paid for parking all day and moved their vehicle as needed but that they had a problem with the app at one stage and thought they were paid for that period.
The note on this complaint read "refund".