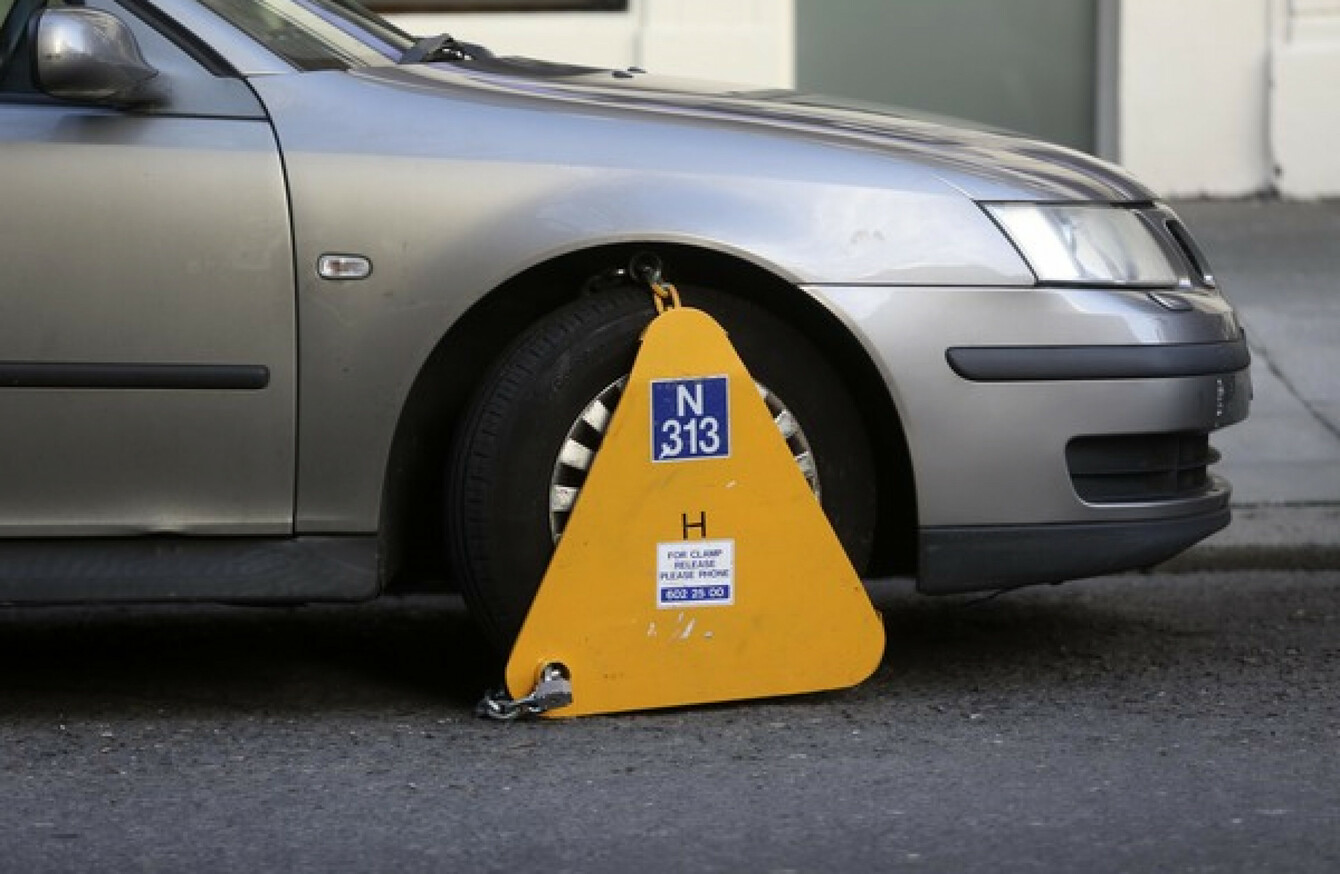 Image: Sam Boal via Rollingnews.ie
Image: Sam Boal via Rollingnews.ie
A DRIVER WHO had their car clamped was refunded after they claimed that a passing garda told them the clamp was "immoral" as there was not sufficient markings.
Information provided to TheJournal.ie under Freedom of Information shows a number of complaints were sent to Dublin City Council from 1 July – 2 November this year.
The issue of insufficient marking and signs was the subject that came up most often in the complaints.
One driver said being clamped when a sign was behind a tree seemed "a bit like a trap" . While in another case a driver claims that they were told by a garda that the clamp was immoral.
Describing the situation in a complaint letter, the driver said:
"A garda pulled in to discuss my car being clamped. They informed me that you have just started clamping in this spot but it is completely immoral as you have not continued on the yellow lines, the white line is hard to see and there is no sign."
The driver attached a photo of the white line that they described as "broken as the paint had faded" and "difficult to see".
The complainant added that the garda in question "also said he was going to put in a formal complaint".
The driver was refunded on this occasion.
In another case the issue of the white line being worn was also brought up. The driver said, "The line in question is not continuous and is quite worn with bits missing".
They also complained that double yellow lines should be extended to cover the area to make it clear that people can't park there.
There are double yellow lines extending all the way on the other side of the road – I don't see why they could not be extended to where I was parked to avoid all the stress.
The driver added that they were told by locals that people get clamped there on a regular basis, adding:
This sharp practice/setup or purposeful entrapment should be remedied immediately.
A note on this complaint read: "50% refund with caution, gesture of goodwill".
'Seems like a trap' 
In another complaint about signage, the driver says the clearway sign was obscured from view by a tree, adding:
The area in question is not clearly marked and seems a little bit like a trap to me.
The driver explains that there are several area for loading bays on the street where they parked and they are all clearly marked.
However, they noted, "The loading bay I parked in did not have this addendum."
The driver in this case was also refunded.
In two cases, drivers complain of being clamped in areas where they have parked with no problems for years. Both of these drivers were refunded.
#Open journalism No news is bad news Support The Journal

Your contributions will help us continue to deliver the stories that are important to you

Support us now
In one case, the complainant explains that they were clamped outside their mother's house – despite parking there for the past 33 years.
They said that there is an end of clearway sign before the house in the area where they park and that cars park there everyday.
They also added, "After my clamping incident, four cars were clamped and then unclamped with no fines being enforced after the parking department was informed."
In the other case, the driver says they were clamped in a spot that they have parked in Monday – Friday for over a year.
There are no double yellow lines, no warning signs and no other signs whatsoever to advise people that they may be illegally parked. I would never park anywhere illegal intentionally.
"There are yellow boxes at certain points in the road to warn people not to block any of the school entrances but if something as simple as double yellow lines were printed each side of the road it would save any confusion. "
They said they noticed drivers on the opposite side of the road being clamped a few days before they were clamped but that no clamping has taken place since:
"Since the day I was clamped, cars continue to park each side of the road and there has been no clamping since which is a little unfair."