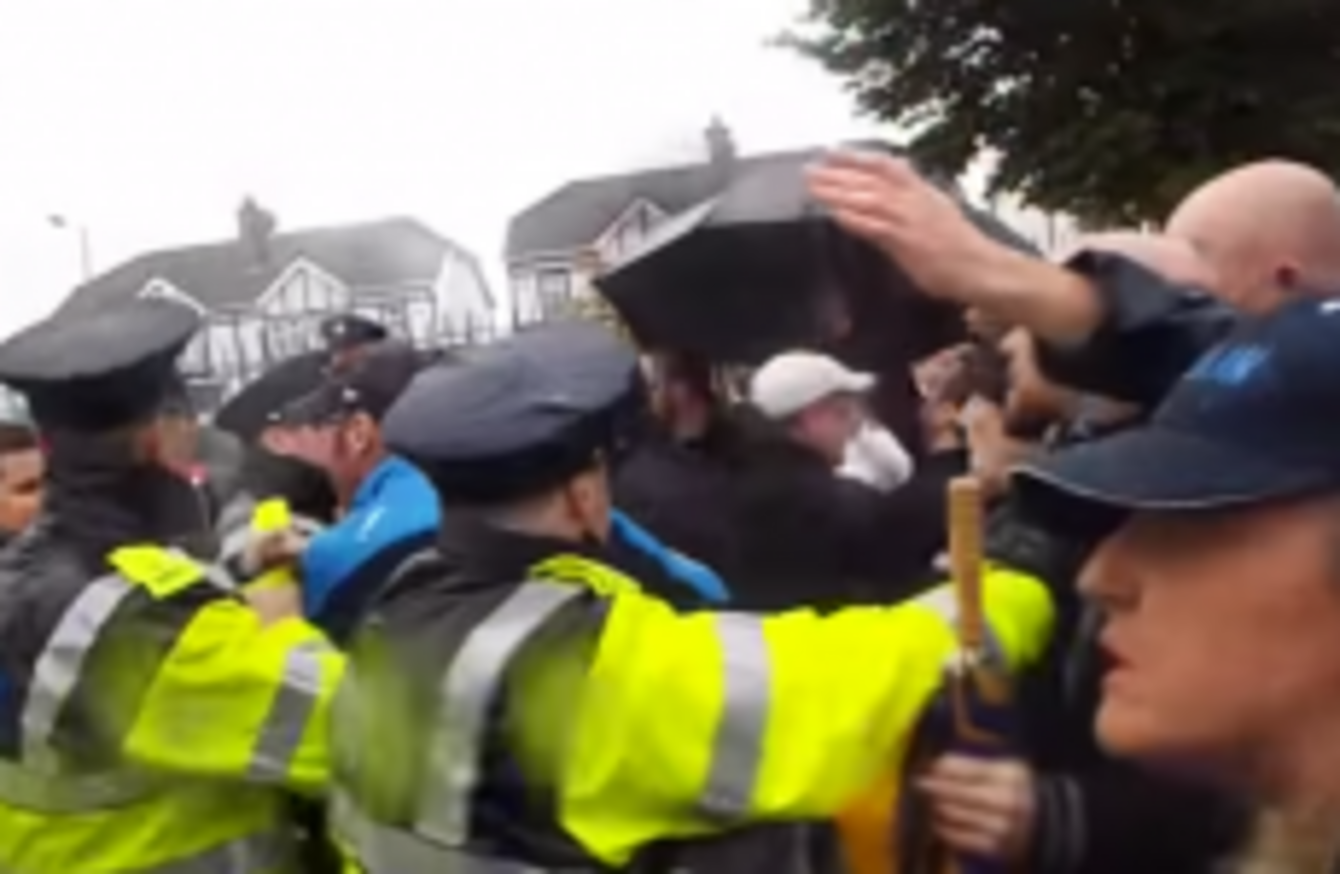 The scene at Clare Hall yesterday.
Image: Dublin Says No
The scene at Clare Hall yesterday.
Image: Dublin Says No
DEMONSTRATORS PROTESTING THE installation of domestic meters by Irish Water have been accused of engaging in intimidatory behaviour in Clare Hall this week.
It follows clashes between gardaí and protesters at the northside Dublin estate.
Over 20 gardaí from various parts of Dublin responded to the scene at Elmfield Drive in the estate yesterday after a group of some 150 people turned out to protest.
Scuffles broke out on several occasions, and protesters claimed afterwards that officers involved had used heavy-handed tactics.
Speaking to Joe Duffy's Liveline programme on RTÉ this afternoon, one resident of the area said she and her neighbours felt "intimidated by these people in our own homes".
Giving only her first name, Louise, she said the demonstrators were "ringing doorbells, moving barricades, and intimidating us and our kids".
However, one of the organisers of the protests who spoke to Duffy – and later, to this website – insisted no intimidation of residents took place in yesterday's actions.
Jim*, who lives in the estate and is one of the organisers of the 'Clare Hall Says No' group insisted that there was broad support for the protests in the area, and that it was the gardaí and the contractors who had engaged in intimidatory tactics.
The group began a social media campaign against the planned installation of meters at the start of the week, Jim said.
He said that Irish Water had 'blitzed' the estate and that gardaí had acted aggressively as residents and other demonstrators formed a human chain to try to block contractors' vehicles.
In a statement on the incident, the Gardaí said that the force had a role to play in "ensuring peaceful protest can take place, and also in preventing injury and protecting life".
Our objective with any such operation is to ensure the safety of the public.
'Clare Hall Says No' organised a public meeting to discuss their actions on Tuesday night, which was attended by some 200 people, Jim said.
He described the clashes with gardaí as "pandemonium" and said one woman had been badly hurt in what he referred to as a "rugby scrum".
Elsewhere, a member of Clare Hall Residents Association said opinion on the protests was split in the estate, but that there had been a groundswell of opposition to the metering process in recent months.
Another member of the association posted a statement on Facebook saying that many of the anti-charges protesters had "behaved impeccably in the face of some very serious intimidation".
"We are however aware that not all residents are opposed to the installation of water meters or water charges, and that is their right."
*Jim gave us his full name, but asked that it not be published.